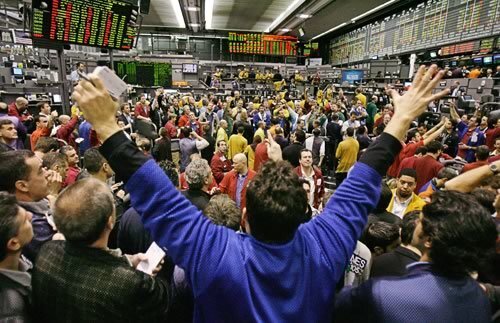 10 Images
Global pictures from Jan. 20 - 26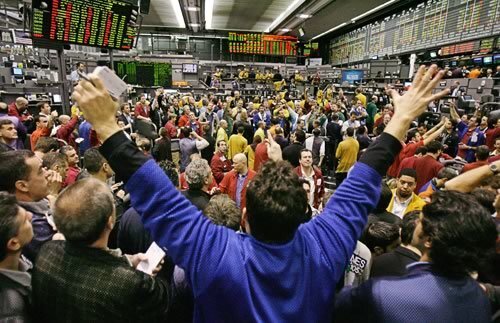 A trader throws his hands into the air in the S&P 500 futures trading pit Tuesday at the Chicago Mercantile Exchange. Wall Street struggled to steady itself that day, climbing back from an early plunge after the Federal Reserve implemented an emergency interest rate cut in the hope of restoring stability to a faltering U.S. economy. The Dow Jones industrial average, down 465 points at the start of the session, recovered to a loss of about 40 points.
(M. Spencer Green / Associated Press)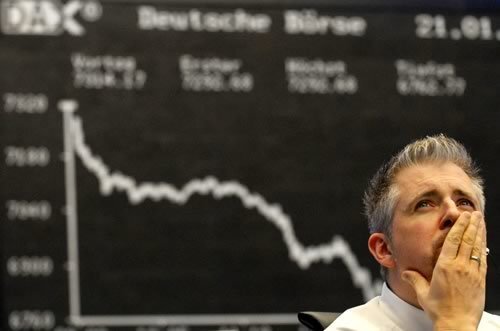 A stock dealer reacts Monday to the steep dip in Germany's blue-chip DAX at the stock exchange in Frankfurt. Stocks worldwide took a beating as skepticism over the U.S. economic stimulus plan took hold.
(Bernd Kammerer / Associated Press)
Palestinian women confront Egyptian riot police at the Rafah border in the Gaza Strip on Tuesday. Hundreds of protesters briefly broke through the border terminal, pushing back helmeted officers who fired in the air to try to contain the crowd.
(Ali Ali / EPA)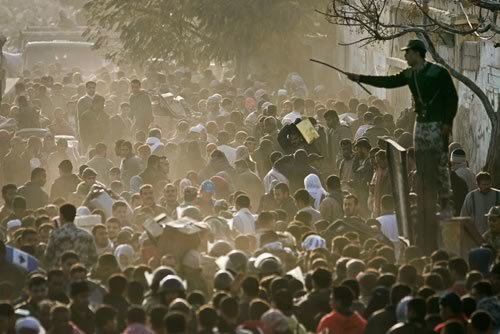 An Egyptian guard, right, on Thursday tries to control Palestinians crossing the border after militants exploded the wall between the Gaza Strip and Egypt early Wednesday. Egyptian forces began trying to control the masses of Palestinians flooding across on Thursday, stopping some from moving deeper into the country, but not attempting to reseal the border.
(Lefteris Pitarakis / Associated Press)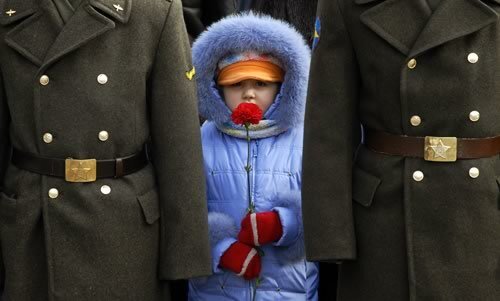 A girl holding a red flower stands between soldiers in Stavropol, Russia, on Monday during a ceremony marking the 65th anniversary of the liberation of Stavropol from German forces.
(Danil Semyonov / AFP / Getty Images)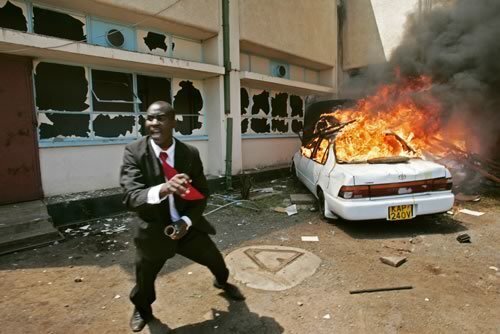 A man reacts after a car and building are set on fire Wednesday in Nairobi, Kenya. Dozens of protesters set the fire after police fired tear gas at youths who were throwing rocks outside a memorial service. The service was being held in honor of victims of the country's election violence.
(KAREL PRINSLOO / AP Photo)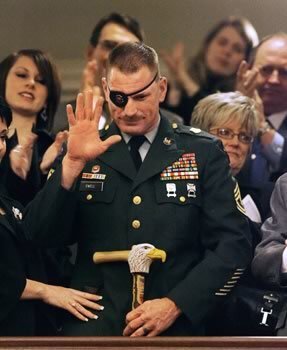 National Guard Sgt. Gordon Ewell receives a standing ovation during Utah Gov. Jon Huntsman's State of the State address Tuesday in Salt Lake City. Ewell completed 59 combat missions in Iraq, was wounded six times and is now legally blind and deaf.
(Chris Detrick / Associated Press)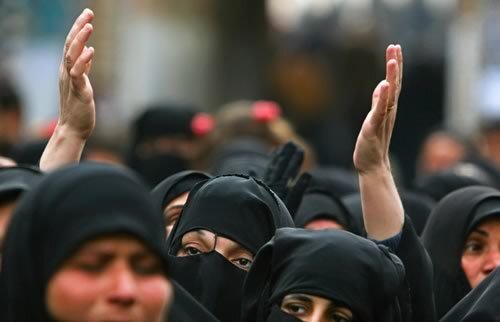 A Shiite Muslim woman raises up her hands during a procession Tuesday in the Iraqi city of Karbala. She and other Shiites were marking the end of Muharram, a month in the Islamic calendar that commemorates the matyrdom of Imam Hussein, the grandson of the prophet Muhammad.
(AHMED AL HUSSEINI / Associated Press)
A campaign rally Tuesday for presidential hopeful John McCain at Pensacola Junior College in Florida features a giant U.S. flag. McCain, a Republican U.S. senator from Arizona, hopes to win big in the Florida primary next week.
(Charles Dharapak / Associated Press)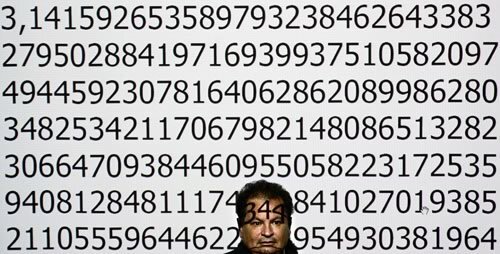 Colombian Jaime Garcia Serrano poses in front of a screen displaying the number pi before the start of an exhibition of mathematics and memory skills at the Complutense University of Madrid on Thursday. Garcia Serrano recited by memory,for hours, random sections of pi taken to 150 decimal places.
(Bernat Armangue / Associated Press)