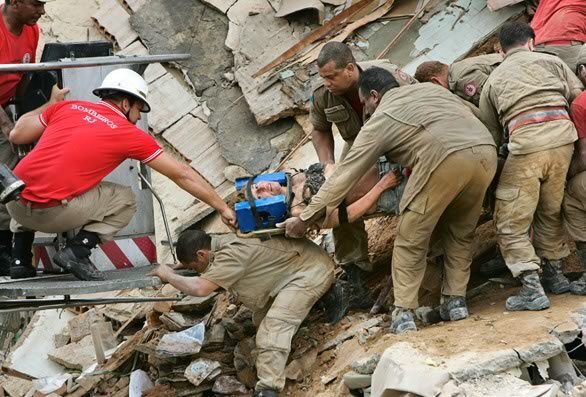 10 Images
Global pictures from Feb. 24 - March 1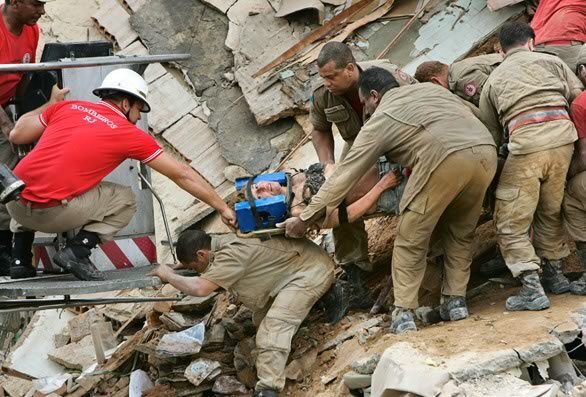 Rescue
Firefighters rescue an injured woman after a container of gas exploded in downtown Rio de Janeiro. The explosion destroyed the fifth and sixth floors of a building.
(Silvia Izquierdo / Associated Press)
Michael Walchhofer
Austria's Michael Walchhofer takes a jump during training for the World Cup Men's downhill race, in Kvitfjell, Norway.
(Giovanni Auletta / Associated Press)
Funeral of Badri Patarkatsishvili
Mourners carry the coffin of late Georgian tycoon Badri Patarkatsishvili during his funeral at his residence in Tbilisi, Georgia. Patarkatsishvili, 52, died at his mansion in Leatherhead, south of London, under what was initially thought to be suspicious circumstances. Authorities later determined he died of natural causes.
(Zurab Kurtsikidze / EPA)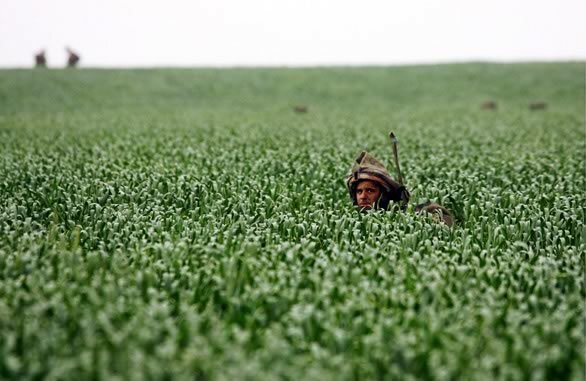 Israeli infantry in a field near Gaza Strip border
Israeli soldiers in camouflage patrol a field outside Kibbutz Nahal Oz as Palestinians demonstrate against Israeli-imposed restrictions inside the Gaza Strip.
(Jim Hollander / EPA)
North Korea
An early-morning scene in Pyongyang, North Korea, where the New York Philharmonic performed alongside the North Korean State Symphony.
(David Guttenfelder / Associated Press)
Procession
A Shiite pilgrim watches a procession in Iraq's holy city of Karbala during the religious holiday of Arbaeen. A weeklong pilgrimage marks the end of 40 days of mourning after the anniversary of the 7th century martyrdom of Imam Hussein, a grandson of the prophet Muhammad and the spiritual linchpin of the Shiite faith.
(Ahmed Alhussainey / Associated Press)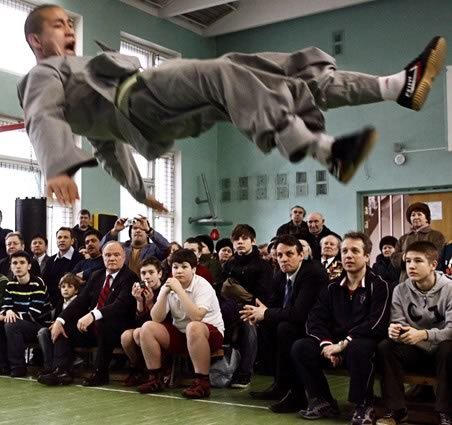 Leader of the Russian Communist party Gennady Zuganov
Communist Party chief and presidential candidate Gennady A. Zyuganov (in red tie), sits alongside children in a Moscow school for a display of martial arts by monks from China's Shaolin Monastery.
(Sergei Ilnitsky / EPA)
Peace
Children play in a Kibera slum where a "peace" message underscores the current unrest. "Don't Kill Innocent Kenyans" and "Keep Peace" beg the slogans, hand-painted on the charred walls of shacks and storefronts destroyed by looting mobs by Kenyan artist Solomon Muyundo. Using the tag Solo7, he says he is trying to heal a neighborhood with his paintbrush and atone for his part in the rampage.
(Bernat Armangue / Associated Press)
Arabeen
Shiites beat their chests in the holy city of Karbala, Iraq, during the religious holiday of Arbaeen. Throngs of Shiites embarked on a pilgrimage to this southern shrine city to mark one of Shiite Islam's holiest holidays.
(Hadi Mizban / Associated Press)
Mud Festival
A man digs into the mud festival at the Mimusubi shrine in Yotsukaido, near Tokyo. Hundreds of local dwellers took part in the ceremony to pray for a good harvest this year and good health for babies.
(Koji Sasahara / Associated Press)