9 Images
Global pictures from March 9-15
Iraqis are reflected in the mirror of a motorcycle as they gather at the scene of a car bombing on the outskirts of Baghdad's impoverished Shiite suburb of Sadr City. According to security sources, one person was killed and four others were wounded in the blast.
(Wissam Al-Okaili / AFP / Getty Images)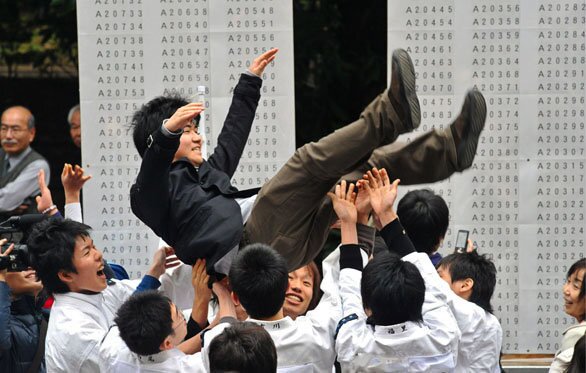 A Japanese student is tossed into the air in celebration after successfully passing the entrance exam to Tokyo University. Prospective college students visited the school to see whether their ID numbers were listed on large panels notifying successful applicants. Tokyo University is considered Japan's most prestigious university, and many of the nation's top leaders are graduates of the institution.
(Everett Kennedy Brown / EPA)
New York Gov. Eliot Spitzer apologizes to his family and constituents for his behavior after news reports about his involvement in a high-priced prostitution ring. Two days later, he would announce his resignation as governor, effective March 17.
(Mary Altaffer / Associated Press)
A resident holds his dog as he looks at the Maro, a ship that ran aground near San Sebastian, Spain. The freighter, with 54 tons of fuel on board, had broken into three parts in poor weather.
(Alvaro Barrientos / Associated Press)
The space shuttle Endeavour -- with a crew of seven, including Japanese astronaut Takao Doi -- lifts off from the Kennedy Space Center in Florida. The shuttle pulled up to the International Space Station and docked the next day, kicking off almost two weeks of construction work.
(Red Huber / Orlando Sentinel)
A lone fan gets an early start on the action, taking pictures at a practice session by Baylor University at the men's Big 12 conference college basketball tournament in Kansas City, Mo.
(Ed Zurga / Associated Press)
This boy can't bear to watch while being vaccinated in Rotterdam, Netherlands, joining about 3,500 other children being treated against infectious diseases such as tetanus and measles.
(Robin Utrecht / AFP / Getty Images)
Deputies hold pictures of Ingrid Betancourt, a Franco-Colombian being held by guerrillas in Colombia, during a session of the European Parliament in Strasbourg, France. Betancourt, now 46, was abducted in February 2002 as she was campaigning for the Colombian presidency. She is one of a group of 39 hostages the rebels are proposing to exchange for 500 of their own being held in prison.
(Olivier Morin / AFP / Getty Images)
Sarah Burke of Canada competes on her way to winning the freestyle overall halfpipe title during the FIS Freestyle World Cup Grand Finals in Chiesa Valmalenco, Italy.
(Alberto Pizzoli / AFP / Getty Images)