11 Images
Global pictures from Mar. 30- Apr. 5
President Bush kisses Ukrainian President Viktor Yushchenko's wife, Kateryna, while Laura Bush holds his arm during a parting ceremony in Kiev on April 1. Bush arrived in the Ukraine on March 31 to begin a tour that took him to Romania for a summit of the NATO military alliance April 2 to 4 and then to Russia for talks with President Vladimir Putin.
(Vladimir Sindeev / AFP / Getty Images)
Nepalese police detain Tibetan exile protesters demonstrating April 1 against the alleged oppression by Chinese authorities during crackdowns on Tibet. The clash took place outside the Chinese Embassy in Katmandu, Nepal.
(Binod Joshi / AP Photo)
Workers clean the National Aquatics Center, nicknamed the "water cube," on April 1 in Beijing. The building's exterior is sheathed in a Teflon-like plastic membrane. The center will be the venue for swimming and diving events during this summer's Olympic Games.
(Robert F. Bukaty / AP Photo)
An Iraqi family reacts as U.S. Army soldiers from K Troop, 3rd Squadron, 3rd Armored Cavalry Regiment detain their relative after a rocket-propelled grenade attack on U.S. troops in Mosul on March 31.
(Maya Alleruzzo / Associated Press)
A balloon vendor walks through a cemetery in Kabul, Afghanistan, on March 31, when officials reported that separate attacks in the nation's volatile southern region left three NATO soldiers, three Afghan security guards and 12 Taliban militants dead. Taliban insurgents resumed their attacks after a winter lull. The insurgency last year claimed the lives of more than 8,000 people, mostly Taliban rebels.
(Syed Jan Sabawoon / EPA)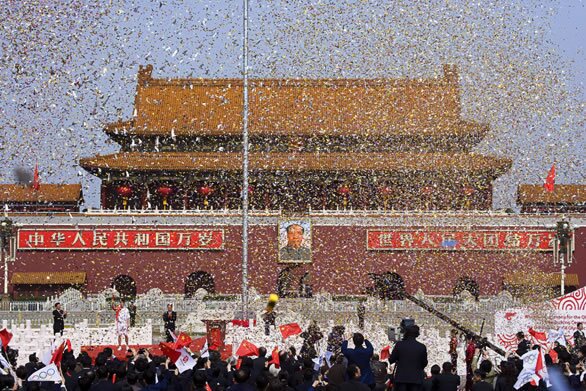 Thousands of performers mark the arrival of the Olympic torch in Tiananmen Square in Beijing on March 31. The torch, shipped from Athens on a special plane, left Beijing on April 2 for a worldwide tour. It will travel 30 days overseas and 100 days within China before being used to light the flame at the Aug. 8 opening ceremony of the Summer Olympics in Beijing.
(Adrian Bradshaw / EPA)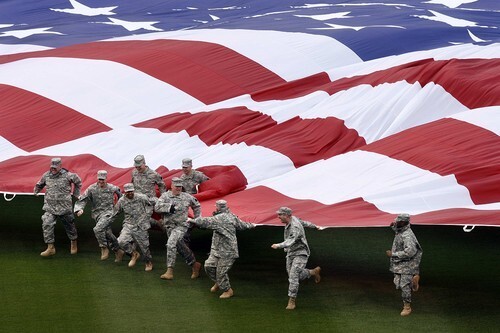 Members of the Pennsylvania Army and Air National Guards unfurl a United States flag before the Philadelphia Phillies' home opener baseball game against the Washington Nationals in Philadelphia on March 31.
(Matt Rourke / Associated Press)
The body of an alleged drug dealer killed in a shootout with police officers from a special anti-narcotics unit lies in the Favela da Coreia shantytown in Bangu, about 36 miles from Rio de Janeiro, Brazil. Eleven alleged drug dealers died in a gunbattle with more than 120 officers who were searching the area. Police also seized drugs and weapons.
(Andre Mourao / AFP / Getty Images)
Bulgarian Muslims gaze at the yard of a mosque in the town of Kardzali, about 150 miles from Sofia, Bulgaria, on March 28. Bulgaria's Muslim population is concentrated in the northeastern part of the country and in the Rhodope Mountains. Muslims were suppressed by Bulgaria's communist regimes but have enjoyed greater freedoms since the collapse of communism.
(Vassil Donev / EPA)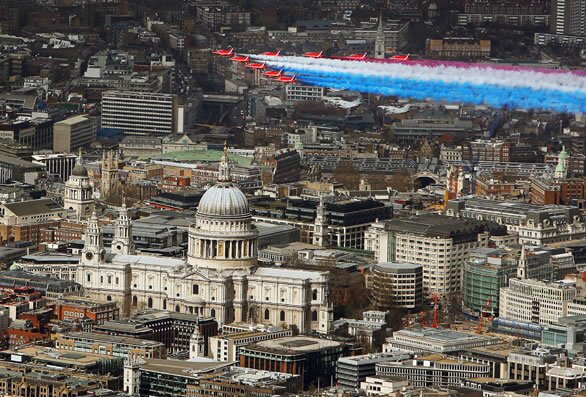 A squadron of Red Arrows and four Typhoon Eurofighter jets fly over central London on April 1 to mark the 90th anniversary of the creation of the Royal Air Force. The RAF was created when the Royal Flying Corps and the Royal Naval Air Service merged April 1, 1918.
(Peter Macdiarmid / AFP / Getty Images)
Kashmiri villager women mourn during the April 2 funeral for two commanders of Hizbul Mujahedin, the largest militant group fighting Indian rule in Kashmir. The killings of the commanders in a gun battle with Indian troops has dealt a fresh blow to the rebel group.
(Farooq Khan / EPA)