10 Images
Global pictures: April 6-12
NEPAL
Nepal's Maoist party rallies in the town of Kirtipur on Tuesday outside the capital of Katmandu before national elections. Voters went to the polls Thursday to elect a constituent assembly, and authorities began tallying votes Friday in the country's first election in nine years.
(Michael Robinson Chavez / Los Angeles Times)
Nepal
A police patrol at a preelection rally in Katmandu, Nepal, attracts an audience of one. Security for the Nepalese national elections is uppermost in the minds of many in the government due to the country's recent violent history.
(Michael Robinson Chavez / Los Angeles Times)
David Petraeus, Ryan Crocker
Army Gen. David H. Petraeus, left, and Ambassador to Iraq Ryan Crocker testify on Capitol Hill in Washington on Wednesday before the House Armed Services Committee on the status of the war in Iraq. Petraeus spent two days telling lawmakers that it could be months before conditions in Iraq permitted further troop withdrawals.
(Pablo Martinez Monsivais / Associated Press)
Asayel
A man pulls a camel from the ring during the "Asayel," or pedigree, show at the Mazayin Dhafra Camel Festival in Abu Dhabi on Sunday. The festival, which started on April 2, includes a camel beauty contest, a display of crafts and other activities aimed at promoting the folklore of the United Arab Emirates.
(Karim Sahib / AFP / Getty Images)
Kibera
Schoolchildren run past burning barricades Tuesday during clashes between police and opposition party supporters in the Kibera slum of Nairobi. Kenya's opposition party has suspended talks with the government on sharing power until President Mwai Kibaki dissolves his current Cabinet and agrees to negotiate a new government on a 50-50 basis, an opposition official said.
(Karel Prinsloo / Associated Press)
Rescues from senior citizen apartment fire in West Bloomfield Michigan
A firefighting plane drops a load of water over a forest as a fire rages near the town of Enguera in Spain's Valencia province Tuesday.
(Pau Benlloch / EPA)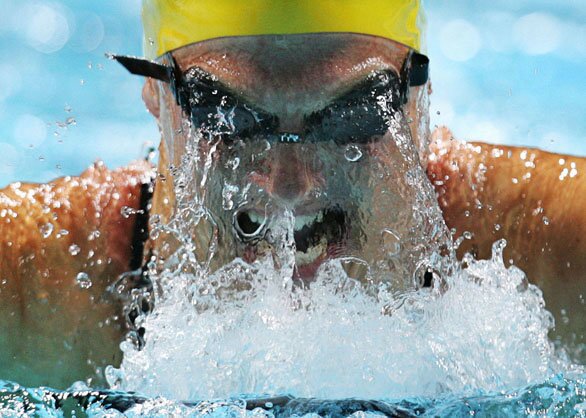 Adam Lucas
Australia's Adam Lucas competes in a men's 100-meter breaststroke heat during the World Short Course Swimming Championships in Manchester, England, on Wednesday. Australia has 20 athletes competing, with 17 of them going to the Olympics, but Lucas failed to qualify for this year's Games.
(Paul Thomas / Associated Press)
80389398
Flocke, a polar bear cub, jumps in the water as she is introduced to the public Tuesday at Nuremberg, Germany's, zoo. Four-month old Flocke -- German for snowflake -- had been kept behind closed doors and hand-reared by zookeepers because of fears her mother might harm her.
(Oliver Lang / AFP / Getty Images)
prayers
A Pakistani woman lights candles during prayers at the Sufi shrine Beri Iman on the outskirts of Islamabad, Pakistan, on Thursday.
(Emilio Morenatti / Associated Press)
Rescues from senior citizen apartment fire in West Bloomfield Michigan
Firefighters evacuate residents from the third floor of the Lillian & Samuel Hechtman Jewish Apartments in West Bloomfield Township, Mich., where a fire had broken out Wednesday. Officials said all 200 residents made it to safety.
(Jeff Kowalsky / EPA)