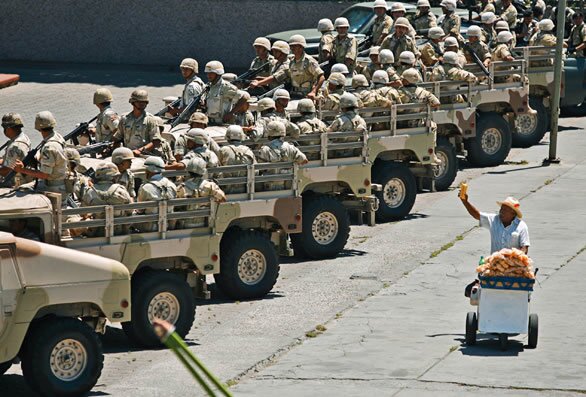 10 Images
Global pictures: April 27- May 3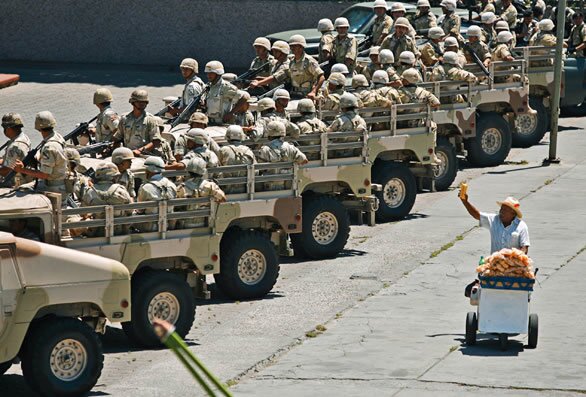 Tijuana
A snack vendor passes by Mexican soldiers preparing to go on patrol after a meeting of high-ranking city, state and federal security officials in Tijuana on Tuesday. The meeting came after a weekend gun battle in the city between rival drug gangs left at least 13 dead.
(Guillermo Arias / Associated Press)
Grief
Iraqis mourn their dead outside Baghdad's Sadr City hospital Wednesday. At least 37 people were killed in the Shiite militia bastion the day before.
(Ahmad al-Rubaye AFP/Getty Images)
Adam Kohlhaas
The casket of Army Sgt. Adam J. Kohlhaas, 26, of Perryville, Mo., who died in Iraq on April 21, arrives in Bowling Green, Ky., on Tuesday. He was fatally wounded by an improvised explosive device in Bayji.
(Joe Imel / Associated Press)
Hundreds of Exile Tibetan protestors including monks staged anti China demonstration
A Tibetan protester shouts anti-China slogans from inside a police van during a demonstration outside the Chinese Embassy in Katmandu, Nepal, on Tuesday. Hundreds of exiled Tibetans, including monks, were on the 50th day of a demonstration demanding human rights and a probe of killings in Tibet.
(Narendra Shrestha / EPA)
experience
South Korean monks wipe away hair from the shaven head of one of eight children during a service Thursday to celebrate Buddha's upcoming birthday on May 12 at the Chogye temple in Seoul. The children entered the temple to experience a monk's life for one month.
(Lee Jin-man / Associated Press)
RAFW S/S 2008/09 - Alex Perry Catwalk
Models on a Sydney catwalk Tuesday showcase outifts by designer Alex Perry on the second day of the Rosemount Australian Fashion Week at the city's Overseas Passenger Terminal.
(Ian Waldie / Getty Images)
May Day Demonstrations In Turkey
Turkish riot police face off against protesters trying to reach Istanbul's Taksim Square on Thursday, May Day. Police used water cannons and tear gas to disperse crowds gathering for an outlawed rally.
(Burak Kara / Getty Images)
Rising Food Prices Increase Dependence On Handouts In Pakistan
Women struggle for free rice at the Bari Imam Shrine on Wednesday in Islamabad, Pakistan. Food prices throughout Pakistan and around the world continue to escalate while staples such as rice are in short supply, placing developing countries at risk.
(Warrick Page / Getty Images)
May Day Pakistan
Activists from Pakistani labor unions stage a torchlight march in Karachi, Pakistan, on Wednesday, the eve of May Day, when, every year, thousands of laborers rally across the country demanding better wages and living conditions.
(Rizwan Tabassum AFP/Getty Images)
NETHERLANDS-ROYALS-BEATRIX-QUEENS-DAY
Dutch Queen Beatrix, right, dances the salsa during the Queen's Day celebrations in Makkum, the Netherlands, on Wednesday. Queen's Day is a national holiday that celebrates the birthday of the queen of the Netherlands.
(Robin Utrecht AFP/Getty Images)