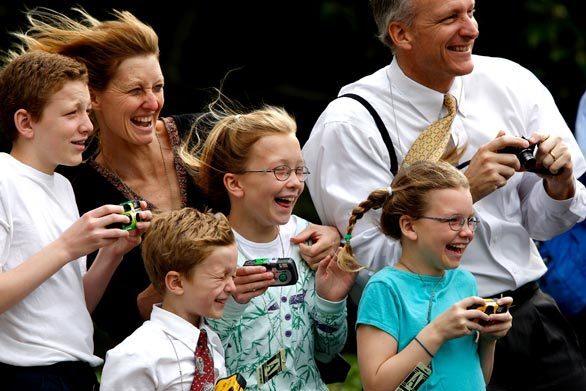 16 Images
Friday: The Day In Photos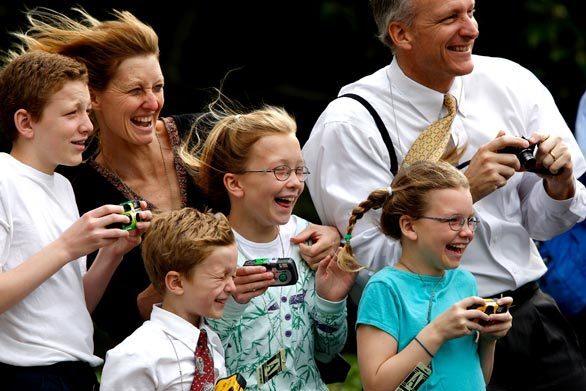 White House
visitors are windblown as
President Bush
's helicopter leaves the White House in Washington for a trip to
Missouri
and then on to his ranch in
Texas
for the weekend.
(Ron Edmonds / Associated Press)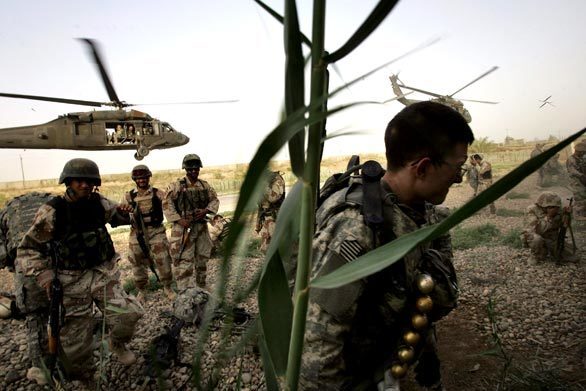 U.S. soldiers from the 101st Airborne Division and Iraqi soldiers protect themselves from dust kicked up by two U.S. Blackhawk helicopters carrying the first group for an air assault in Al-Rudwaniyah, on the southwest edge of Baghdad. The goal was to locate a foreign terrorist cell and search for insurgents setting roadside bombs. No suspects or contraband were found.
(Mauricio Lima / AFP/Getty Images)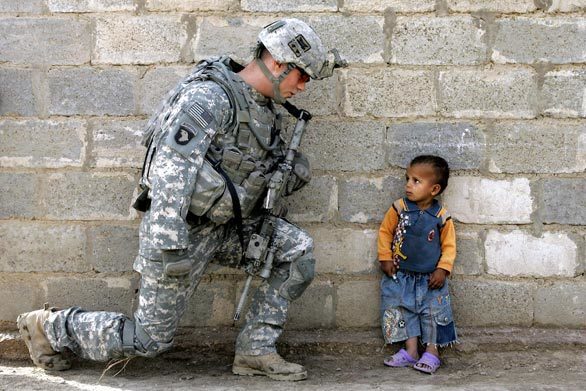 An Iraqi boy trades looks with a U.S. soldier from the 101st Airborne Division during the operation in Al-Rudwaniyah.
(Mauricio Lima / AFP/Getty Images)
U.S. Marines from the 24th Marine Expeditionary Unit return fire on Taliban positions near the town of Garmser, in the Helmand Province of Afghanistan.
(David Guttenfelder / Associated Press)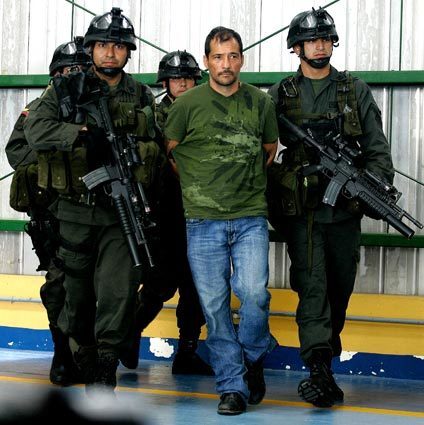 Police officers escort Miguel Angel Mejia, an alleged Colombian paramilitary drug lord, in Mariquita, west of Bogota. Mejia, the second of two drug-trafficking twins who were among the country's main cocaine shippers, was captured early Friday in
Honda
, 60 miles west of Bogota, authorities said.
(Fernando Vergara / Associated Press)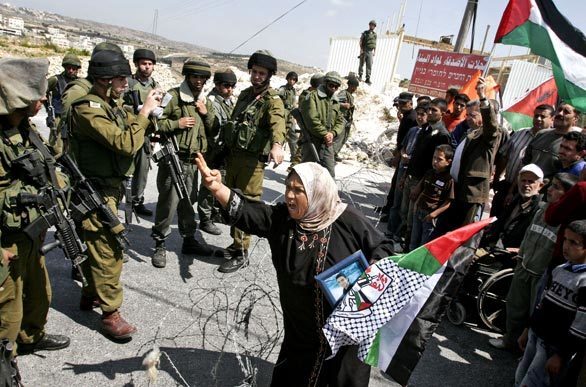 A Palestinian woman yells at Israeli soldiers during a protest against a separation barrier being built by Israel in the village of Umm Salamona, near the West Bank town of
Bethlehem
. Israel says the barrier is necessary for security; Palestinians call it a land grab.
(Nasser Shiyoukhi / Associated Press)
Student Chung Kwok-leung carries the Olympic torch along the streets of the Wanchai district of Hong Kong. Tens of thousands of people turned out to cheer as the torch ended a relatively trouble-free run through the city on the way to the Games in Beijing. Police briefly detained a handful of people amid scattered, small-scale protests.
(Andrew Ross / AFP/Getty Images)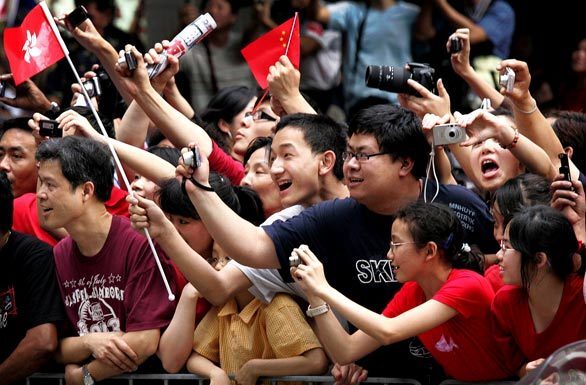 Supporters cheer and take photos of the Olympic torch as it passes through the streets of Hong Kong.
(Wally Santana / Associated Press)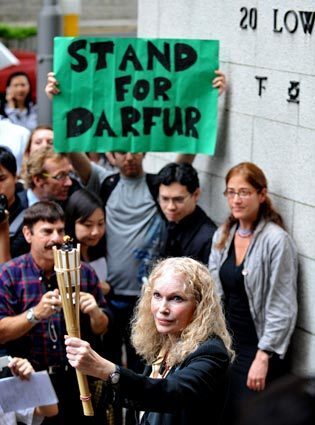 Actress
Mia Farrow
holds a mock Olympic torch outside Hong Kong's central government offices during a campaign in which she accused China of "underwriting the atrocities in Darfur" and tried to put pressure on Beijing to end years of bloodshed in the Sudanese region.
(Antony Dickson / AFP/Getty Images)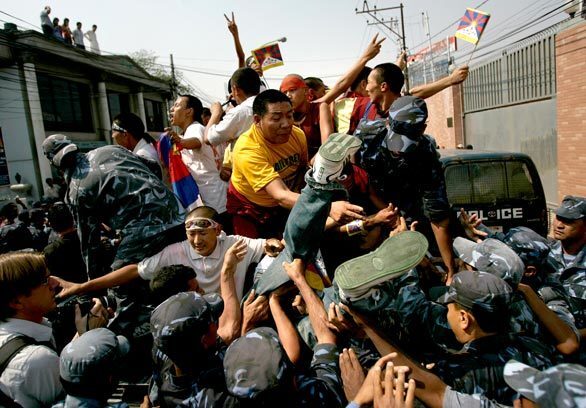 Tibetan demonstrators struggle as Nepalese police officers round them up during a protest outside the Chinese Embassy in Katmandu, Nepal. Dozens of Tibetans were detained as they demonstrated to condemn China's recent crackdown in the Himalayan region. The
Dalai Lama
's office said his envoys have left for China for talks aimed at ending the Tibet crisis.
(Emilio Morenatti / Associated Press)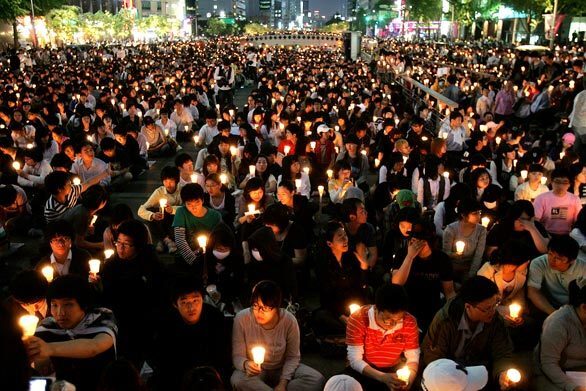 About 10,000 protesters in Seoul stage a candlelight vigil against resumption of U.S. beef imports by South Korea. There has been a lengthy ban on U.S. beef in South Korea over fears of mad cow disease.
(Ahn Young-joon / Associated Press)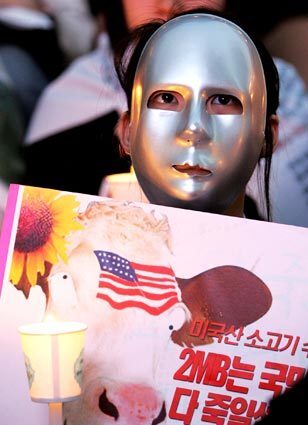 A high school student wears mask during the candlelight vigil in Seoul against resuming imports of U.S. beef.
(Ahn Young-joon / Associated Press)
A model waits backstage before the Akira parade on the last day of Australian Fashion Week in Sydney.
(Tracey Nearmy / EPA)
A young couple relaxes in a field of moss phlox at Hitsujiyama Park in Chichibu, west of Tokyo, Japan. More than 200,000 moss phlox are now in bloom at the park.
(Katsumi Kasahara / Associated Press)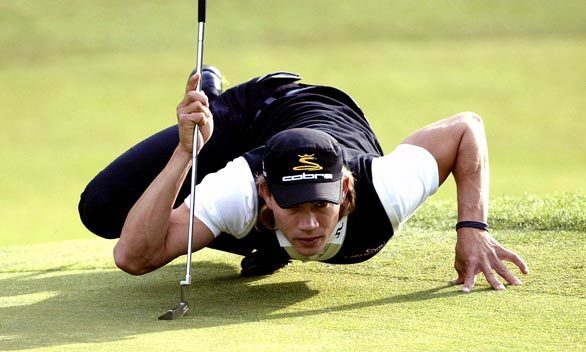 Camilo Villegas of Colombia lines up a putt on the 15th hole during the second round of the
Wachovia
Championship golf tournament in Charlotte, N.C..
(Nell Redmond / Associated Press)
A worker appears to sandblast cave paintings in a graffiti painting by British artist Banksy in London. A mix of installations, sculptures and stencils has transformed a normally drab and dank street in central London for a graffiti art festival that opens this weekend.
(Andy Rain / EPA)