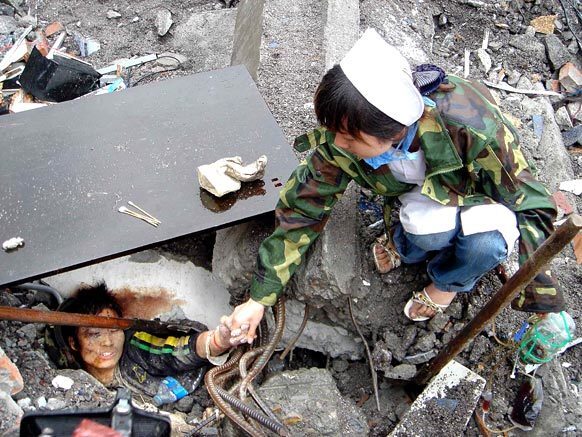 17 Images
Wednesday: The Day In Photos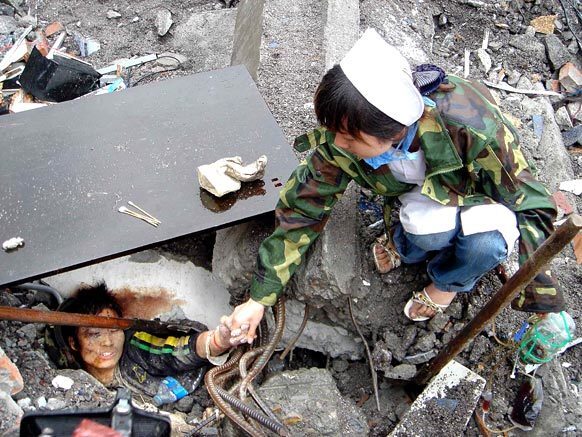 A Chinese nurse holds the hand of a trapped youth in the earthquake-hit region of Beichuan, in southwest China's Sichuan province. Rescue workers sifted through tangled debris of toppled schools and homes for thousands of victims.
(Xinhua / AFP/Getty Images)
An elderly woman is pulled out alive after being trapped for two days in an apartment that collapsed in Dujiangyan in southwestern China's Sichuan province.
(Ng Han Guan / Associated Press)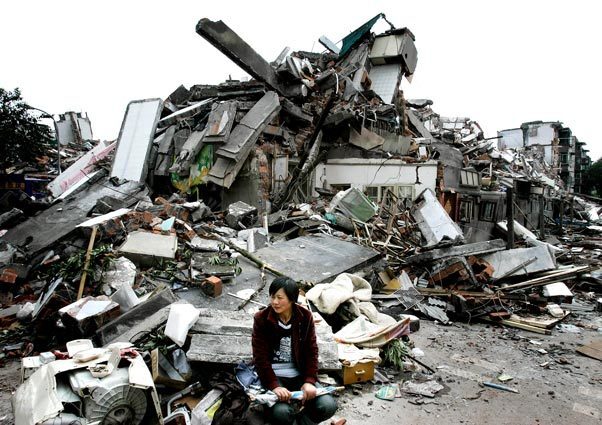 A woman sits in front of a collapsed building while waiting for news about her missing family members in Hanwang, China.
(Andy Wong / Associated Press)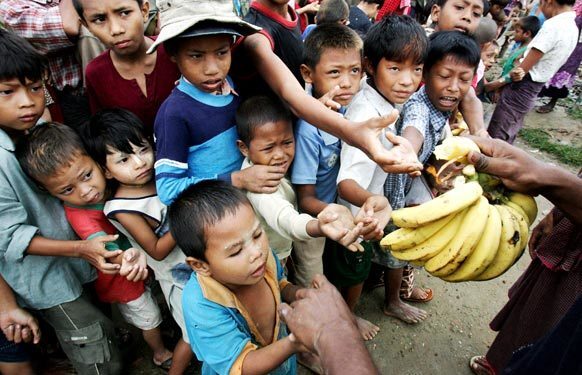 Children reach out to receive a piece of banana from a local donor on the outskirts of Yangon, Myanmar.
(Associated Press)
A Burmese woman holds a 6-week-old infant in a refugee camp in Kyauktan, Myanmar. The country was hit by a devastating cyclone May 3.
(Getty Images)
Cyclone survivors pull a boat back out to water in Kunyangon, Myanmar.
(EPA)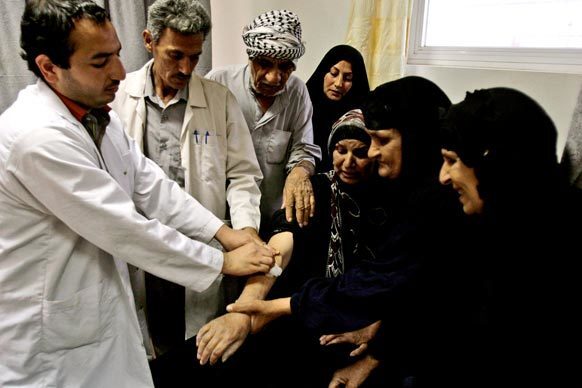 A doctor pulls out a bullet from a woman's arm in a hospital in the Shiite enclave of Sadr City in Baghdad, Iraq. The woman was hit yesterday standing in front of her house in Sadr City. It was not clear who fired the round.
(Karim Kadim / Associated Press)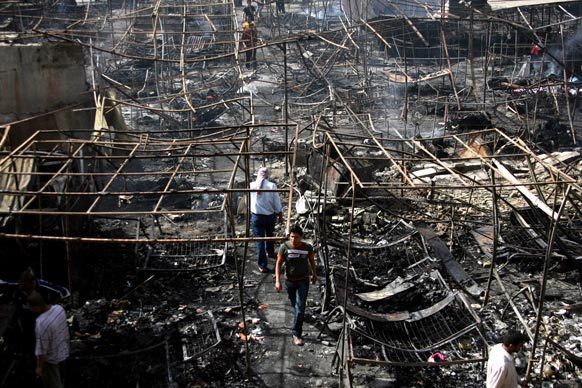 Iraqis walk through the remains of a market that caught fire during fighting between U.S. forces and militants in Baghdad, Iraq.
(Hadi Mizban / Associated Press)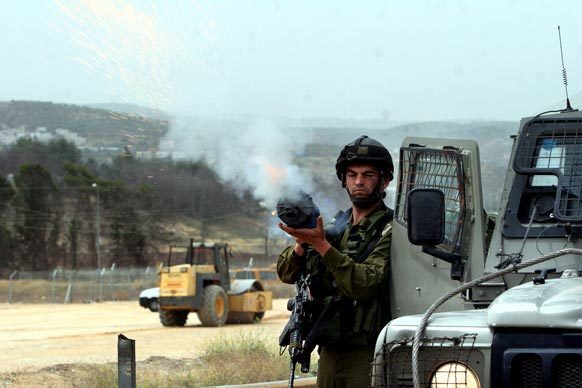 An Israeli soldier fires tear gas during a protest at the Howara checkpoint near the West Bank city of Nablus.
(Alaa Badarneh / EPA)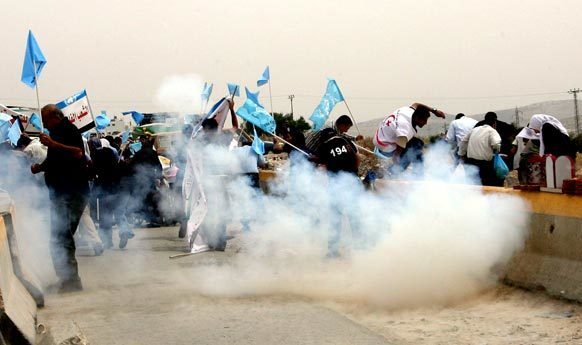 Palestinians seek cover from tear gas at the Howara checkpoint. Hundreds of Palestinian refugees clashed with Israeli soldiers during a protest against Israel's 60th anniversary.
(Alaa Badarneh / Associated Press)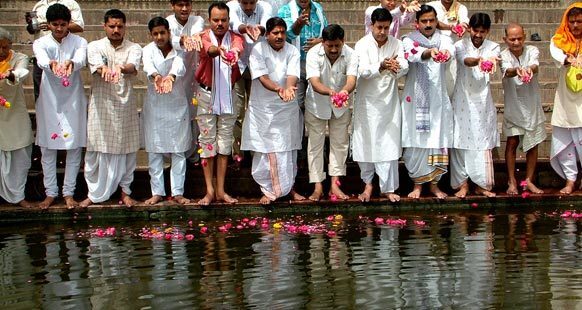 People drop flowers into the Yamuna River as a sign of homage to the victims of Tuesday's bomb attack in the city of Jaipur, India. Police imposed a daylong curfew in Jaipur on Wednesday to prevent any retaliatory violence after a series of blasts in crowded areas left at least 80 people dead.
(Yuvnish Kumar / Associated Press)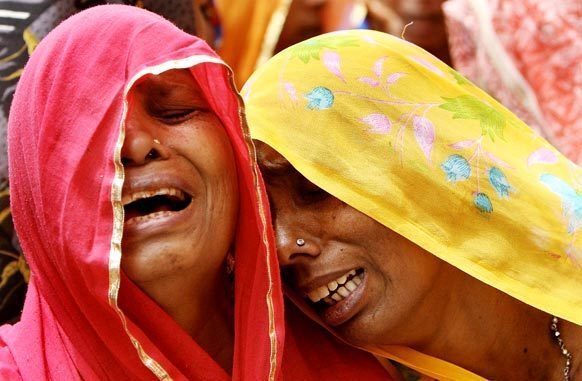 Indian women mourn the deaths of their relatives in bombings that tore through crowded markets in Jaipur yesterday.
(Manan Vatsyayana / AFP/Getty Images)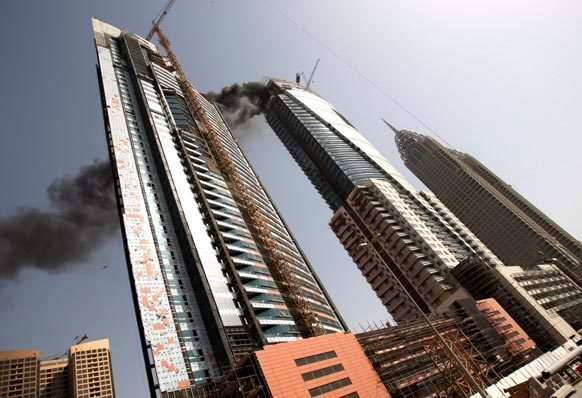 Smoke rises from a building under construction on Sheikh Zayed Road near the Mall of the Emirates in Dubai, United Arab Emirates. No casualties have been reported.
(Ali Haider)
Yves Rossy became the first man to fly with fitted jet-fuel powered wings above Bex, Switzerland. Calling himself "Fusion Man," Rossy jumped from a plane at 8,000 feet and flew for five minutes over the Swiss Alps.
(AFP / Getty Images)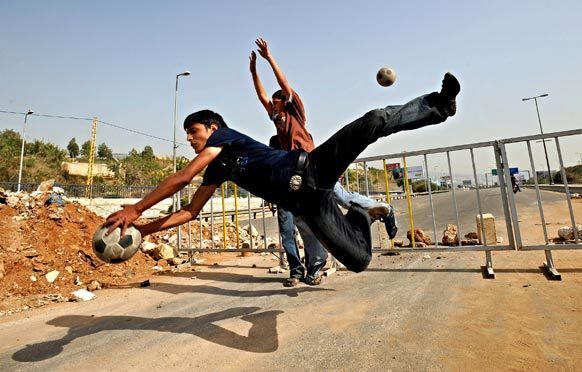 Lebanese children play soccer in front of a roadblock set by Hezbollah on the highway leading to the international airport of Beirut, Lebanon.
(Bela Szandelszky / Associated Press)
Rowers a shell float through early morning mist on Mercer Lake in West Windsor, N.J.
(Mel Evans / Associated Press)
A capybara mother and her young touch at a zoo in Hanover, Germany. The capybara is the largest living rodent in the world and is mainly found in South America.
(Nigel Treblin / AFP/Getty Images)