19 Images
Tuesday: The day in photos
People place flowers, light candles, and chant national slogans in memory of earthquake victims at the People's Square in Chengdu, China.
(Barbara Davidson / Los Angeles Times)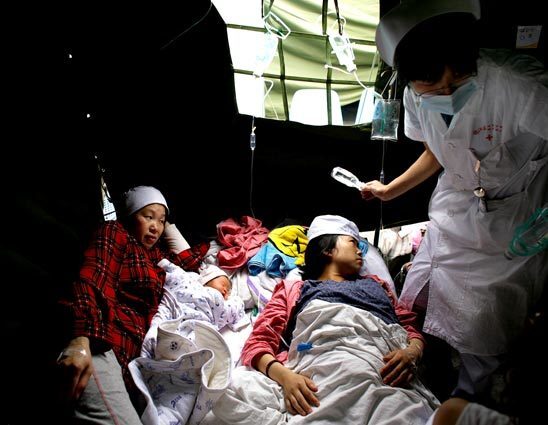 A maternity hospital sets up a tented camp in the middle of a busy intersection in downtown Chengdu, China, because of the fear of severe aftershocks.
(Barbara Davidson / Los Angeles Times)
Wang Chunbang, a 56-year-old earthquake survivor who had been trapped under debris for 164 hours, is rescued in Qingchuan county, China. Wang was found along with the bodies of six victims.
(AFP / Getty Images)
A homeless Myanmar woman eats rice beside her day-old baby at a temporary shelter on the outskirts of Yangon, Myanmar.
(Associated Press)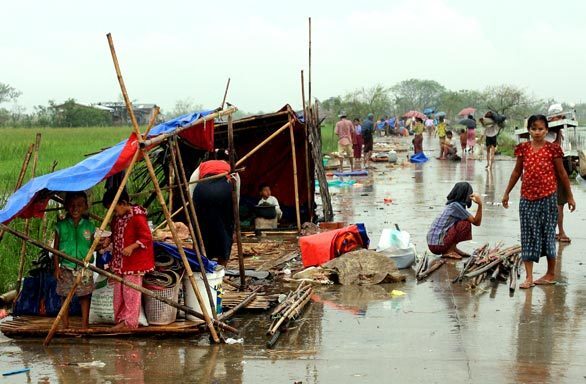 Displaced families live in makeshift huts in the cyclone-hit Shwepoughkan township of Myanmar.
(Khin Maung Win / AFP/Getty Images)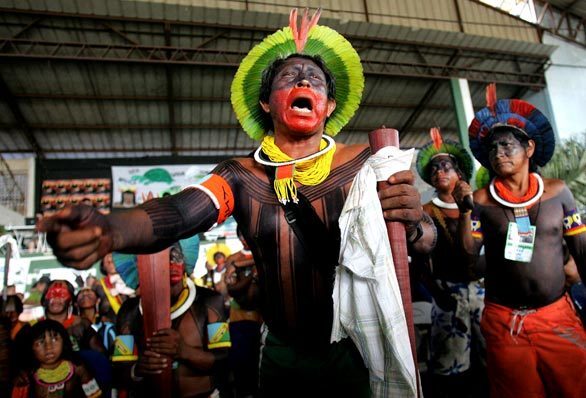 A Brazilian Indian protests the construction of the Belo Monte hydropower dam in Altamira, Brazil.
(Andre Petter / Associated Press)
About 2,000 tons of plastic burn in Iquique, Chile. More than 4,500 students in the area were evacuated because of toxic smoke from the fire.
(Gonzalo Artal / AFP/Getty Images)
Metro police officers fire rubber bullets as they disperse a crowd in the Reiger Park settlement outside Johannesburg, South Africa. Clashes pitting the poorest of the poor against one another have focused attention on complaints that South Africa's post-apartheid government has failed to deliver enough jobs, housing and schools to go around.
(Themba Hadebe / Associated Press)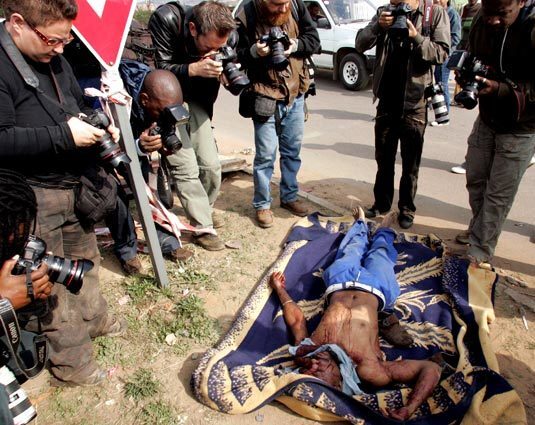 Photographers take pictures of an unidentified man who had been beaten up by South Africans in the Reiger Park settlement outside Johannesburg, South Africa. The man had been rescued from Reiger Park by police officers who brought him to this area for medical attention, which he received minutes after being photographed.
(Themba Hadebe / Associated Press)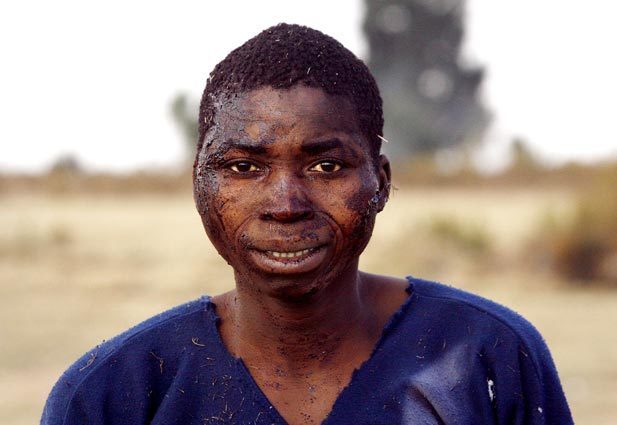 A seriously injured Mozambique national walks out of a field after being beaten by South African residents during clashes in the Ramaphosa squatter camp east of Johannesburg, South Africa. An estimated 23 people have died with hundreds injured and thousands displaced after a week of violent attacks on foreign nationals.
(Kim Ludbrook / EPA)
A Palestinian policeman rushes a wounded boy into the al-Shifa hospital in Gaza City. At least three people were killed, and 11 wounded, in Israeli air raids in the Gaza Strip today as talks continued in Egypt on a proposed truce.
(Mahmud Hams / AFP/Getty Images)
Indonesian student activists run to the presidential palace during a rally against the government's plan to raise fuel prices in Jakarta, Indonesia.
(EPA)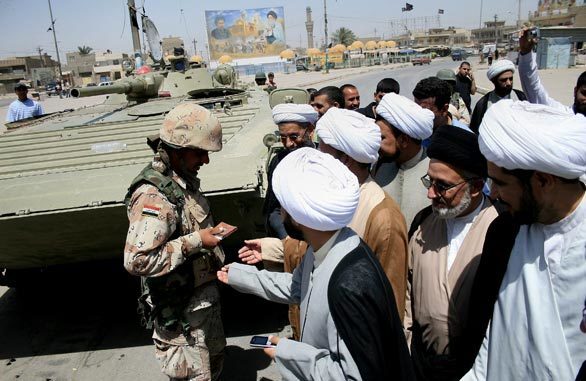 Shiite Muslim clerics loyal to cleric Muqtada Sadr give a government soldier a book of holy text in the Sadr City district of eastern Baghdad. Iraqi troops poured into the Baghdad Shiite bastion of Sadr City today for the first time in eight weeks, without resistance from militias who have fought deadly street battles with U.S. forces.
(Wissam Al-Akaili / AFP/Getty Images)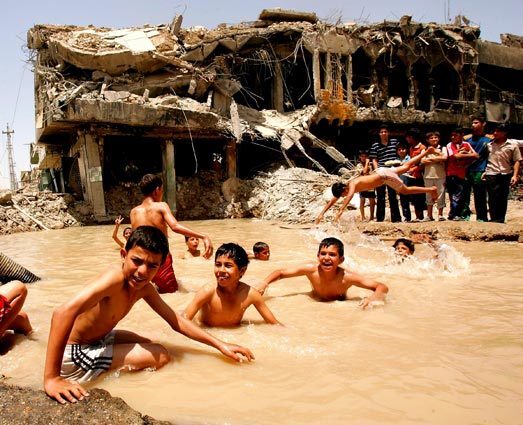 Iraqi boys swim in a pond caused by an explosion from recent fighting in the Shiite district of Sadr City in Baghdad, Iraq.
(Wathiq Khuzaie / Getty Images))
Painter Hussein al-Musawi works in his studio in the al-Asfar artist's district in Baghdad. Al-Asfar is Baghdad's main district for painting, with dozens of often ramshackle studios full of painters busily painting. Much of the demand by the public is for representational paintings of traditional rural Iraqi scenes, and the Iraqi artists here can churn out several of those a day. But on the side they often paint more challenging, modern works, which they also sell in their studios.
(Chris Hondros / Getty Images)
Firefighters try to extinguish a blaze at the home of the Berlin Philharmonic. The fire sent thick smoke pouring from the crest of the iconic downtown building as firefighters and musicians rushed to save instruments.
(Herbert Knosowski / Associated Press)
A Nepalese devotee splashes colored water over a dome-shaped Buddhist shrine to mark the Buddha's 2,552nd birthday in Kathmandu, Nepal. Buddha was born in Nepal.
(Narendra Shrestha / EPA)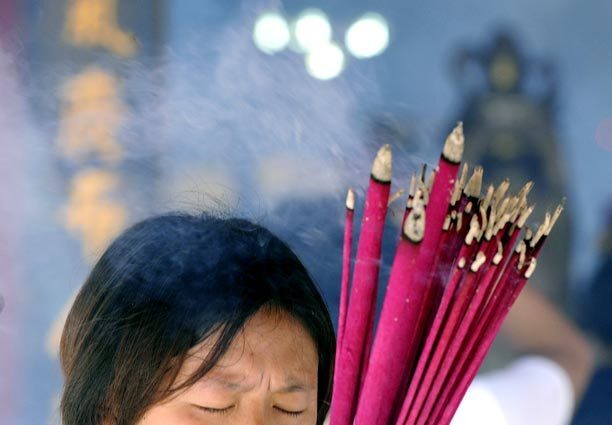 A devotee burns incense and prays at a Buddhist temple in Jakarta, Indonesia, to commemorate the birthday of Buddha.
(Jewel Samad / AFP/Getty Images)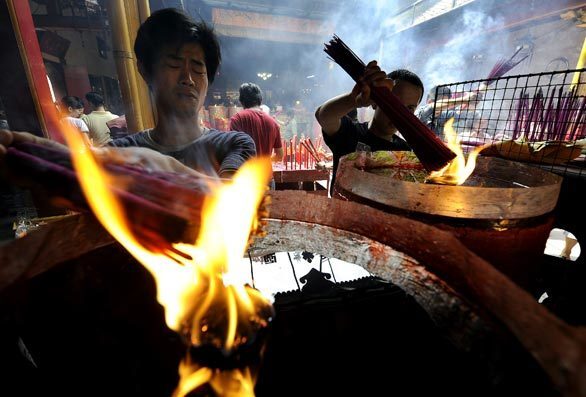 Devotees light incense sticks as they pray at a Buddhist temple to mark the Waisak festival in Jakarta, Indonesia.
(Jewel Samad / AFP/Getty Images)