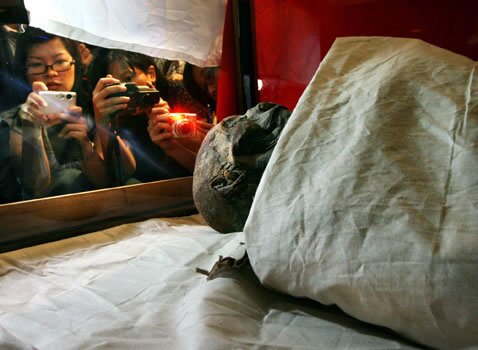 10 Images
Global Picture from June 27 - June 2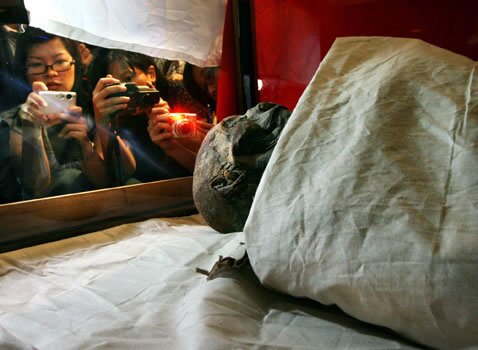 Japanese photojournalists capture images of the mummified remains of Queen Hatshepsut before a news conference at the Egyptian museum in Cairo, Wednesday. The mummy was discovered more than a century ago in a humble tomb in the famed Valley of the Kings, but suspicion that it was the female pharaoh was hard to prove because of the lack of evidence directly linking it to Hatshepsut. New CT scans of the mummy and its internal organs confirm its identity, said Zahi Hawass, Egypt's chief archeologist. "This is the most important discovery in the Valley of the Kings since the discovery of King Tutankhamen, and one of the greatest adventures of my life," said Hawass. Hatshepsut is believed to be one of four women to rule ancient Egypt, but the others presided over dynasties in decline. Hatshepsut's reign from about 1502 to 1482 BC occurred when Egypt was at the height of its power.
(Amr Nabil / AP Photo)
Oklahoma City firefighter Cpl. Brent Koeninger pulls Lauren Penn, 16, out of the swamped car she was sharing with her twin, Lindsey, who also was rescued. Rain has fallen daily in the area for two weeks, boosting the year's total as of Tuesday to 28 inches--almost 10 inches above normal. Large portions of Texas also have been saturated. High water closed streets and damaged structures in the Austin area.
(Sue Ogrocki / AP Photo)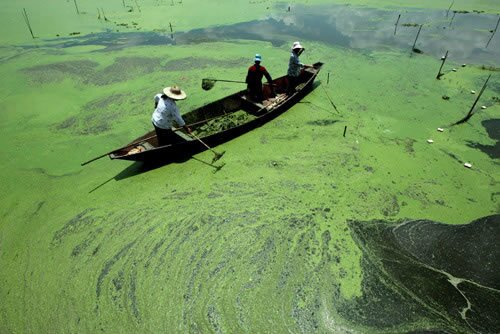 Workers try to clear blue-green algae from Dianchi Lake in Kunming, in China's southwest Yunnan province Tuesday. Algae-plagued water in the lake, as sticky as green paint, rolled towards the Haigeng beach, emitting a foul odor. The algae, a plantlike organism that blooms when nutrients sometimes caused by excessive pollution build up in water, is threatening drinking water for residents in the provicial captial, and water supplies for millions of local farmers. Dianchi Lake is one of the most polluted plateau lakes in Yunnan Province, and a popular tourist destination.
(AP Photo)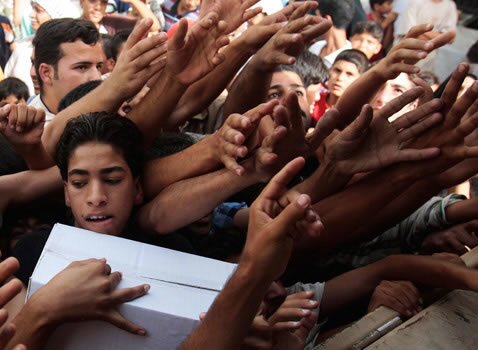 Iraqis surge toward a military truck ferrying boxes of food and blankets offered Tuesday by the 82nd Airborne Division's 1st Battalion, 325th Infantry Regiment Tuesday. Troops tried to maintain order during the distribution in the Hurriyah neighborhood of Baghdad, but chaos reigned, forcing many people to leave empty handed.
(Chris Hondros / Getty Images)
A quota imposed Wednesday on the purchase of subsizided gasoline sent Iranians onto the streets, where they set fire to at least 12 gas stations, damaged government-owned banks and department stores and shouted anti-government slogans. To curb rapidly increasing gasoline consumption, President Mahmoud Ahmadinejad limited most motorists to 26.4 gallons a month at the subsidized price of about 42 cents per gallon.
(AP photo)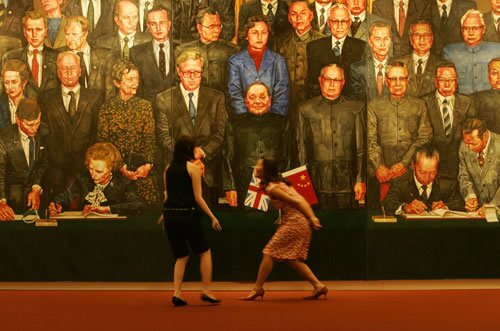 Two Sotheby's staff members animate "19 December 1984," painted by Chinese artist Ma Baozhong. A preview was held Tuesday of a collection of reunification art to be auctioned in Hong Kong in celebration of the 10th anniversary of Hong Kong's handover to China. This painting depicts the signing of the Sino-British Joint Declaration on Dec. 19, 1984 at the West Hall of the Great Hall in Beijing and is estimated to fetch from $742,000 to $870,000.
(Kin Cheung / AP photo)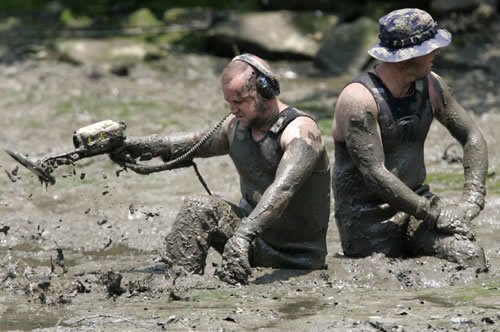 Virginia State Police divers Adam Dalton, left, and Rory Williams slog through deep mud armed with a metal detector in Duck Pond on the Virginia Tech campus Tuesday in Blacksburg. The university drained the campus pond in order to enable police to search it as part of their investigation into the April 16 shootings that left 33 students and faculty members dead.
(Gene Dalton / AP photo)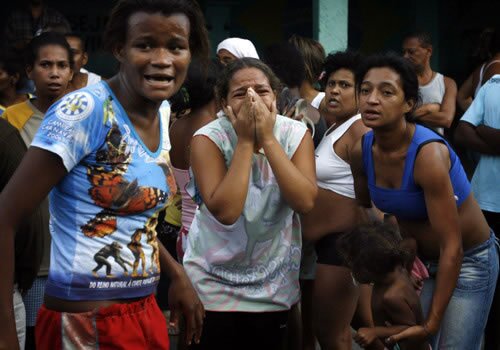 Residents of the Alemao slum of Rio de Janeiro witness a shootout Wednesday during an operation involving 1,350 heavily armed officers backed by helicopters and armored cars. In search of suspected drug traffickers, police killed at least 18 suspected criminals, served arrest warrants and seized drugs and arms in the vast shantytown. Officials in Rio de Janeiro hope to make the city safer before it serves as host to the Pan-American games next month when about 5,500 athletes and possibly hundreds of thousands of tourists are expected to visit.
(Ricardo Moraes / AP photo)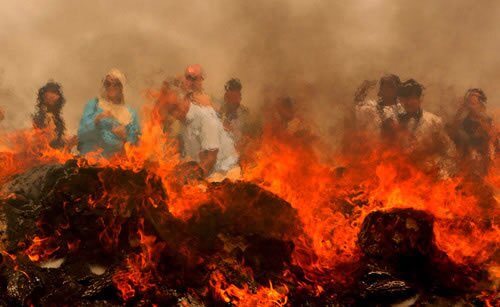 Afghan officials monitor the burning of opium products in a ceremony in Dah Sabaz on the outskirts of Kabul, Afghanistan, Wednesday. The country's poppy crop this year could yield even more opium than last year's record harvest because of favorable weather conditions. The United Nations warns that Helmand province in southern Afghanistan is poised to become the world's biggest drugs supplier, cultivating more opium than entire countries including Burma, Morocco and Colombia.
(Farzana Wahidy / AP photo)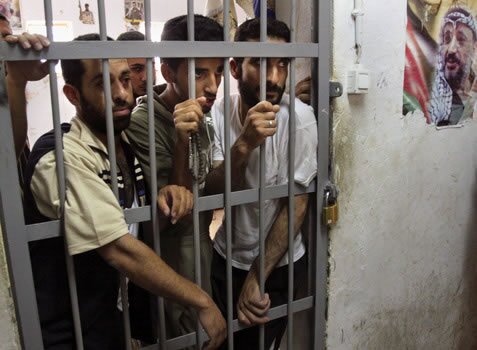 Palestinian activists from Hamas, who were detained by security forces loyal to Palestinian President Mahmoud Abbas of the opposition Fatah movement, are confined Monday in a prison cell in the West Bank town of Jenin. The men were rounded up after Hamas wrested control of the volatile Gaza Strip in fighting with Fatah earlier this month. Fatah retains control in the West Bank.
(Mohammed Ballas / AP photo)