10 Images
Global Picture from July 8 - July 14
Torrential rain caused more than 100 deaths in several Chinese provinces Monday, and scores of people were missing in the Huaihe River valley. Here, a resident of Nanjing plies a commercial thoroughfare on a makeshift raft wrought from plastic basins. By the end of the day Monday nearly 800,000 people had been evacuated from their homes in Jiangsu, Anhui, Henan, Hubei, Sichuan, Chongqing and Shaanxi.
(AP Photo)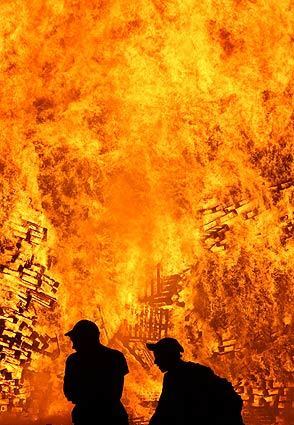 In 1690, the army of King William III of Orange vanquished that of Catholic King James II at the Boyne River in the present day Irish Republic. The Protestant British monarchy was born. On the night of July 11, Protestants celebrate with bonfires such as this one in the Shankill Road area of West Belfast, Northern Ireland. On Thursday, parades occurred throughout Northern Ireland, the largest of which traversed the Catholic neighborhood of the Ardoyne in Belfast. It was the most peaceful July 12 in decades.
(Peter Morrison / AP)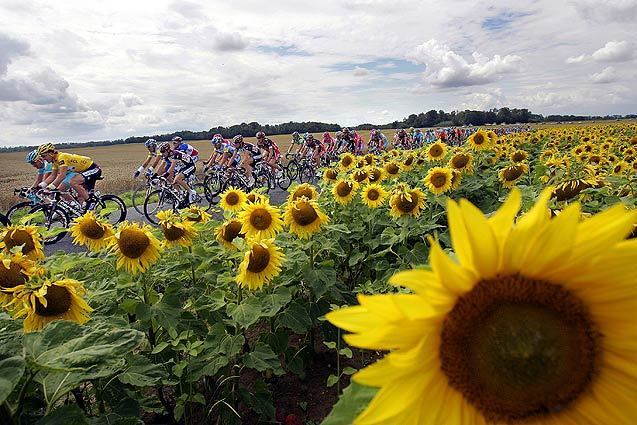 The dark cloud of scandal that has shadowed the world's preeminent bicycle race in recent years could not compete with the brilliant yellow sunflowers near Le Chanoix Wednesday, when the yellow-jerseyed overall leader in the fourth stage of the 94th Tour de France was Fabian Cancellara of Switzerland, left.
(Christophe Ena / AP)
Since 1591, the festival of San Fermin has featured the singular lunacy of men running alongside bulls through the narrow streets of Pamplona, Spain, en route to the bullring. The men are either brave or dangerously enthusiastic; the bulls are strong and come equipped with formidable horns, one of which found the soft tissue of this reveler in the bullring Monday. Thousands of people are attracted to the nine-day event of morning bull-runs and afternoon bullfights. Since record-keeping began in 1924, 13 people have been killed during the runs, the most recent in 1995.
()
Riding aboard the shoulders of his admirers, Spanish matador El Cid enjoys a post-bullfight victory Wednesday during San Fermin festivities in Pamplona, Spain.
(Pedro Armestre / AFP)
Heavy rains left hundreds of thousands of people without food in the eastern Indian state of West Bengal Sunday, prompting the Air Force to drop packages of food and relief materials at Sabang village near Calcutta. At least six districts in West Bengal were isolated from the rest of the country after surging rivers broke through mud embankments and swamped hundreds of villages. The misery has endured for days, killing about 200 people. Some residents were left stranded in trees and on rooftops with only coconuts for sustenance.
(Bikas Das / AP)
National Transportation Safety Board inspectors examine debris Wednesday where a small plane crashed Tuesday in Sanford, Fla. Five people died, two aboard the plane, and three on the ground. The plane apparently clipped trees in a housing subdivision, damaged several homes and ignited a fireball. Each year the NTSB conducts nearly 2,000 such accident inspections.
(Gary W. Green / AP)
A fierce eight-day siege at the Red Mosque in Islamabad, Pakistan that left more 100 people dead ended Wednesday. Commandos cleared the complex of extremists who had been using the compound as a base from which to send radicalized students to enforce their version of Islamic morality. On Thursday, these Pakistani grave diggers paused to pray as they prepared a cemetery for burial of the unidentified militants.
(AP)
Start with 200 tons of topsoil, mix thoroughly with 20,000 gallons of water, add children with tolerant parents, adults in touch with their inner Pigpens, and voila! It's Mud Day at Nankin Park in Westland, Mich. Sponsored Tuesday by the Wayne County parks and recreation department with the Westland Fire Dept. on hand to hose off the dirty dozens, the event is a filthy example of your tax dollars at work, but hey! It's free! Here's mud in your eye. And your nose. And between your toes...
(Bill Pugliano / Getty Images)
If weird were a planet, its capital would be Australia. Strange sports, strange animals, strange accents and now, Strange Fruit. The dance company from Melbourne produces and performs on the outdoor urban stage, and its most recent spectacle unfolded Wednesday atop 13-foot-high flexible poles in a free lunchtime performance at New York's World Financial Center Plaza.
(Timothy A Clary / AFP)