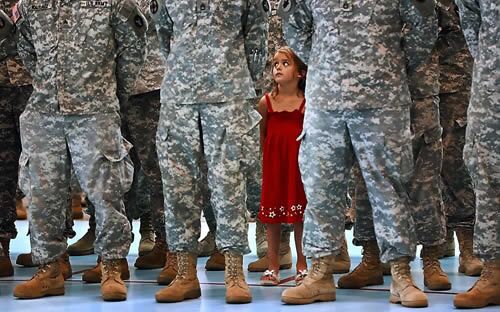 10 Images
Global Picture from July 22 - July 28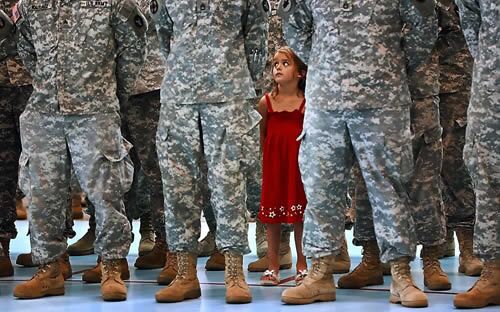 Morgan Styke, 5, is the odd one out in a military formation that includes her father, Sgt. Jeremy Charlet, at a dismissal ceremony of his National Guard unit Monday at the New Ulm Civic Center, in New Ulm, Minn. The New Ulm-based 125th Field Artillery Headquarters and Headquarters Battery unit returned to Minnesota Monday after 22 months of active duty, 16 of them in Iraq.
(John Cross / AP Photo)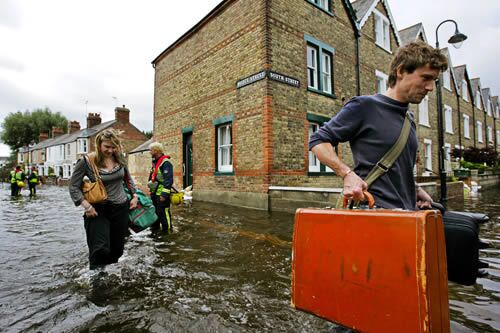 After an historically dry summer last year, Britain has been soaked this summer with one of its wettest on record. In the wake of flooding that began last week, hundreds of thousands of people by midweek lacked clean water, and many were forced to evacuate. These residents of Otney Island near Oxford navigated their way through flooded streets Wednesday, but Oxford was spared the worst of the flooding. Oxford University was undamaged, as most of its buildings are on higher ground. Drier weather was expected for Friday and Saturday across much of England.
(Peter Macdiarmid / Getty Images)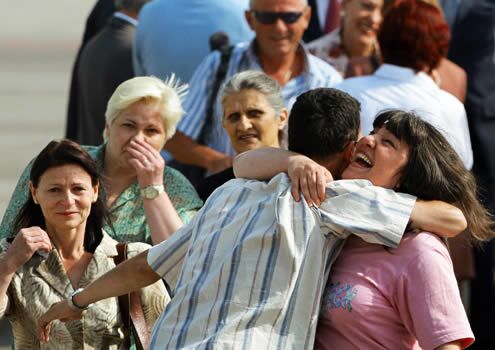 For almost 8 1/2 years, six health care workers--five Bulgarian nurses and a Palestinian doctor--languished in a Libyan prison, convicted of deliberately infecting more than 400 Libyan children with the virus that causes AIDS and condemned to death by military firing squad. And then, on Tuesday, their ordeal came to a dramatic end. Whisked out of their prison before dawn, the six were bundled onto a French presidential jet and flown to the Bulgarian capital. Here, Valia Cherveniashka is greeted by a relative as her fellow nurses Valentina Siropulo, far left, and Nasya Nenova look on. "I feel like I've been in a coma for eight years," said one nurse, "and only now am I waking,"
(Dimitar Dilkoff / AFP Photo)
Emilie Heymans of Canada finishes a dive Wednesday during the Women's 10m Platform Preliminary at the Pan American Games in Rio de Janeiro, Brazil. Although Heymans didn't make it to the medal stand in the individual event, on Thursday she and her teammate Marie-Eve Maleau won the women's synchronized platform diving competition. Paola Espinosa and Tatiana Ortiz of Mexico took the silver medal, and Haley Ishimatsu and Mary Beth Dunnichay of the U.S. took the bronze.
(Donald Miralle / Getty Images)
Soldiers of the African Union Mission in Sudan stand guard during a visit by their new commander, Gen. Martin Luther Agwai, to the Kor Abeche mission group site Sunday in southern Darfur. Sudanese President Omar al-Beshir has accused President Bush and British Prime Minister Gordon Brown of exaggerating Darfur's problems in order to hide what al-Beshir describes as their "failure" in Iraq.
(Stuart Price / Getty Images)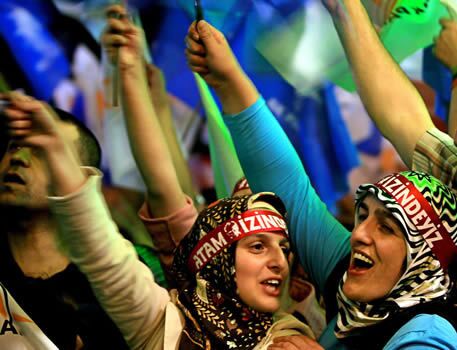 Supporters of Turkey's Justice and Development Party (AKP) celebrate victory in parliamentary elections Sunday in Ankara, the Turkish capital. Prime Minister Recep Tayyip Erdogan and his ruling AKP won 46.6% of the vote, but voters also elected representatives from two other parties as well as a bloc of Kurdish members. So the AKP will hold fewer seats and have more opposition. The vote might have far-reaching consequences for Turkey's engagement with the West, including its drive to join the European Union.
(EPA / STR)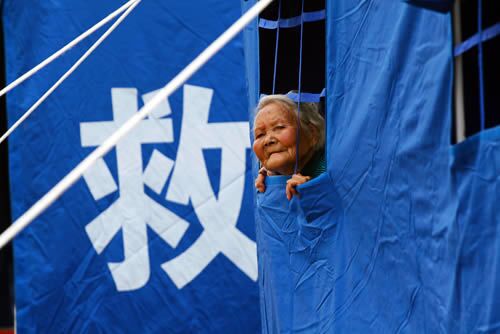 Since the start of the rainy season in May, floods have devastated China, killing more than 500 people, destroying crops and wreaking havoc with livestock. One of the hardest hit provinces is Hubei, where this woman surveyed her watery world from a temporary refuge for people fleeing the rising tide. Nearly half a million people have fled a flood zone surrounding central China's swollen Huai River, while high waters in the south unleashed a plague of billions of field mice that ravaged crops.
(AP Photo / EyePress)
From the heights of victory in stage 16 of the Tour de France Wednesday, race leader Michael Rasmussen fell to the depths of sport that night. The Danish athlete was kicked out of cycling's premier event by his own Rabobank team for being less than forthcoming about his whereabouts twice last month. Rasmussen seemingly had weathered the storm of missing random drug tests in May and June to become the all-but-crowned winner of the race. In a sport riven with controversy and corruption, Rasmussen became only the most recent exemplar of its disgrace.
(Bryn Lennon / Getty Images)
Residents of the southern Macedonian town of Bitola are seen Tuesday in silhouette against a backdrop of wildfires. Among the more explosive effects of the Balkans' searing summer heat, authorities said, is igniting World War I shells. Southern Macedonia was the scene of heavy fighting in World War I, and, "A lot of this ordnance could be set off by the high temperatures and there is a risk for large explosions," said Kostadin Popovski, head of an army mine division said. "We have already had several explosions."
(Boris Grdanoski / AP Photo)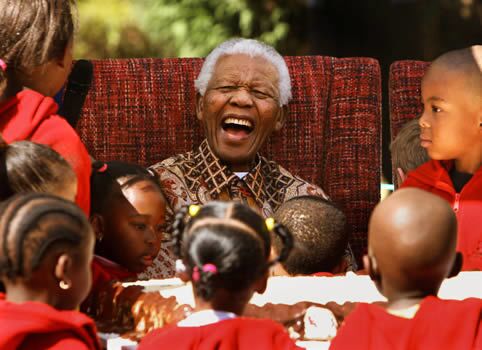 Nelson Mandela, former president of South Africa, shares his happy birthday during a celebration Tuesday at the Nelson Mandela Children's Fund in Johannesburg. Mandela turned 89 on July 18.
(Denis Farrell / AP Photo)