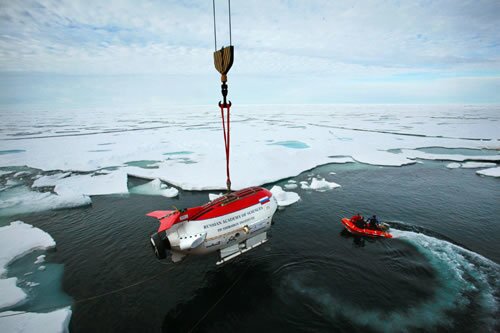 10 Images
Global Pictures from August 5 - August 11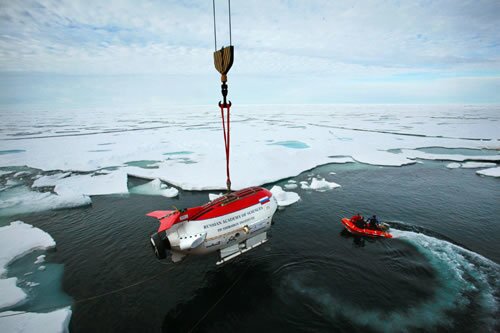 One of two Russian deep-diving miniature submarines is lowered from the research vessel Akademik Fyodorov moments before diving into the Arctic Ocean beneath the North Pole last week. The vessels slipped beneath the ice and descended more than 2 1/2 miles to the ocean floor on a quest to claim Arctic oil and mineral wealth for Russia. The voyage had some scientific goals as well, including studies of the climate, geology and biology of the polar region. "It was so lovely down there," Artur Chilingarov, a prominent polar explorer who descended in the first mini-sub, told Russian news media after the dive. The subs spent about nine hours underwater.
(Vladimir Chistyakov / AP Photo)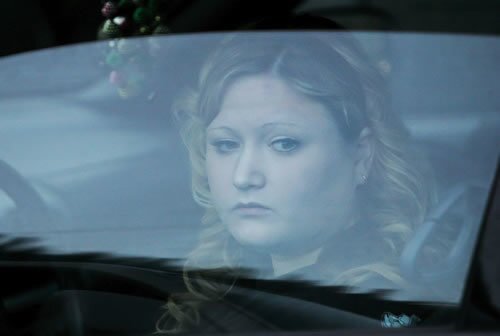 Sitting in her car, Kayleigh Maxfield of Huntington is among the Utahns awaiting news about the coal miners trapped 1,500 feet underground after the collapse of the Crandall Canyon Mine. Maxfield drove volunteers home who had worked overnight Tuesday on the rescue.
(Spencer Weiner / LAT)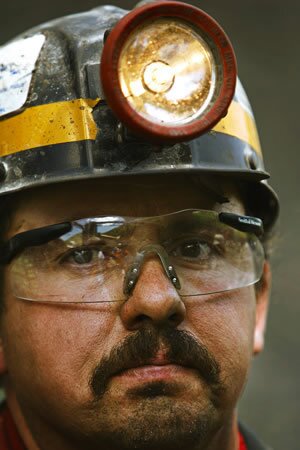 Most of the miners at Crandall Canyon Mine in Huntington Utah have been working non-stop since Monday to learn the fate of their brethren trapped 1,500 feet underground. Coal miner Paul Gilbert remained resolute Wednesday that the six miners could be rescued.
(Spencer Weiner / LAT)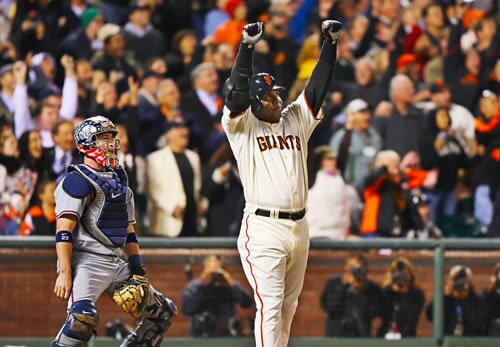 San Francisco Giants' slugger Barry Bonds exults as his 756th home run sails into the stands Tuesday at AT&T Park. The fifth-inning blast off Washington Nationals' starting pitcher Mike Bacsik carries Bonds into the rareified air of exclusivity, as he surpasses Hank Aaron's career home run record of 755. For at least this moment in time Bonds rules over those who suspect that his superhuman batting feats are by fueled steroids, a charge he denies and that has not been proved. Bonds said after the historic game: "This record is not tainted at all, at all, period."
(Phil Carter / US Presswire)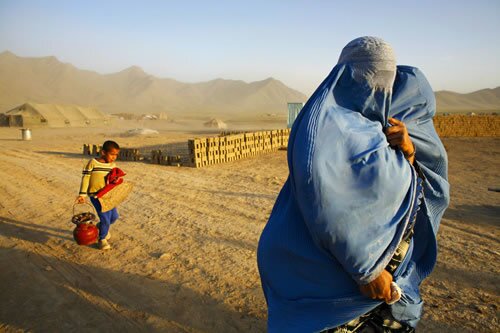 An Afghan woman and her son fight the formidable elements of dust and wind on the barren, dusty plains where they are building a new home on land they have been given to settle in Barikab, Afghanistan. They are refugees along with hundreds of internally displaced people who were paid $90 for a plot of land with no electricity, schools or market near by. Refugee families from Pakistan and Iran are heading to Voluntary Repatriation Centers for payments or cash grants that average $100 per individual; vaccinations and basic medical care; and instruction in mine awareness. More than 4.6 million Afghans have returned home from Pakistan and Iran since the overthrow of the Taliban in 2001.
(Paula Bronstein / Getty Images)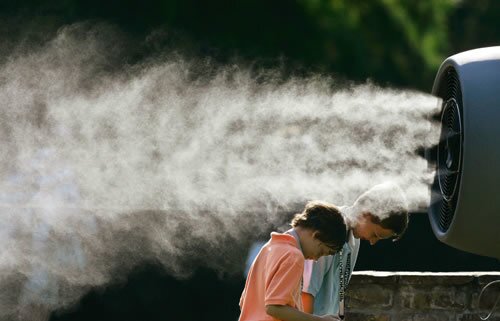 Will Podpechan, left, and his friend Nick Rogers get a head start on beating the ruthless heat at a misting fan Tuesday during practice rounds for the 89th PGA Golf Championship at the Southern Hills Country Club in Tulsa, Okla.The only thing hotter than the Oklahoma weather going into the tournament was Tiger Woods' short game.
(Jeff Roberson / AP Photo)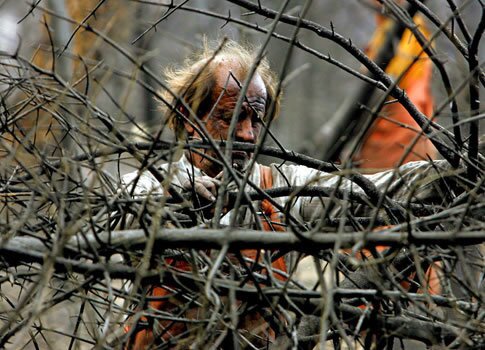 The European Union-protected wildlife reserve of Mount Parnitha has been ablaze for weeks. Called "the lungs" of Athens, Parnitha was the last swath of significant greenery accessible to the capital city's 5 million residents. Not only is it home to deer, squirrels and rabbits, it serves as a natural air conditioner for a city choked by the heat and pollution of 2.5 million cars. This worker gathers branches Monday from charred pine and fir trees, and dozens of people have been employed to build flood barriers on the mountain, north of Athens.
(Simela Pantzartzi / EPA)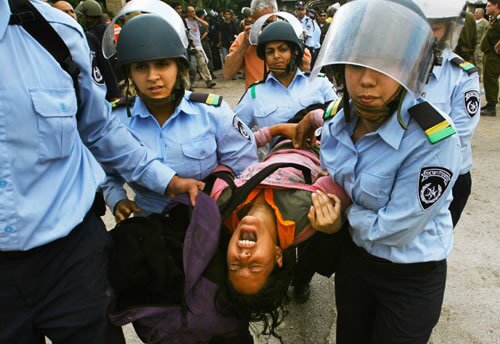 Israeli police with sledgehammers and chain saws broke into a fortified building in the West Bank city of Hebron on Tuesday and dragged out more than 200 spitting, stone-throwing Jewish settlers who had defied a court order to leave. Nearly 700 heavily guarded Jews live in Hebron amid 150,000 Palestinians. Four soldiers, 14 police officers and 12 settlers were hurt in the four-hour struggle, and the violent showdown in the center of the city, which is holy to both Jews and Muslims, sparked debate in Israel over the source of authority for its army.
(Baz Ratner / AP Photo)
Courtesy of the smoke from the Brush Creek fire, at dusk Monday the sun imparted an ominous glow to the sky over Whitefish Lake in Montana. Ignited by lightning, the fire had burned an estimated 22,725 acres, or 35.5 square miles, by Thursday, and was 10 percent contained..
(Lido Vizzutti / AP Photo)
Afghan police officers distribute leaflets from a pickup truck Monday during a demonstration in Kandahar to demand the release of 21 South Koreans being held hostage by the Taliban. The leaflets claim that the South Koreans are innocent doctors. About 70 people took part in the demonstration on behalf of the five men and 18 women who were abducted as they traveled by bus in Ghazni province last month. Two male members of the team have been slain by the Taliban.
(Allah Uddin / AP Photo)