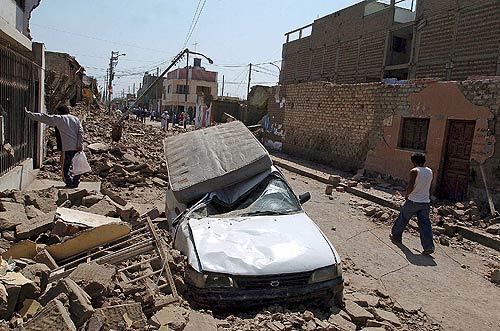 11 Images
Global Pictures: August 12th to 18th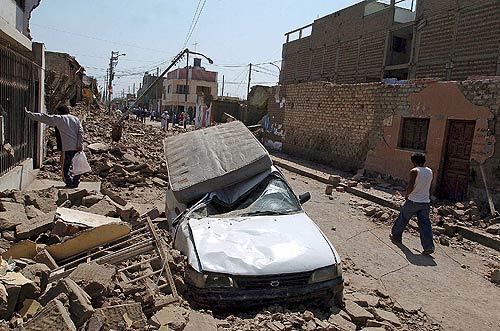 A 8.0 magnitude earthquake Wednesday was one of the strongest in Peru's recent history. By Thursday fatalities stood at 437, and 800 more people have been injured. Both tallies probably will rise as relief efforts reach into the region's isolated, mountainside communities. Tens of thousands of people were left homeless. Hardest hit were the southern cities of Pisco, seen here, and Ica, and significant portions of the Pan-American Highway along the Peruvian coast were destroyed. Two other powerful temblors this decade were stronger than the Wednesday earthquake, but not as deadly; a 1970 earthquake killed 66,000 Peruvians.
(Sergio Urday / EPA)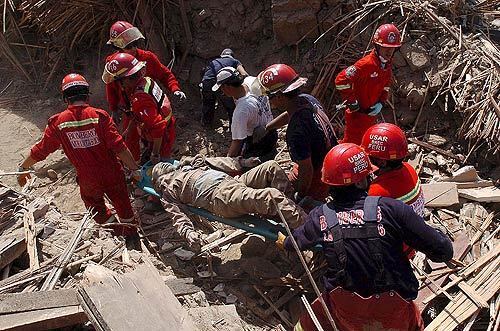 Firefighters rescue a victim of Wednesday's earthquake in Pisco, Peru. The country's capital, Lima, is 95 miles from the epicenter of the 8.0 temblor, and was spared significant damage. But the earth still moved, and people still panicked as tall buildings swayed and streets rolled. Thursday's front page of La Republica newspaper articulated the experience with a headline that read "Two Minutes of Terror."
(Sergio Urday / EPA)
Purificacion Mercado, 84, was forced to serve for the Japanese Army as a sexual slave during World War II. On Tuesday, 62 years after the end of World War II, she was among Filipinos protesting the grim memory of their forced labor at a rally in front of Japanese embassy in Manila. Mercado said, "They beat us up, we were helpless and scared. Then they raped us." Approximately 450 Filipinas were documented as so-called "comfort women" for Japanese soldiers; 84 have died, and about 200 still actively seek compensation. The protesters Tuesday beseeched Philippine President Gloria Macapagal-Arroyo to urge Japan to formally acknowledge, apologize and accept its responsibility over its sexual slavery.
(Dennis M. Sabangan / EPA)
An Iraqi member of the Amariyah Volunteers, former insurgents who have joined forces with the U.S. and Iraqi troops to fight Al Qaeda, adjusts his ammunition belt Tuesday in front of their newly established headquarters in the Amariyah neighborhood of west Baghdad.
(Petr David Josek / AP)
A veiled Palestinian woman lends support Monday to the call for release of Palestinian prisoners in Israeli jails. The rally outside the International Red Cross building in Gaza City is a weekly event. Israel holds about 9,200 Palestinian prisoners, most of whom were arrested during the past seven years of Israeli-Palestinian fighting.
(Hatem Moussa / AP)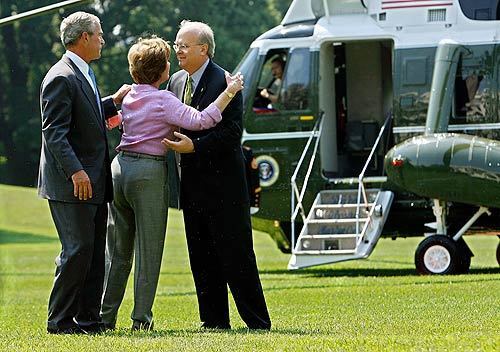 Laura Bush expresses her affection for departing presidential advisor Karl Rove on the South Lawn of the White House Monday as the president looks on. Rove, who announced his resignation effective at the end of the month, has been part of the Bush political history for more than 30 years, and perhaps no other advisor has had as much professional or personal influence on a president as he.
(Chip Somodevilla / Getty Images)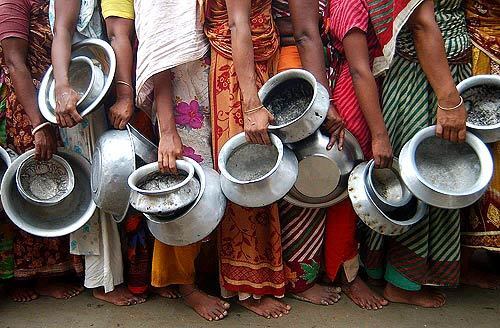 Devastating monsoon floods have laid waste to much of South Asia in recent weeks, killing more than 2,000 people and displacing millions. On Monday these flood victims queued for cooked food at a relief center in Dhaka, Bangladesh, which the United Nations warned could face acute food shortages with the destruction of hundreds of thousands of acres of crops.
(Pavel Rahman / AP)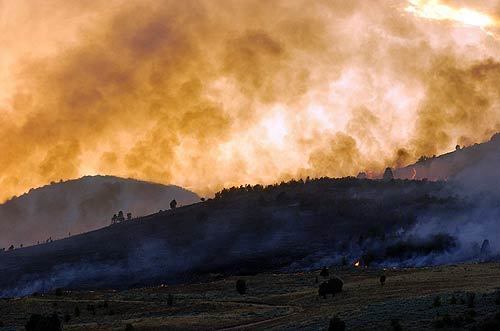 Fire and smoke from the Cleveland Hill fire near Preston, Idaho engulfed the hillsides Saturday. By Sunday, the fire was estimated at 15,000-20,000 acres. By Wednesday, more than 611,000 acres, or 954 square miles, had been scorched by 19 large wildfires in Idaho, according to the National Interagency Fire Center. In neighboring Montana, at least 15 large fires were burning Wednesday across about 604 square miles, mostly in the state's western half. A fire at Yellowstone National Park spread beyond the park's eastern boundary, growing at least 1,000 acres Wednesday to reach 13,000 acres, or more than 20 square miles.
(Joe Kline / Idaho State Journal)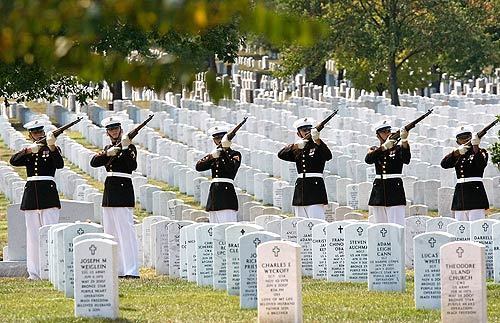 A U.S. Marine Honor Guard Firing Party discharges three volleys honoring Marine Cpl. Mark David Kidd at his interment ceremony Tuesday at Arlington National Cemetery. Kidd, who was killed by a sniper at a checkpoint in the Al Anbar province of Iraq in January, was buried at Arlington after being exhumed from his initial gravesite in his home state of Michigan.
(Mark Wilson / Getty Images)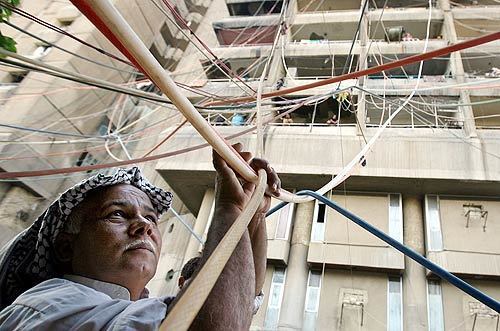 Abdul Amir Hussein connects a network of water hoses to apartments in central Baghdad, Iraq, earlier this month. The Baghdad water supply has been compromised by power blackouts that affect pumping and filtration stations, and Iraq's precarious electricity grid is also vulnerable to insurgent sabotage, rising demand, fuel shortages and provincial officials who unplug local power stations from the national system. Power supplies in the capital have been sporadic all summer and power generally is available only a few hours a day.
(Hadi Mizban / AP)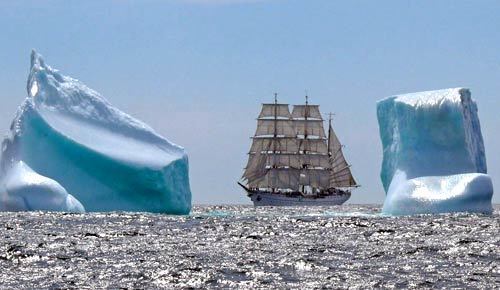 The Gorch Fock training windjammer of the German marine is framed by two icebergs earlier this month in the Gulf of St. Lawrence off Newfoundland. The ship is at sea for a nine-month voyage and is en route to Quebec this weekend. It also plans ports of call in Boston and New York next month before returning to its home port of Kiel, Germany, in December.
(EPA)