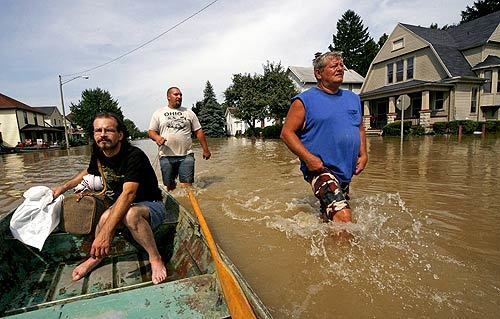 10 Images
Global Pictures: August 19th to 25th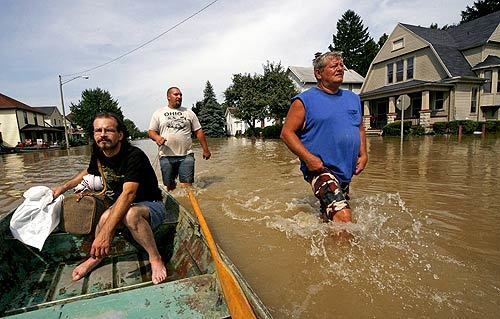 In the worst flooding in nearly a century, the town of Findlay, Ohio, received more than seven inches of rain in a month. Hundreds of residents have been forced from their homes, including Johnny Blaze, left, who was rescued via watercraft Wednesday with the help of Robert Evan, middle, and Dene Lynn. Ohio Gov. Ted Strickland declared a state of emergency in nine counties in northern Ohio where roads are impassable, schools have been closed and storm shelters opened.
(Madalyn Ruggiero / AP)
Early risers enjoyed a pre-dawn light show in La Crosse, Wis., Wednesday.
(Erik Daily / La Crosse Tribune)
The Bulgarian resort of Pomorie on the Black Sea is renowned for its mud-yielding lake. Adults slater themselves with the black goo for its purportedly wide range of therapeutic properties. Kids mud up to scare the bejesus out of their siblings. It's win-win.
(Petar Petrov / AP)
Approximately one-third of the people living in Saudi Arabia are foreigners, many of them Asian laborers. One of them, an Indonesian maid named Tari Tarsim, 27, was detained Monday after she and three of her colleagues were attacked because they were suspected of practicing black magic. Two of them died. These activists in Jakarta, the Indonesian capital, were on a hunger strike in front of the Saudi Arabian embassy Thursday to protest the Arab nation's actions.
(Ahmad Zamroni / AFP)
Audi Hamilton Island Race Week is supposed to be all about yacht racing, but on Wednesday Mother Nature stole the limelight when a pod of humpback whales joined in the regatta off Hamilton Island, Queensland, in Australia. This crew aboard Wot Yot admires a particularly fetching fluke, and some of the competitors were blessed to witness the birth of a whale. Winds were not robust enough to satisfy the racers, but the presence of the whales and their generosity in their sharing such momentous life events more than made up for it.
(Jack Atley / EPA)
A health worker on the Indonesian resort island of Bali collects a sample from Wayan Suamba, the husband of Ayu Srinadi who died Tuesday at 28 from avian flu. It was the second case on the island in less than a month. Although Indonesian and World Health Orgainzation officials were quick to note that there was nothing clinically unusual about the Bali deaths—both victims apparently contracted the virus from infected poultry— the presence of human bird flu cases on a small island that is host to more than 1 million foreign tourists a year adds to fears that the virus could trigger a global flu pandemic.
(Sonny Tumbelaka / AFP)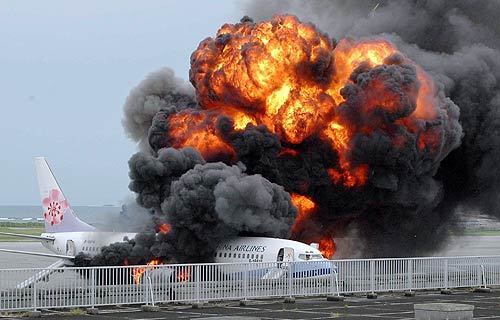 A China Airlines plane exploded into flames following its landing at Naha Airport in Okinawa, Japan, Monday, having just arrived from Taiwan. All 165 people aboard escaped. Police said terrorism was not suspected, and later in the week the investigation focused on a fuel leak that might have caused the inferno seconds after its passengers fled. Japanese authorities said they were examining evidence that the plane's right engine leaked fuel as it pulled into a parking spot upon its arrival.
(Hiroshi Tsujimoto / AP)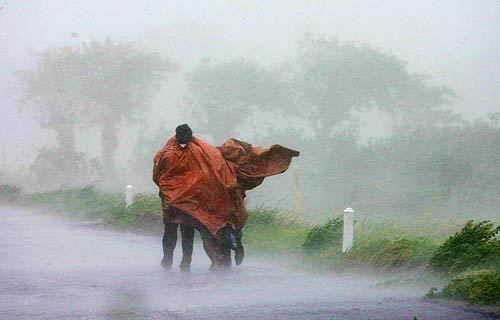 Brave, stupid or just cursed with really bad timing? Pedestrians strove to remain upright Wednesday as Hurricane Dean made landfall near Martinez de la Torre, Mexico. Dean had slammed into Mexico's Caribbean coast on Tuesday as the strongest hurricane to hit land in the Atlantic region since 1988, and made its second landfall with winds reaching speeds of 165 mph. An estimated 20,000 people along the coast were evacuated before the storm hit, but, remarkably, no one was reported killed, and the country's signature beach resorts and key oil installations appear to have been spared. By Thursday the former Category 5 hurricane had diminished to a tropical depression, dropping heavy rain on villages along the mountains of the eastern Sierra Madre.
(James Nielsen / The Chronicle)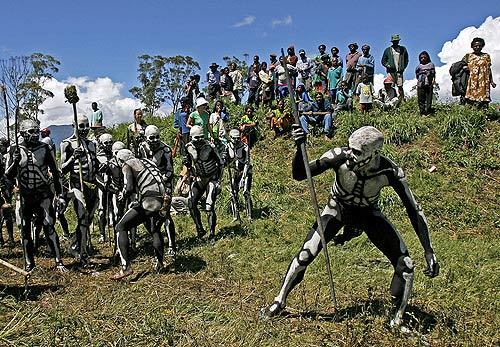 Omo Masalai spirit men from Simbu province pose in skeletal contrast to the highlanders above. All are en route to the 46th annual singsing, or cultural show, Sunday in the frontier town of Mount Hagen. Tribes from all over Papua New Guinea, one of the world's most culturally diverse nations, gather in the Western Highlands each year to celebrate each tribe's traditions.
(Torsten Blackwood / AFP)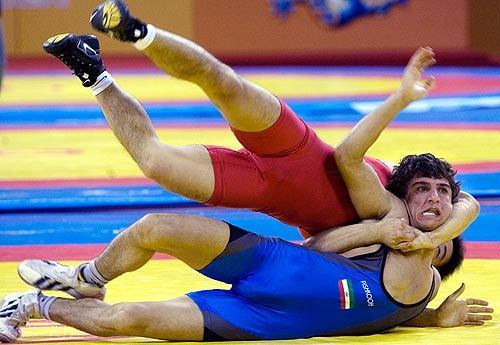 Among the approximately 1,000 wrestlers from 60 countries and regions competing this week in the 2007 Junior World Wrestling Championship are Iran's Hamid Zare, in blue, whose head seems disembodied from his torso courtesy of China's Wan Feilong during a preliminary match Wednesday. Held at the China Agricultural University Gym in Beijing, the event was a test for the newly built venue in Beijing, host of the Olympic Games next year.
(Ng Han Guan / AP)