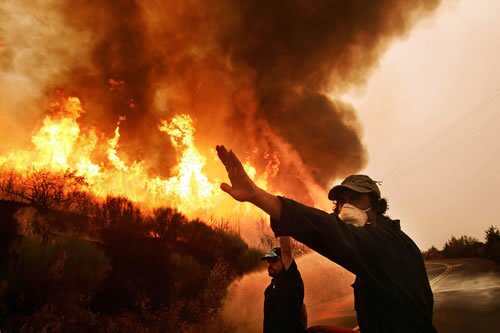 10 Images
Global Pictures from August 26 - September 01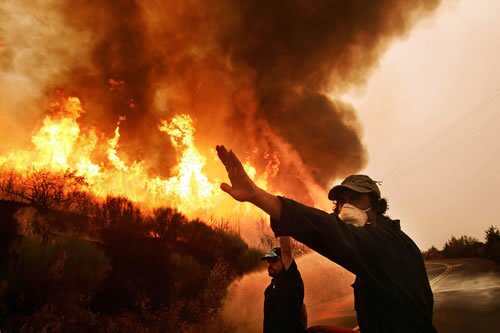 Firefighters continued to battle flames in Greece all week, and scores of people have been killed across the country. Several people have been charged with arson. Some officials and environmentalists believe fires were set deliberately in order to render the land available for development. In a dramatic rescue effort Sunday, firefighters saved ancient Olympia, the legendary site of the first Olympic Games nearly 3,000 years ago. Flames had moved up to the edge of the site, singeing the yard of its centerpiece museum, where several famous classical statues are housed.
(Aris Messinis / Getty Images)
U.S. soldiers from the 5th Squadron, 73rd Cavalry regiment, 3d Brigade combat team of 82nd Airborne Division examine the body of an Iraqi soldier Tuesday near the city of Baqubah, 35 miles northeast of Baghdad. Three Iraqi soldiers died after their vehicle hit an improvised explosive device.
(Karel Prinsloo / AP Photo)
U.S. infantry soldiers hold their weapons above their heads as they wade through a canal during a patrol Monday under Operation Gecko. It was launched as part of a U.S. strategy to partner with Iraqi Sunni volunteers, former insurgents who have joined forces with U.S. and Iraqi troops to fight Al Qaeda and to clear neighborhoods and farmlands previously considered highly dangerous for U.S. forces.
(David Furst / Getty Images)
A German soldier is framed by coffins containing the remains of soldiers from World War II at the German cemetery in Sologubovka, about 45 miles from St.Petersburg, Russia. On Wednesday there was a reburial ceremony for the thousands of German soldiers whose final resting place is here. Sologubovka is the largest German war cemetery outside or inside of Germany. Its opening in 2000 was the culmination of Germany's effort to locate and rebury the soldiers of the Third Reich who were killed in Russia and Eastern Europe.
(Anatoly Maltsev / EPA)
Bulls from the Manuel Gimeno ranch trample a runner during the second "encierro" (bull run) in San Sebastian de los Reyes, near Madrid, on Monday, as part of the city's annual festival. About 2,000 people participated in the traditional lunacy that pits huge, powerful and not entirely amiable beasts against humans engaged either in wishful thinking or none at all. Only a few people were injured this year.
(Juan Carlo Hidalgo / EPA)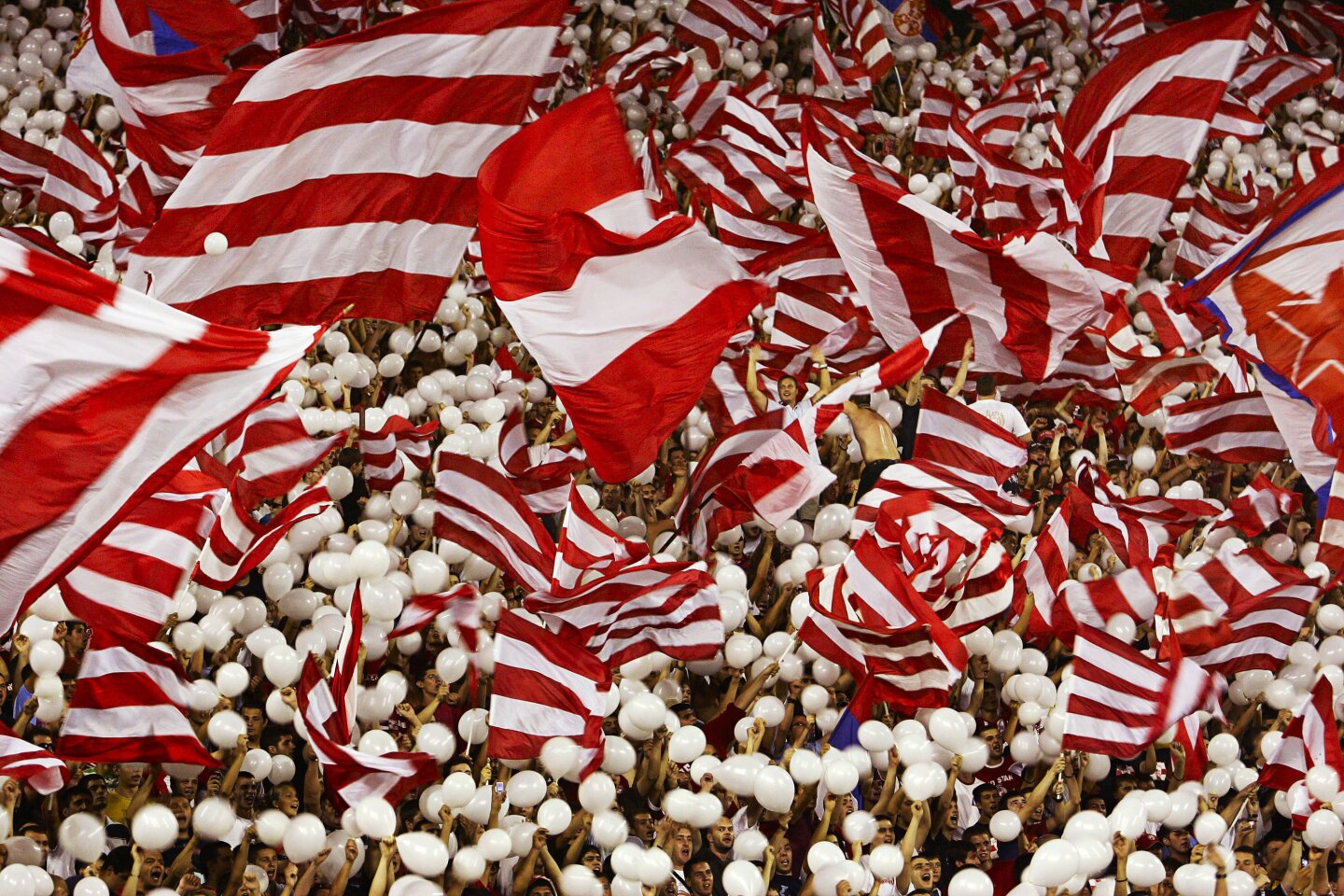 Red Star Belgrade fans show their colors in frenzied optimism before the UEFA Champions League third qualifying round soccer match between Red Star and the Glasgow Rangers in Belgrade, Serbia, on Tuesday. Alas, by game's end their flags were drooping and their balloons had burst as the former European Cup winners fell by aggregate defeat in a 0-0 tie. The Serbian champions last hoisted the European Cup in 1991, but have failed to reach anything near those heights since.
(Srdjan Ilic / AP Photo)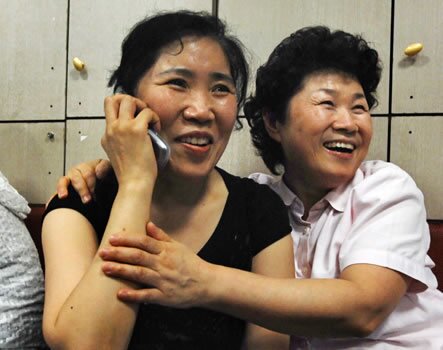 When word came Tuesday that South Korean Christian volunteers abducted by Taliban militiamen in Afghanistan more than five weeks ago appeared to be on the brink of release, their families in South Korea greeted news of their impending release with a mix of exhilaration and shame that the abductions had caused a national trauma. Two of the 23 kidnapped were killed in July; by Thursday all the remaining hostages had been released.
(TR/AFP/Getty Images)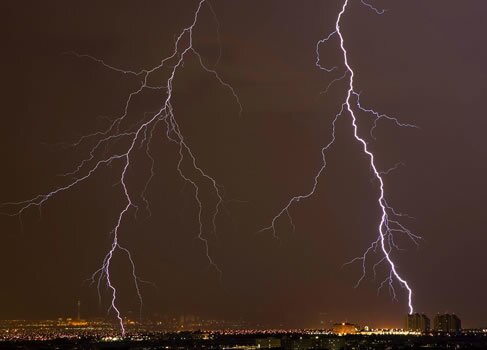 Las Vegas might be America's City of Light, but early Monday morning it was the city of lightning as a series of strong thunderstorms swept through the area overnight. Motorists on the Las Vegas Strip, accustomed to be stalled by chronic congestion, instead were stuck in the roadway by high water. More than 50 tree fires also lit up the night sky, but no injuries were reported.
(Ethan Miller / Getty Images)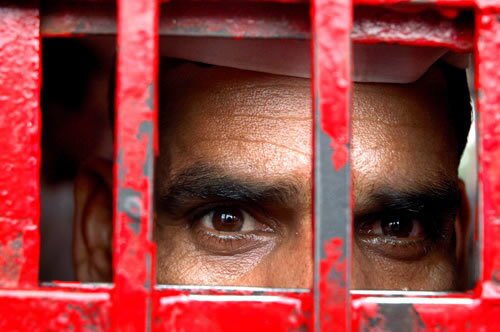 An inmate behind the bars of the central jail keeps a lookout out for his family on the occasion of the Rakshabandhan festival in Bhopal, India, Tuesday. The Hindu celebration honors the bond between sisters and brothers, and jail authorities made special arrangements for inmates to participate in the tradition of sisters tying a rakhi, or "thread of love," around their brothers' wrists in return for their protection.
(Sanjeev Gupta / EPA)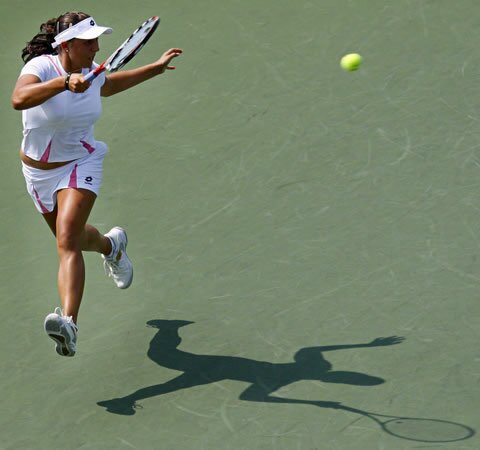 Tamira Paszek of Austria wallops a running forehand during her second-round match against Italy's Francesca Schiavone on Thursday, the fourth day of the 2007 U.S. Open in New York. The 16-year-old Paszek upset the No. 24 seed by a set score of 6-3, 7-5.
(John G. Mabanglo / EPA)