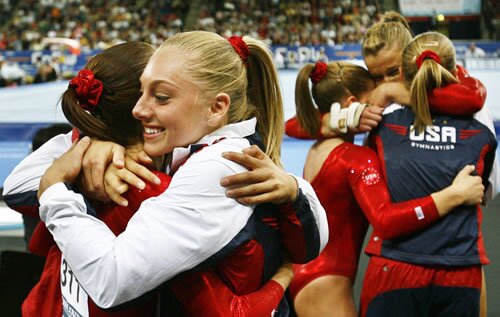 11 Images
Global Pictures from September 2 - September 8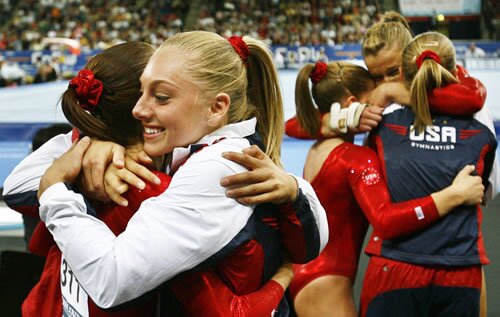 The only time the U.S. women won a team gold medal in the Olympics was at the home-country Atlanta Games of 1996 (Kerri Strug, anyone?). The team's only world championship medal came in 2003 in friendly Anaheim. On Wednesday, for only the second time at the world championships, the Americans were graced with a team gold medal on the distant shore of Stuttgart, Germany, defeating the defending champion Chinese team by a slim margin of 184.400 to 183.450. Romania finished third. Shayla Worley, left, and Samantha Peszek indulge in a victory hug, one of only many.
(Lluis Gene / AFP Photo)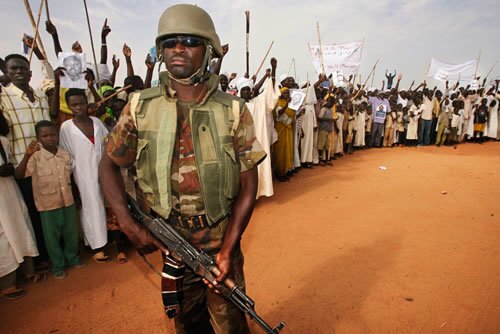 A member of the African Mission in Sudan stands guard Wednesday as United Nations Secretary-General Ban Ki-moon visits the Al Salam camp for internally displaced persons in El Fasher. Despite the presence of protesters supporting the Sudanese government and others supporting a rebel group opposed to the U.N., the secretary general was keen to witness personally the living conditions of some of the 2.5 million people who are refugees from the violence that has wracked the western Sudanese region. Ban promised to step up pressure for a political solution to the regional conflict.
(Zohra Bensemra / AP Photo)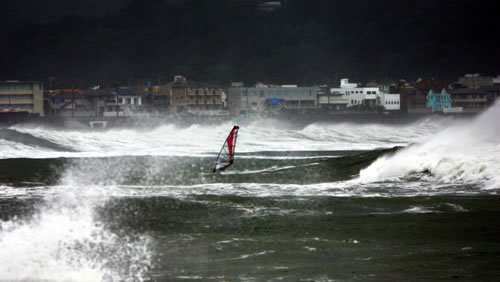 A windsurfer whose priority probably isn't survival speeds along high waves generated by Typhoon Fitow in Kamakura, Japan, on Thursday. The storm, whose name invokes a Micronesian flower, was strong--winds of 75 mph--and deadly--one man died and dozens of people were injured, including a 93-year-old woman who broke both her legs after being knocked off her feet. Air and land transport were disrupted as Fitow approached Japan's main island of Honshu. It made landfall in Tokyo early Friday.
(Franck Robichon / EPA)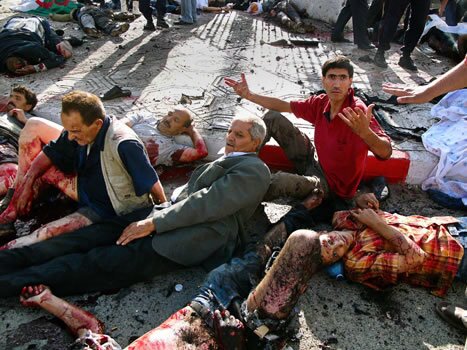 Victims plead for help Thursday after a suicide bomber ravaged a crowd awaiting Algerian President Abdelaziz Bouteflika, in Batna, Algiers. The bomber struck in front of Al-Atik mosque about 45 minutes before the Bouteflika's scheduled arrival in the town. The blast killed 14 people and wounded at least 37. Bouteflkika appeared on television after the attack to denounce the attackers as "criminals" and vowed to pursue his national reconciliation policy. The North African nation is has struggled to recover from a civil war in the 1990s that left more than 150,000 dead.
(Ouahab Hebbat / AP Photo)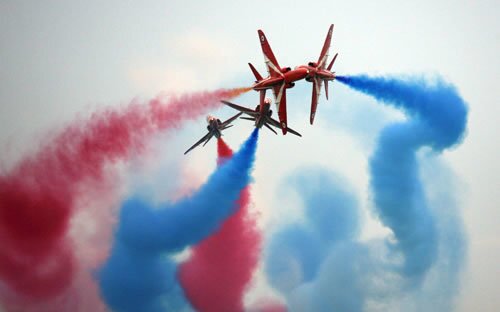 The Bulgarian International Air Show Wednesday featured a smokin' hot Red Arrows precision team from the Royal Air Force painting the sky over the village of Krumovo.
(Petar Petrov / AP Photo)
Iraqis peer into what's left of a house after the U.S., in pursuit of insurgents, struck from the air in the early morning hours Thursday in the Mansour district of west Baghdad. Fourteen civilians were killed in the attack and several houses were destroyed.
(Ahmad Al-Rubaye / AFP / Getty Images)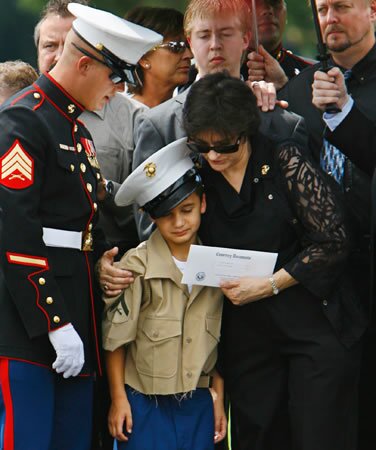 Alek Jeremy Babineaux, 7, is comforted by his father, Marine Sgt. Nicholas Sauer Medlicott, and grandmother, Juyne Sauer, during a memorial service for her son Lance Cpl. Matthew Sauer Medlicott at the Houston National Cemetery Tuesday. Nicholas said his son Alek is wearing the Marine uniform to honor his Uncle Matthew, who was killed last month in Saqlawiyah, Iraq, by an improvised explosive device while conducting combat operations in Anbar province. He was three weeks into his second tour.
(Melissa Phillip / AP Photo)
A Miskito woman in Nicaragua tries to retrieve some belongings from amid the rubble of her home. It was destroyed by Hurricane Felix, which slammed into Central America on Tuesday. At least 98 people in Nicaragua and Honduras were killed by Felix. Honduras and Mexico geared up for flooding from rain-swollen rivers Thursday in the wake of Felix's Pacific counterpart, Henriette, which left seven dead after hitting Mexico twice in two days.
(Miguel Alvarez / AFP / Getty Images)
An Australian police sniper stands guard at the Hotel Intercontinental in Sydney where President Bush is staying during the Asia Pacific Economic Cooperation summit this week. Among topics on the agenda are North Korean nclear disarmament, climate change, regional security and the safety of Chinese products for export.
(Paul Miller / EPA)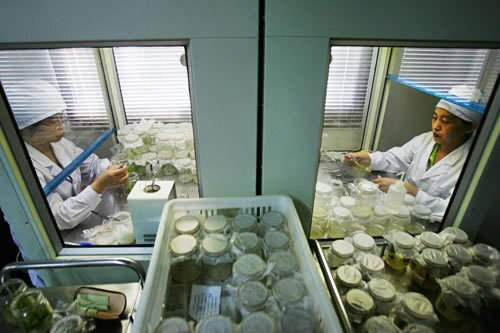 Laboratory assistants cultivate so-called "Olympic Flowers" at the Haidian Plant Tissue Culture Technology Laboratory in Bejing on Wednesday. The specimens have been developed for the 2008 Olympic Games. An estimated 40 million pots of the horticultural heroes will decorate the host city of Beijing.
(China Photos / Getty Images)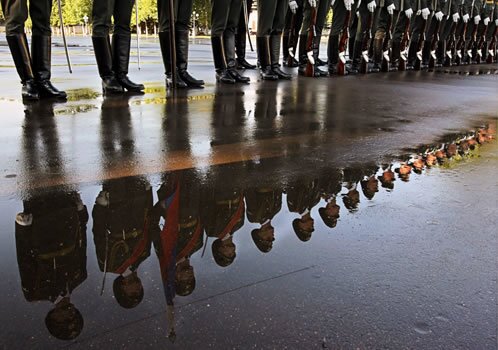 Russian soldiers stand tall at the opening ceremony of the Russian-Chinese military exercise "Friendship 2007" Tuesday near Moscow. Reflecting the two countries' growing security ties, the event is the first joint exercise of interior troops of both countries. About 100 Russian personnel and 87 Chinese servicemen took part.
(Sergei Ilnitsky / EPA)