10 Images
Global pictures from Sept. 9 - 15
Flags fly at half-staff Tuesday at the U.S. Capitol to mark the sixth anniversary of the Sept. 11, 2001, attacks. In New York, families of the victims mourned inside the pit where the two towers crumbled and a park near ground zero served as the memorial site. At the Pentagon, officials held a service near the section of the building, now rebuilt, into which United Flight 77 crashed at 9:39 a.m, while at 9:55 a.m. in Shanksville, Pa., a memorial began at the field where United Flight 93 crashed after passengers stormed the cockpit of the hijacked plane.
(Mark Wilson / Getty Images)
A woman grasps a New York City firefighter during a memorial ceremony Tuesday near where the twin towers stood. While family members of the 9/11 victims visited the site where the towers crumbled, firefighters and first responders in uniform read their names on a nearby stage.
(Justin Lane / EPA)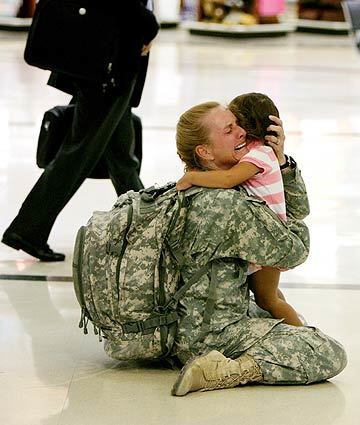 Terri Gurrola clings to her daughter Gabrielle, 3, at the Atlanta Hartsfield-Jackson International Airport, having just returned from a seven-month tour in Iraq. The news this week was dominated by Army Gen. David H. Petraeus' report on the state of the war in Iraq and his recommendation of a gradual drawdown of troops.
(Louie Favorite / The Journal & Constitution)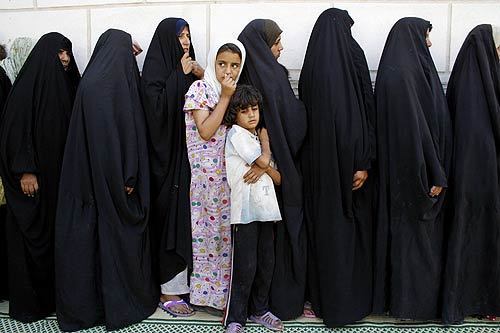 Members of displaced Sunni Muslim families line up for food and clothing in the Dora neighborhood of Baghdad. They were forced from their homes by militants in the Arab Jabour area, southeast of the capital. U.S. military officials this week sought to counter accusations that they were manipulating sectarian death tolls to make Iraq look more secure.
(Loay Hameed / AP)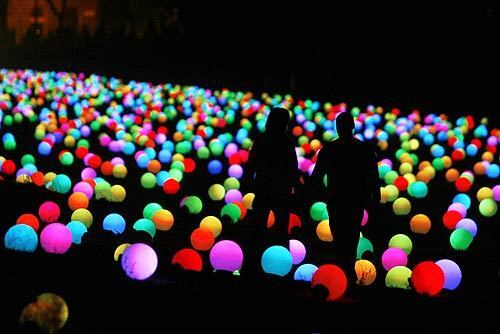 Visitors are silhouetted against some of the 10,000 colorful orbs that Italian artist Giancarlo Neri placed in Rome's Circus Maximus for his installation "Maximum Silence," which ended Tuesday.
(Alessandra Tarantino / AP)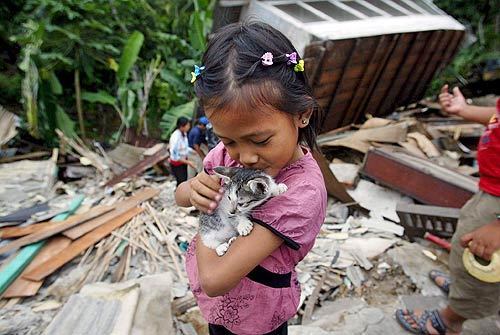 Ditya Ayu Lestari caresses a kitten next to the ruins of her house in the Indonesian village of Lais. After a magnitude 8.2 earthquake struck the region Wednesday, tsunami warnings were issued for all Indian Ocean nations. No significant waves were generated by that temblor or a 7.8 quake that hit a day later. At least five people died in the bigger quake, which created panic as residents feared a repeat of the devastating tsunami of December 2004.
(Mast Irham / EPA)
A senior inmate stands guard over new prisoners at the Chongqing Juvenile Offender Correctional Center in Chongqing, China. Under the center's nine-year compulsory education program, authorities will commute four to five months of an inmate's term if he passes examinations and receives a diploma.
(China Photos)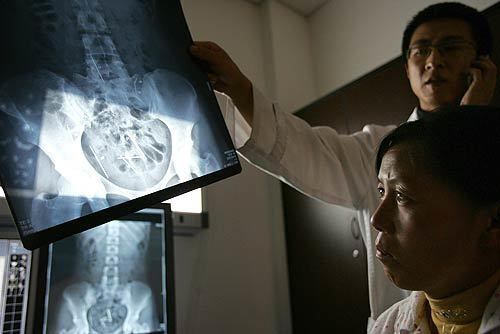 At age 29, Luo Cuifen finally has hope of alleviating the terrible pains she has felt for the past several years. The cause? Sewing needles, more than two dozen of them, that were forced into her body when she was days old; relatives suspect it done by her grandparents, who wanted a grandson instead of a granddaughter. "I knew my grandfather looked down on me because I was a girl, but I had no idea he hated me that much until I found out about the needles," Luo said. looks At a hospital in Yunnan province, where surgery was planned to remove the first six of the 26 needles in her body, Luo got a good look at X-rays showing the source of her discomfort.
(AFP / Getty Images)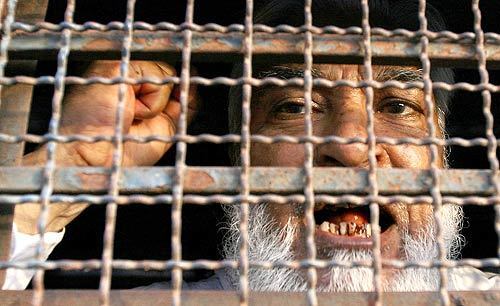 Pakistan's former prime minister came home from exile; Pakistan's current president threw him right back out, and an already edgy nation walked a few steps closer to the end of the plank. Here, an activist belonging to an alliance of six religious parties chants slogans from inside a police van Tuesday after he was detained by police at a rally in Karachi that condemned the deportation of former Prime Minister Nawaz Sharif. President Pervez Musharraf, who ousted Sharif in a coup in 1999, once again had him shipped to Saudi Arabia. Analysts say Musharraf's act will likely galvanize Pakistan's pro-democracy movement, but that it also sharply increases the possibility that the president will use unrest as a pretext for declaring martial law. Meanwhile, the body count rises; the government says its troops had killed dozens of insurgents in border areas, and at least 15 soldiers were killed by a suicide bomb attack on the mess hall of an army installation about 60 miles south Islamabad.
(Shakil Adil / AP)
Pope Benedict XVI spent three days in Austria trying to shore up the faithful, not only there but in all of Europe. Membership in the church is declining, but Benedict stressed the importance of the faith. "An Austria without a vibrant Christian faith would no longer be Austria," he noted on the first day of his tour. Earlier, at a Holocaust memorial, he offered a gesture of "repentance" -- an important word, because it recognizes guilt and responsibility, which Jewish leaders have been seeking. And he called upon the nation to retain its ban on most commercial activity on Sundays, saying that without an "encounter" with God, Sunday "becomes wasted time that neither strengthens nor builds us up." The pope showed some strength of his own on Sunday in standing up to a gust of wind while delivering a prayer at Vienna's Stephansplatz.
(Volkmar Gorzinski / AFP)