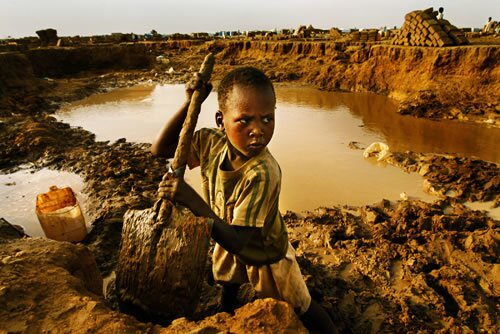 10 Images
Global pictures from Sept. 30 - Oct. 6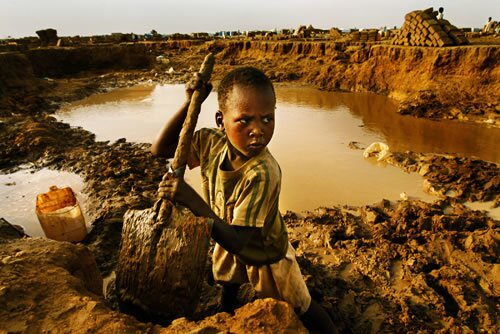 Six-year-old Buhari Ibrahim, whose father was killed by pro-government militiamen in Sudan, tries to help in a brick-making operation at Abu Shouk, but lifting the mud-filled shovel is a struggle. Experts fear another disaster is looming in the country's Darfur region, where the humanitarian crisis brought on by fighting is depleting already-scarce natural resources.
(Carolyn Cole / Los Angeles Times)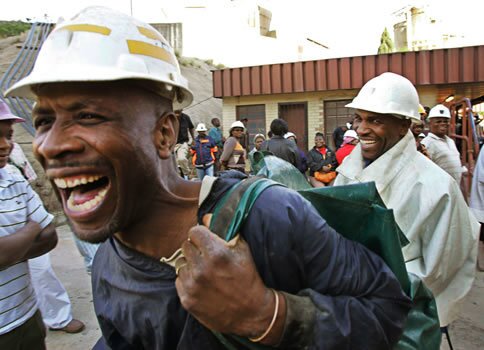 Workers who were trapped overnight at the Elandsrand gold mine near Carletonville, South Africa, smile after being rescued Thursday. A pressurized air pipe snapped and tumbled down a shaft Wednesday, causing extensive damage to an elevator and stranding 3,200 miners more than a mile underground. All were eventually rescued. The mine owner and South African officials vowed to improve safety in one of the country's most important industries after the accident prompted allegations that the company had cut safety corners and not properly maintained the mine.
(Schalk van Zuydam / AP Photo)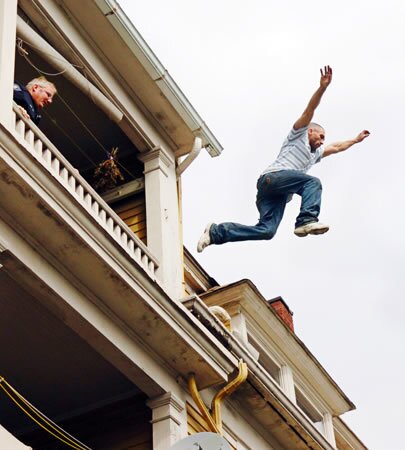 Norman Thompson leaps from a third-floor balcony onto the roof of a garage in Lewiston, Maine, before Police Officer Jeff Baril can grab him. Thompson, a fugitive, was spotted by police and fled into the apartment building in his attempt to escape.
(Russ Dillingham / AP Photo)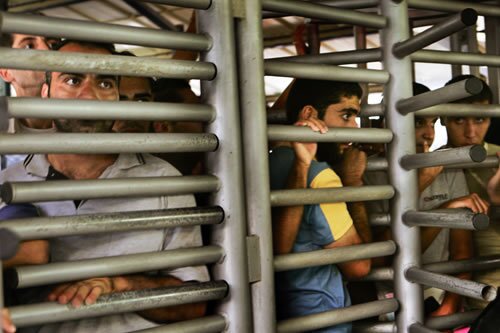 Palestinians in the West Bank wait to be allowed through an Israeli military checkpoint near the city of Nablus. Secretary of State Condoleezza Rice plans to travel to the region late next week to assess negotiators' progress ahead of a peace summit President Bush has scheduled for next month.
(Emilio Morenatti / AP Photo)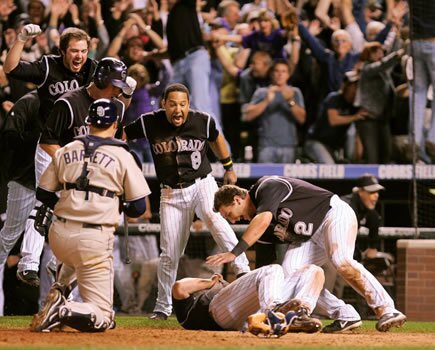 Colorado Rockies players cheer after scoring the winning run in the 13th inning against the San Diego Padres in Denver on Monday. With their 9-8 defeat, the Padres were out and the Rockies gained the final wild-card berth in baseball's playoffs.
(Jack Dempsey / AP Photo)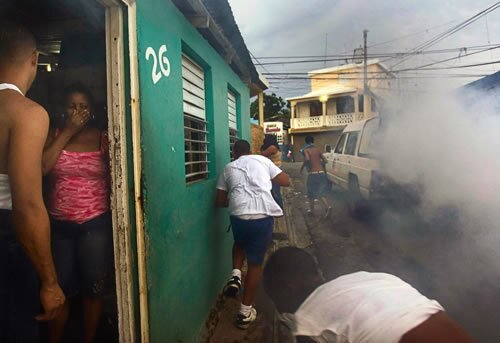 Residents cover their faces while a truck sprays insecticide in Los Mina, east of Santo Domingo, as part of the Dominican Republic's campaign against dengue fever. The fever is spreading across Latin America and the Caribbean in one of the worst outbreaks in decades.
(Ramon Espinosa / AP Photo)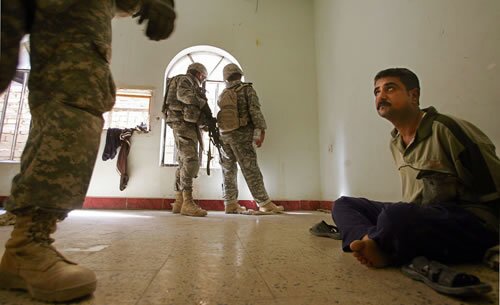 U.S. soldiers detain a suspected member of the Sunni Arab militant group Al Qaeda in Iraq during an operation in Baqubah. In Iraq this week, Poland's envoy was injured in a bombing, and members of a team dispatched by Secretary of State Condoleezza Rice were reviewing the State Department's security practices in the wake of a shooting involving guards from U.S. contractor Blackwater USA.
(Alexander Nemenov / Getty Images)
Colombian police officers inspect packages of cocaine seized in Cartagena. A U.S. judge this week declared a mistrial in the cocaine trafficking trial of Ricardo Palmera, the most senior commander of Latin America's largest rebel group to be captured by Colombian authorities. The U.S. hoped a conviction would support its stand that the Revolutionary Armed Forces of Colombia is both a terrorist organization and a violent drug cartel.
(AP Photo)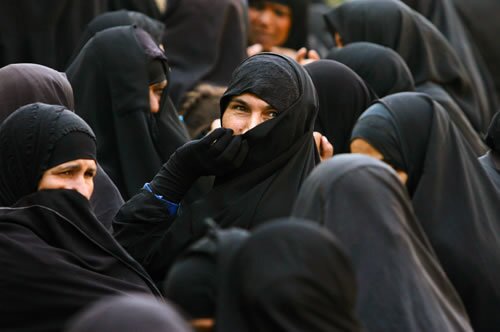 Iraqi widows wait to receive aid in the Shula neighborhood of northwest Baghdad.
(Hadi Mizban / AP Photo)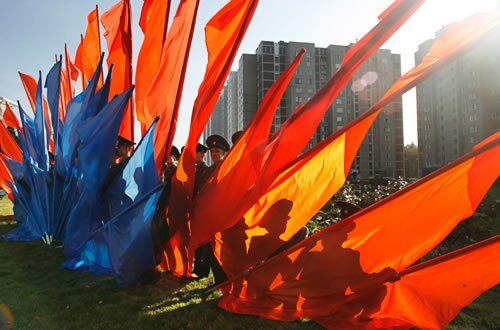 Russian soldiers form a display with their banners near a new monument to Sputnik at the cosmonaut training center outside Moscow. Engineers, military officials and former cosmonauts on Thursday celebrated the 50th anniversary of the launch of the world's first artificial satellite. Sputnik marked the dawn of the Space Age and sparked the race to land a man on the moon.
(Mikhail Metzel / AP Photo)