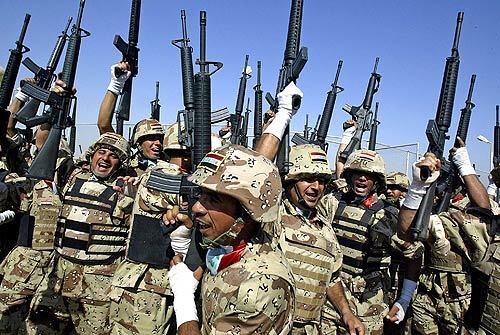 10 Images
Global pictures from Oct. 27-Nov. 3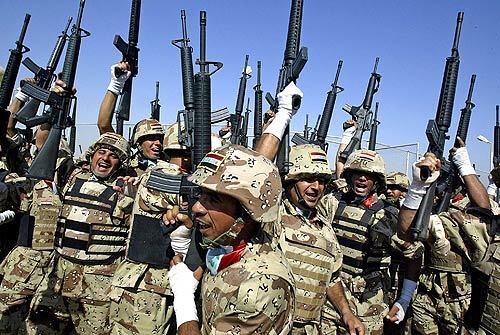 Iraqi soldiers
Iraqi soldiers celebrate during a ceremony marking the transfer of security control in Karbala province from the U.S. to Iraq. Karbala is the eighth of Iraq's 18 provinces to resume responsibility for its own security. The move had been delayed several times because of violence.
(Alaa al-Marjani / AP)
Blackhawk helicopter
A U.S. soldier stands guard as a Blackhawk helicopter lands at a field in Karbala, Iraq, during the ceremony to mark the transfer of control.
(Mohammed Sawaf / AFP / Getty Images)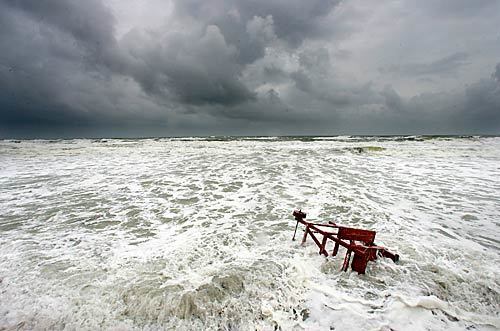 Lifeguard tower
A lifeguard tower in Volusia County, Fla., lies toppled in the tidal surge produced by Tropical Storm Noel. The storm caused mudslides and flooding in the Dominican Republic, killing more than 80 people.
(JIm Tiller / Daytona Beach News-Journal)
Mourners
Relatives of a Hamas fighter slain by Israeli troops mourn at his funeral in Khan Yunis, in the southern Gaza Strip. Israeli forces crossed into the Palestinian territory this week to push Hamas gunmen back from the border. The Jewish state has been unable to stop almost daily rocket fire by smaller militant groups it says are tolerated by Hamas, the Islamic movement that governs Gaza and calls for Israel's destruction.
(Mohammed Saber / EPA)
Earthquake
Ava Smoldt tackles the mess in her San Jose beauty supply store after a magnitude 5.6 earthquake jolted the area. The quake occurred on the Calaveras fault, according to the U.S. Geological Survey. There were no reports of serious injuries or damage, but several businesses were evacuated.
(Tony Avelar / AP)
Windows
Fans watch from the windows of an office building in downtown Boston as the 2007 World Series Champion Boston Red Sox pass by in a parade celebrating their sweep of the Colorado Rockies.
(Greg M. Cooper / US Presswire)
Patriot Guard
A member of the Patriot Guard Riders carries flags at a cemetery in Pana, Ill., where State Trooper Brian McMillen was laid to rest. The rookie officer was killed when he was hit by an alleged drunk driver while responding to a call.
(Kelly J. Huff / Herald & Review)
Pope Benedict XVI
Pope Benedict XVI arrives to lead his weekly general audience in Saint Peter's Square in Rome. The Vatican said Benedict and Saudi Arabia's King Abdullah would meet next week, the first encounter between a pope and a Saudi monarch.
(Vincenzo Pinto / AFP / Getty Images)
Flooding in Mexico
People evacuate a flooded area in Villahermosa, in southeastern Mexico, where a week of heavy rains caused massive flooding. At least one person died and hundreds of thousands had to flee the rising waters in Tabasco and Chiapas states.
(Marco Ugarte / AP)
Honor guard
Members of the Australian Infantry Honor Guard enter Beersheba, in southern Israel, to commemorate the 90th anniversary of the Battle of Beersheba, the last successful cavalry charge of World War I. In the battle, Australian forces overran Turkish troops and captured the wells of the city.
(Uriel Sinai / Getty Images)