10 Images
Global pictures from Nov. 4-10
Pakistan
Demonstrators shout slogans from a police van after being arrested in Lahore, Pakistan, during a protest against President Pervez Musharraf's declaration of emergency rule. Musharraf suspended the nation's constitution, sent troops into the streets, deposed the chief justice, jammed private TV channels and cut telephone service in Islamabad, the capital.
(Rahat Dar / European Pressphoto Agency)
Pakistan
Police in Pakistan arrest a man during an anti-government demonstration in Peshawar. President Pervez Musharraf bowed to worldwide pressure and pledged to hold parliamentary elections by mid-February.
(Tariq Mahmood / AFP-Getty Images)
Mexico
A flooded neighborhood in Villahermosa, Mexico. Massive flooding from a week of rain forced hundreds of thousands of people to abandon their homes and seek shelter from muddy waters that covered an estimated 80% of the state of Tabasco, including most of Villahermosa, the capital.
(Gilberto Villasana / AFP-Getty Images)
Iraq
U.S. Army Spc. Patrick Read, 24, from Medford, Ore., reacts after coming under fire in Mosul, Iraq. At least 854 U.S. troops have been killed in Iraq this year, eclipsing the previous high of 849 set in 2004. At least 3,857 American troops have died since the Iraq war began in March 2003.
(Maya Alleruzzo / Associated Press)
Ohio
Genet Saeger, left, and her daughter, Brielle, 10 months, of Norton, Ohio, welcome Saeger's brother, Spc. John Saeger, home in Green, Ohio. Saeger, of the Ohio Army National Guard, was stationed in Kosovo for about 18 months. It was his first time seeing his niece.
(Tracy Boulian / The Plain Dealer)
West Bank
Palestinian youths throw rocks at Israeli forces in the Balata refugee camp near the West Bank town of Nablus.
(Nasser Ishtayeh / Associated Press)
Philadelphia
Police officers in Philadelphia comfort each other during the funeral for Officer Chuck Cassidy, who was killed trying to stop an armed robbery.
(Charles Fox / Associated Press)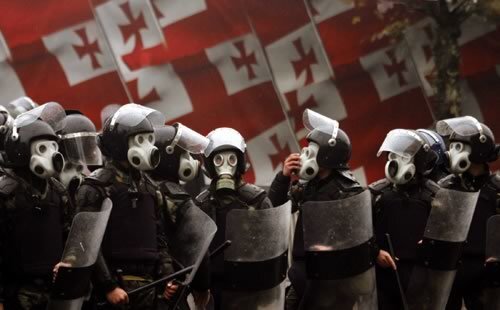 Georgia
Police in Tbilisi, Georgia, armed with tear gas, water cannons and rubber bullets prepare to disperse thousands of protesters demanding new elections. The protests prompted President Mikheil Saakashvili to declare a 15-day state of emergency. Saakashvili later eased the crisis by pledging to hold presidential elections and a referendum on voting for a new parliament.
(Zurab Kurtsikidze / European Pressphoto Agency)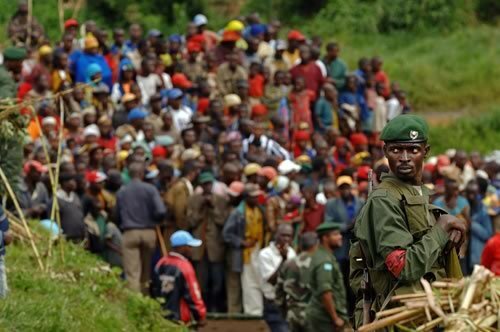 Congo
Soldiers in the Democratic Republic of Congo watch over refugees trying to escape fighting between a renegade general's forces and government troops. The United Nations said the violence was hampering efforts to deliver food to tens of thousands of civilians displaced by the fighting.
(Lionel Healing / AFP-Getty Images)
Venezuela
A supporter of Venezuelan President Hugo Chavez points a pistol at demonstrators during clashes at Central University in Caracas. Gunmen opened fire on students returning from a march in which 80,000 people denounced Chavez's attempts to expand his power. At least eight people were injured, including one by gunfire, officials said.
(Gregorio Marrerro / Associated Press)