10 Images
Global pictures from Nov. 11-17
Workers labor to remove oil from the beach on Russia's Tuzla Spit after a tanker accident last weekend when a storm hit in the area of the Kerch Strait between the Black Sea and the Sea of Azov. "All of our problems are because of this oil," vineyard worker Alexander Ostapenko, 43, told The Times. "But what's in it for us? They are polluting our sea and land."
(Sergei L. Loiko / Los Angeles Times)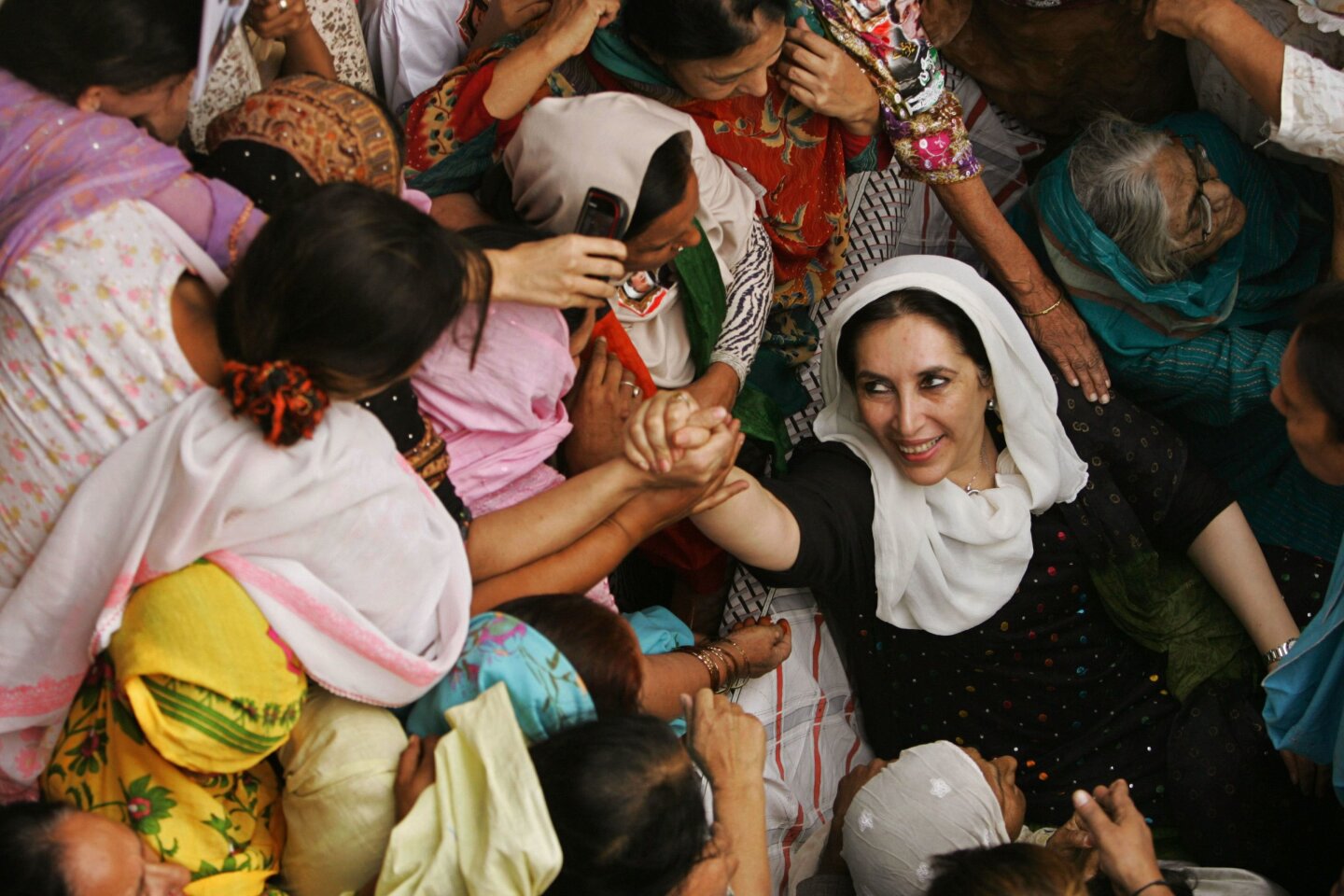 Former Prime Minister Benazir Bhutto tours Lahore, Pakistan, on Monday, visiting with a woman whose son died in the Oct. 19 bombing attack on Bhutto's motorcade. Bhutto, in the city to prepare for a massive protest against President Pervez Musharraf, instead would spend time under house arrest, the second time in less than a week that authorities had taken that action against her.
(Wally Santana / AP Photo)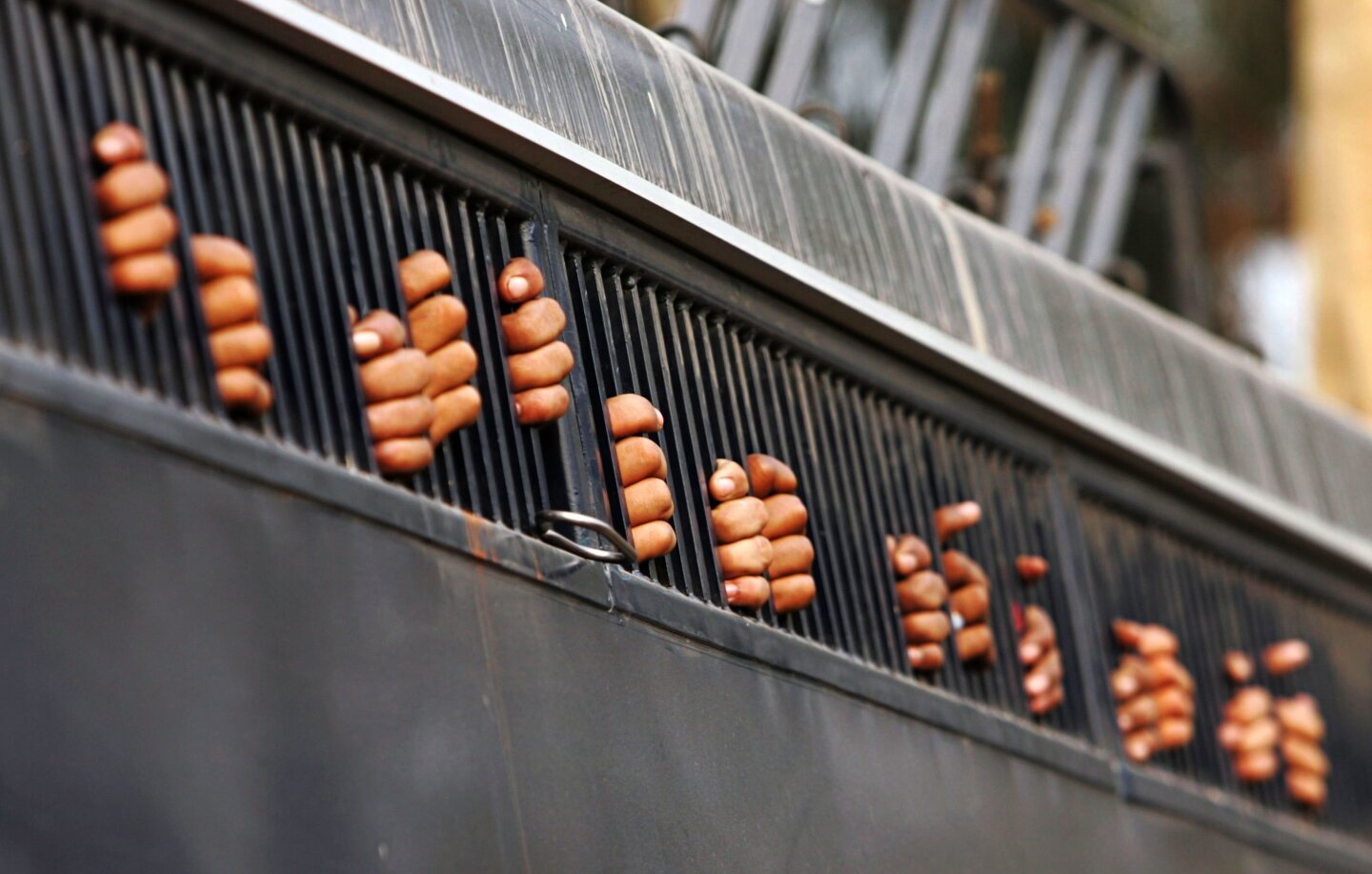 Opposition supporters are crowded into a mobile police jail after being arrested during a demonstration against President Pervez Musharraf on the outskirts of Lahore, Pakistan, on Thursday. At week's end, the U.S. was sending Deputy Secretary of State John D. Negroponte to Pakistan to urge Musharraf to step down as army chief and abandon his 2-week-old emergency decree.
(Wally Santana / AP Photo)
Addrin Adams, 7, brother of Army Spc. Jeffrey Paul Shaffer, who was killed in Iraq, comforts his mother, Melissa Adams, during a Veterans Day ceremony at an American Legion post in Waco, Texas, on Sunday. President Bush, who attended the event, told the families of two soldiers and two Marines who died in the Iraq conflict that "their sacrifice will not be in vain."
(Gerald Herbert / AP Photo)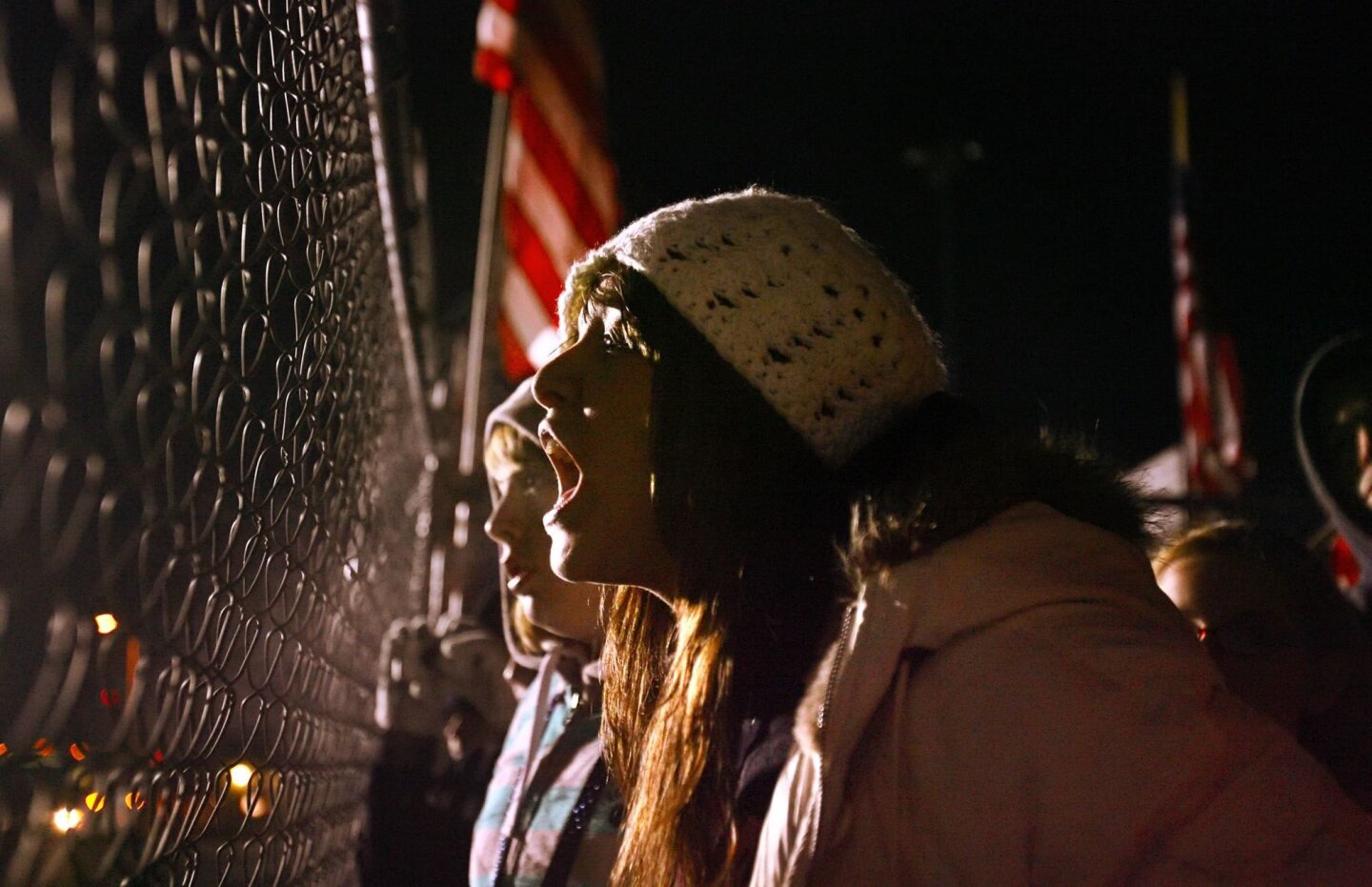 Supporters of U.S. policy in Iraq exchange shouts with antiwar protesters at the Port of Olympia in Washington. About 50 people were arrested Tuesday night after attempting to block military cargo deliveries to the nearby U.S. Army base at Ft. Lewis.
(Tony Overman / AP Photo)
Followers of the Fatah movement attend a Gaza City rally Monday marking the third anniversary of the death of Yasser Arafat, the former president of the Palestinian National Authority and leader of Fatah who is depicted on the banner. The rally turned violent when Hamas forces fired shots into the crowd, leaving at least seven people dead and dozens injured. The rally was the largest public display of support for Fatah since members of Hamas seized control of the Gaza Strip in June.
(Abid Katib / Getty Images)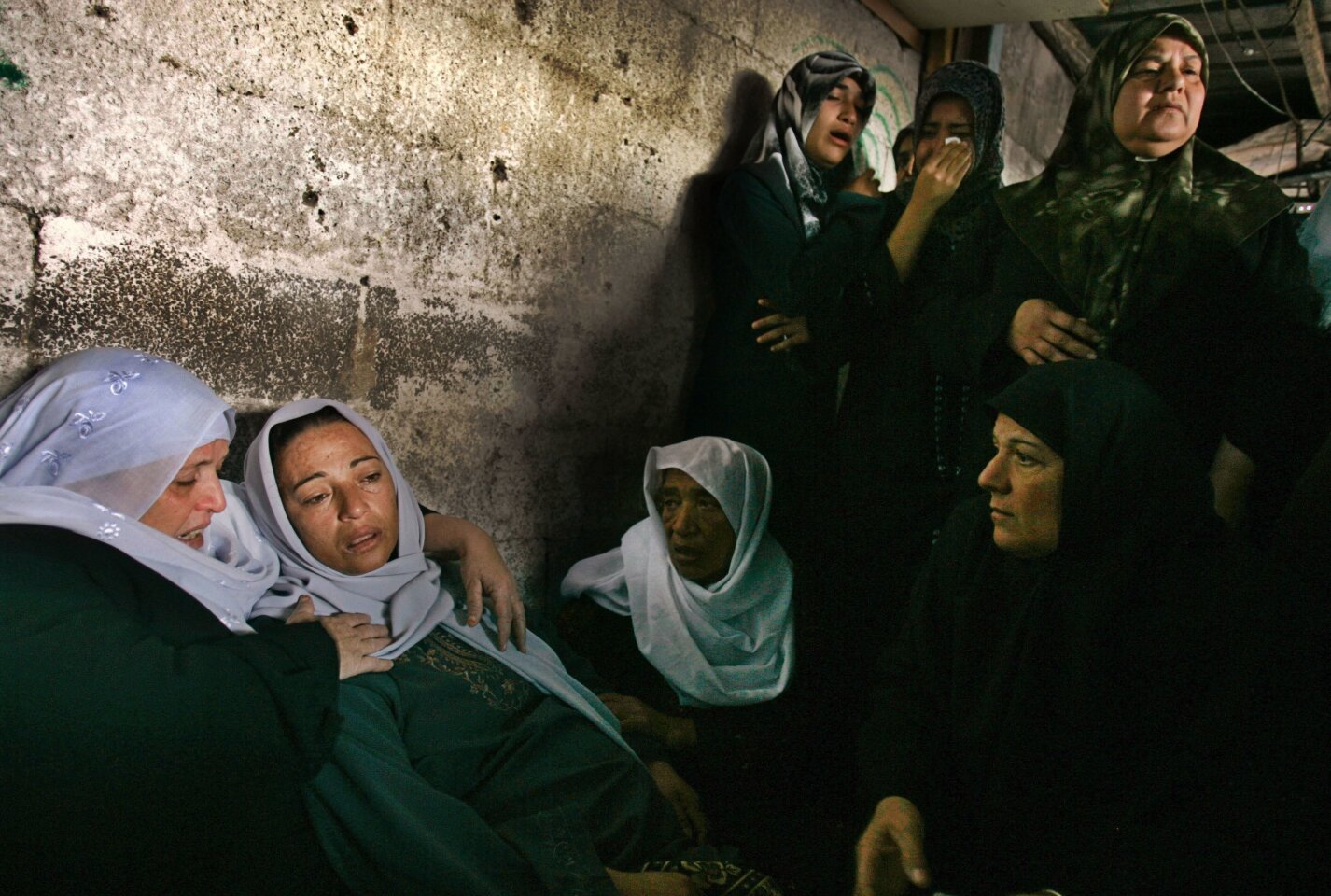 Relatives of Ibrahim Ahmed, 13, mourn at the family's home in the northern Gaza Strip. Seven people were killed and dozens injured Monday during a memorial rally for Yasser Arafat, former president of the Palestinian National Authority and a founder of the Fatah movement.
(Khalil Hamra / AP Photo)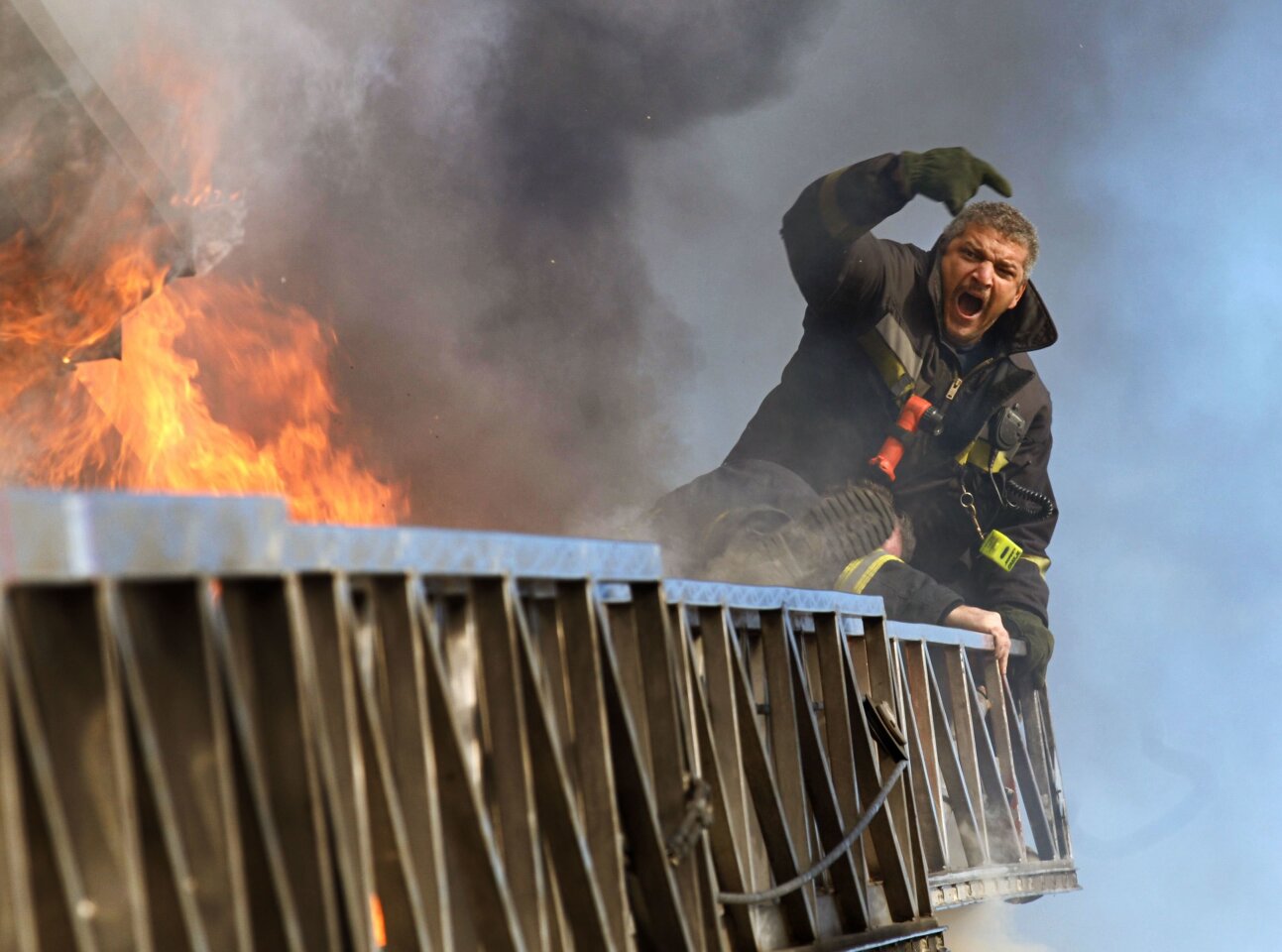 Firefighters Michael Johnson, pointing, and Joe O'Connor, partially obscured, are evacuated from the roof of a three-story Boston home Monday after a fast-moving blaze trapped them. At least 14 people were injured in the three-alarm fire.
(John Cetrino / AP Photo)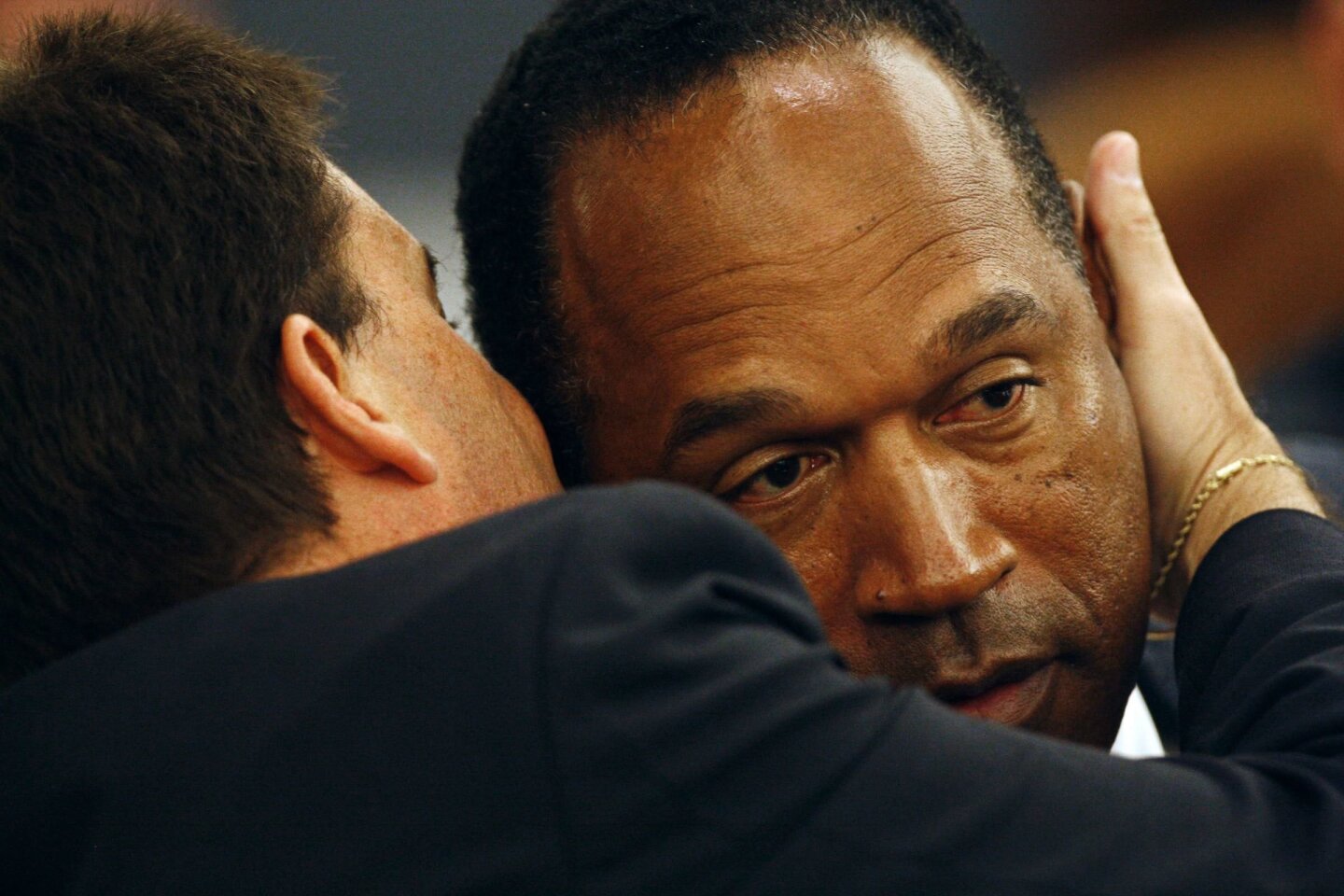 O.J. Simpson's lawyer Yale Galanter whispers in his client's ear during a hearing in Las Vegas on Tuesday. A day later, a justice of the peace ruled that Simpson would stand trial on kidnapping, armed robbery and other felony charges stemming from a purported attempt to recover his sports memorabilia in September. The former NFL star, who has been a tabloid mainstay since being acquitted of murder more than a decade ago, and two codefendants each face 12 charges. If convicted on all counts, they could be sentenced to life in prison.
(Andrew Gombert / AP Photo)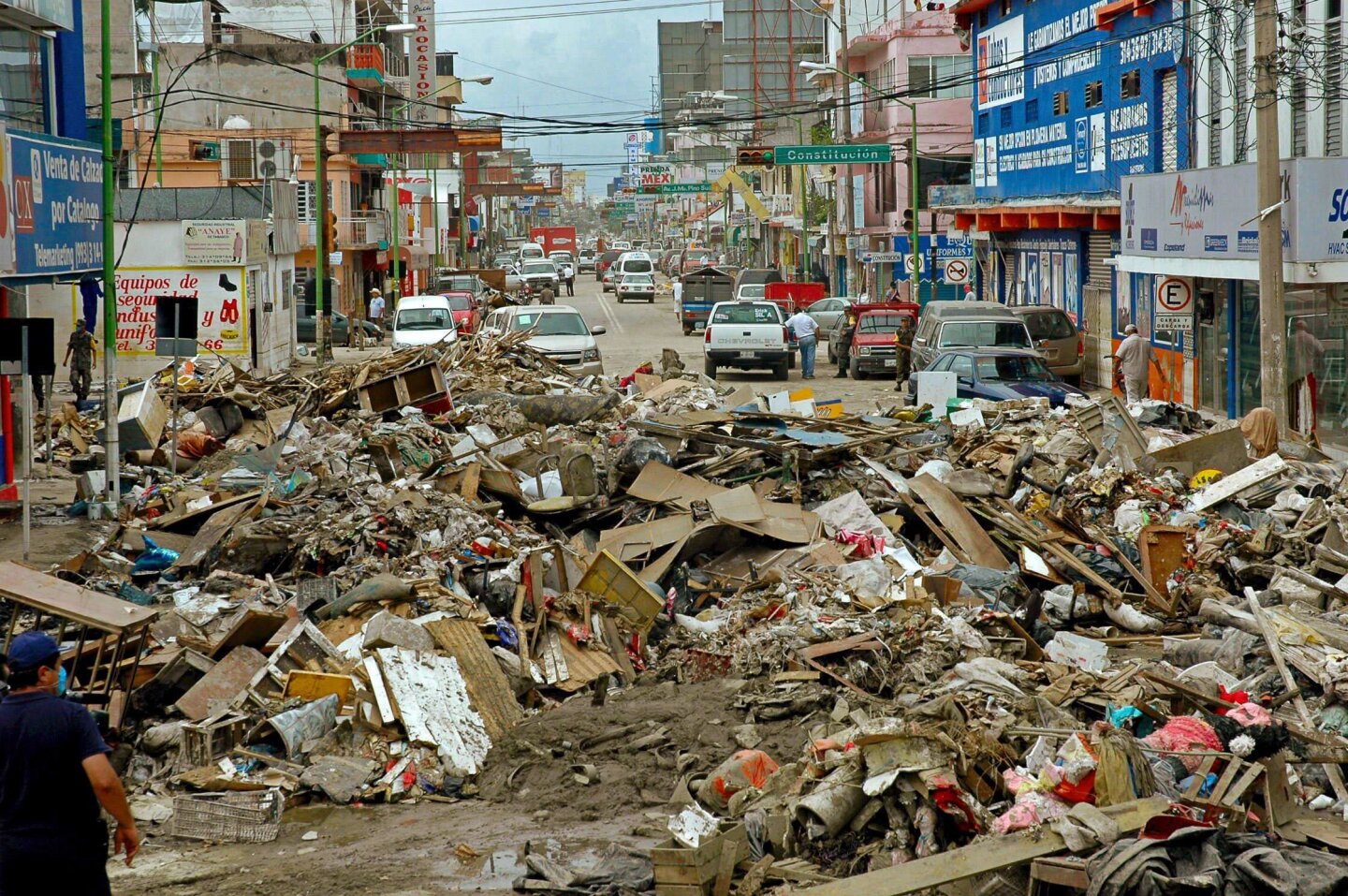 Mounds of rubbish clog a street in Villahermosa, the capital of Mexico's Tabasco state, where a catastrophic flood hit last week. Tabasco and neighboring Chiapas state continue to struggle with the aftermath of the inundation that has claimed at least 19 lives and left tens of thousands homeless. Tabasco's governor, Andres Granier, has estimated damage at nearly $5 billion and says that many evacuees will not be able to return for months.
(Jaime Avalos / EPA)