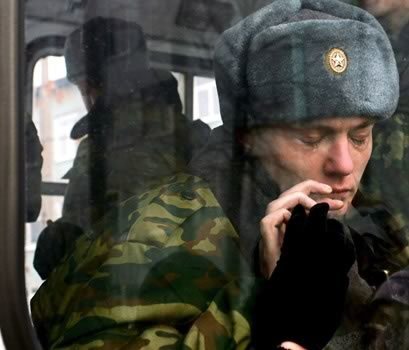 10 Images
Global pictures from Nov. 18-24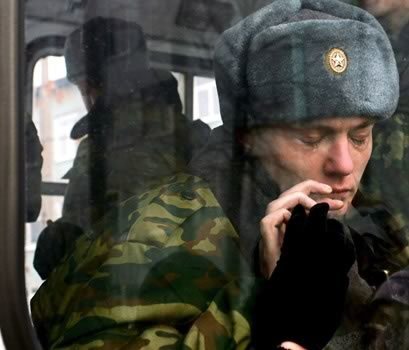 A young Russian miltary recruit shows his emotions as he sits aboard a bus that will take him from the call-up center in Kemerovo, Western Siberia, to active duty. The soldiers can be sent anywhere in the country, which means they could be going thousands of miles from their homes.
(Maxim Shipenkov / EPA)
Cyclone-affected villagers line up for relief supplies in Patargata, Bangladesh. The storm was the most severe to hit Bangladesh in a decade and left thousands dead.
(Pavel Rahman / AP Photo)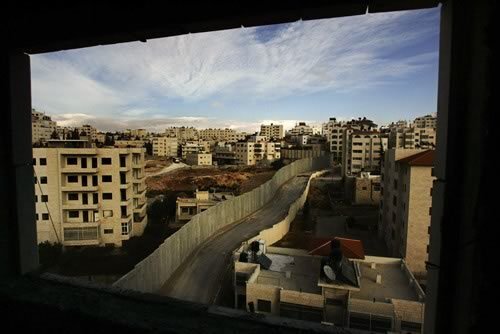 A view of Israel's border barrier as seen from the West Bank town of Al Ram, across from Jerusalem.
(Emilio Morenatti / AP Photo)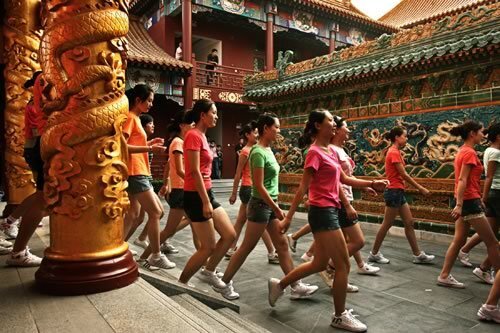 Applicants for flight attendant jobs with China Southern, China's largest airline, spend six months auditioning in what amounts to an annual beauty pageant that's shown on TV. Men can apply for the positions too, but they don't get to be onscreen. "A lot of Chinese passengers judge the quality of airlines based on the quality of their flight attendants, meaning are they pretty or not pretty," said Luo Man, a spokesman for China Southern.
(Carolyn Cole/ Los Angeles Times)
A U.S. soldier takes position during a search for insurgents in a building in Baqubah, 35 miles northeast of Baghdad.
(Gianluigi Guercia / AFP / Getty Images)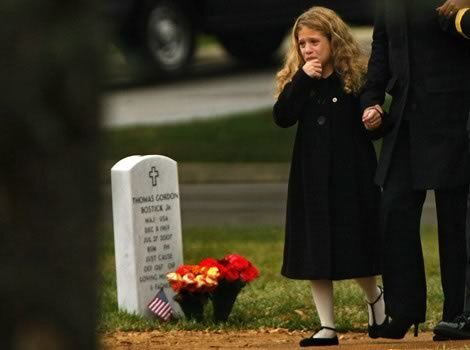 Victoria Linde, 8, holds her mother's hand as she walks to the grave of her father, Staff Sgt. John D. Linde, during burial services at Arlington National Cemetery. Linde, from New York City, was one of four soldiers killed Nov. 5 when a bomb exploded during combat operations outside Kirkuk, Iraq, north of Baghdad. Linde was assigned to the 1st Brigade Special Troops Battalion, 1st Brigade Combat Team, 10th Mountain Division (Light Infantry) at Ft. Drum, N.Y.
(Win McNamee / Getty Images)
Tombs dominate the landscape at the Wadi al Salam (Valley of Peace) cemetery complex in the Shiite holy city of Najaf, Iraq. Wadi al Salaam is one of the largest cemeteries in the world, containing millions of graves.
(Alaa al-Marjani / AP Photo)
Commuters wait to board a rail car at the Gare de l'Est station in Paris on the sixth day of a strike by transportation workers. On the ninth day of the strike, workers voter to end the walkout, and service began returning to normal the next day.
(Remy de la Mauviniere / AP Photo)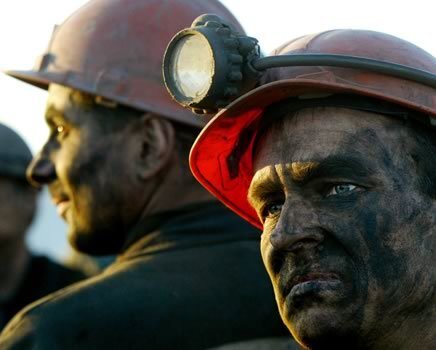 Miners leave the Zasyadko coal mine in Donetsk, Ukraine, after an underground methane explosion killed at least 80 people. Rescuers battled heat and debris in the search for dozens of miners trapped underground in the burning coal pit. About 360 miners scrambled to the surface after the blast, which occurred at a depth of about 3,300 feet.
(Alexander Khudoteply / AFP / Getty Images)
Pope Benedict XVI waves for a sea of cameras as he arrives for his weekly general audience in St. Peter's Square in Vatican City.
(Smiley N. Pool / Houston Chronicle)