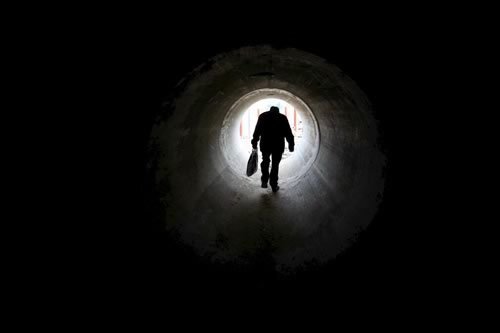 10 Images
Global pictures from Nov. 25 to Dec. 1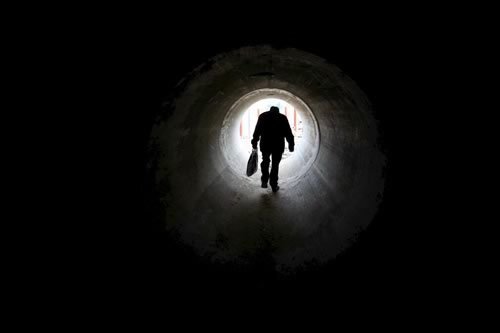 Representatives of more than 50 countries and world organizations gathered this week at a U.S.-sponsored conference in Annapolis, Md., to renew efforts to achieve peace in the Mideast. Israeli Prime Minister Ehud Olmert and Palestinian Authority President Mahmoud Abbas pledged to try to forge a peace treaty by the end of 2008 that would create a Palestinian state. Here, a Palestinian walks through a tunnel under the controversial Israeli barrier near Al Ram on the outskirts of Jerusalem on Thursday.
(Povel Wolberg / EPA)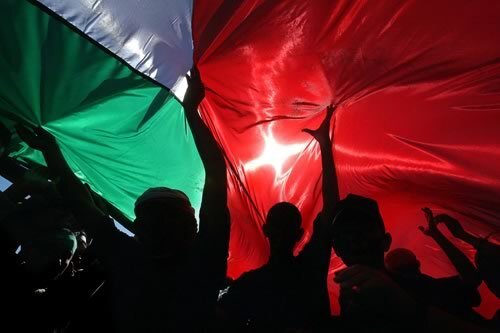 Supporters of the Islamic movement Hamas unfurl a Palestinian flag during a rally in Gaza City on Tuesday. They were among the tens of thousands who turned out to protest the Middle East peace conference underway seven time zones away at Annapolis, Md. Demonstrators chanted, "We will never recognize Israel!" and called Palestinian Authority President Mahmoud Abbas a traitor for attending the U.S.-sponsored meeting.
(Marco Longari / AFP / Getty Images)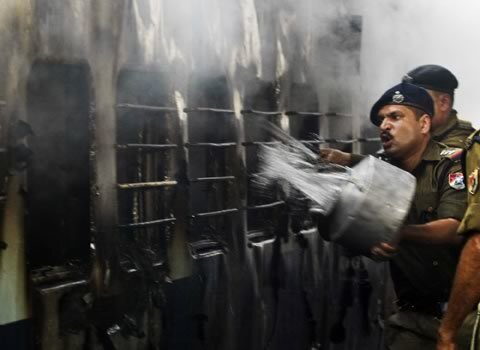 It's all hands on deck as a police officer rushes to douse flames on an express train that caught fire in Allahabad, India, on Monday. Initial fears of a terror attack proved unfounded and no passengers were injured, according to Indian newspaper reports.
(Rajesh Kumar Singh / Associated Press)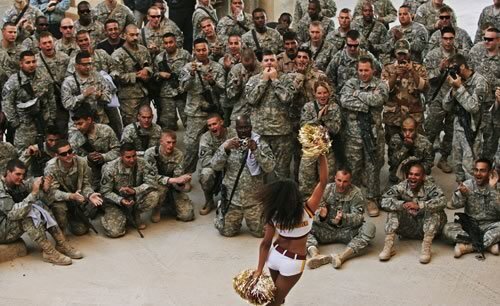 U.S. Army soldiers from the 3rd Brigade of the 101st Airborne Division enjoy a break from their duties as cheerleaders from the Washington Redskins football team perform at Patrol Base Dragon, about 12 miles south of Baghdad, on Tuesday.
(Petr David Josek / Associated Press)
A U.S. Army honor guard team carries the casket of Pfc. Marius L. Ferrero, 23, at his funeral Monday in Miami. He was among three soldiers killed Nov. 18 when a suicide bomber detonated explosives while they were handing out candy and toys to children in Baqubah, Iraq, northeast of Baghdad. Ferrero was assigned to the 1st Battalion, 38th Infantry Regiment, 4th Stryker Brigade Combat Team, 2nd Infantry Division at Ft. Lewis, Wash.
(Joe Raedle / Getty Images)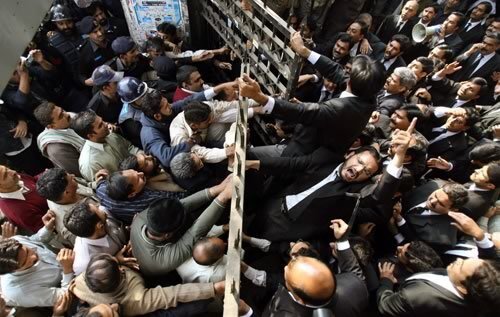 Police encounter lawyers, right, during a protest in Lahore, Pakistan, over the inauguration Thursday of Pervez Musharraf for a new five-year term as president. The lawyers movement considers Musharraf's new term illegitimate because Pakistan's Supreme Court was apparently poised to throw out his election when he issued an emergency decree, forestalling the verdict. "Any friend of Musharraf is a traitor to his country!" the protesters shouted.
(Arif Ali / AFP / Getty Images)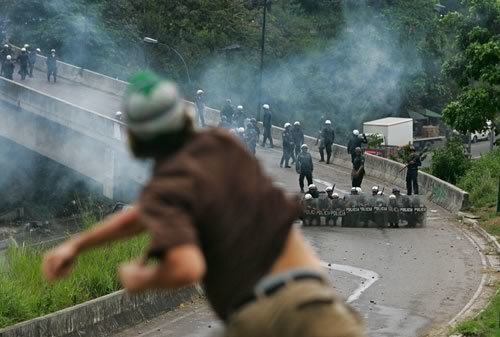 A student throws rocks at anti-riot police outside the Metropolitan University in Caracas, Venezuela, on Wednesday during a protest against constitutional changes proposed by President Hugo Chavez. Venezuelans will vote Sunday on a referendum that would rewrite the Constitution and grant Chavez more power.
(Howard Yanes / Associated Press)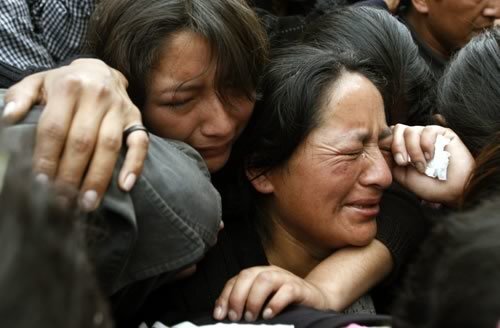 Mourners grieve over Jose Luis Cardozo -- killed during clashes between civilians and police -- at a cemetery in Sucre, Bolivia, on Tuesday. He was among at least three who were killed after a protest against a draft constitution that would give more power to leftist President Evo Morales. Regional leaders have called for a general strike in six provinces to protest the planned constitutional changes.
(Aizar Raldes / AFP / Getty Images)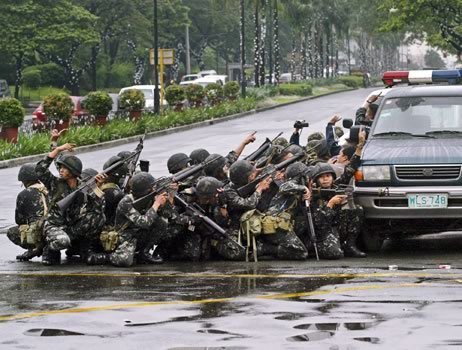 Soldiers take position around a hotel in Makati City, Philippines, on Thursday that Sen. Antonio Trillanes and Brig. Gen. Danilo Lim took over as they called for a revolt against President Gloria Macapagal Arroyo. Trillanes, Lim and supporters were taken into custody after a six-hour standoff. Four years ago as a navy lieutenant, Trillanes allegedly led more than 300 troops against the Arroyo government. Thursday's trouble began when he walked out of the trial in which he was facing charges arising from the 2003 incident.
(Francis R. Malasig / EPA)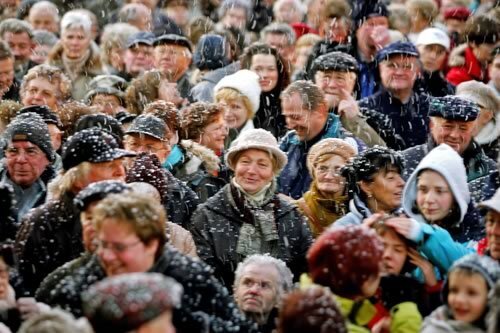 Visitors enjoy the snow, even if it's fake, as they crowd Germany's oldest Christmas market, the Striezelmarkt in Dresden, on its opening evening Wednesday. Such seasonal outdoor markets, an essential part of the holidays in Germany, offer Christmas treats such as mulled wine and sweets.
(Nobert Millauer / AFP / Getty Images)