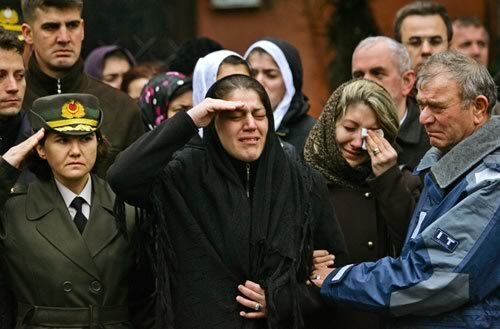 10 Images
Global pictures from Dec. 2-8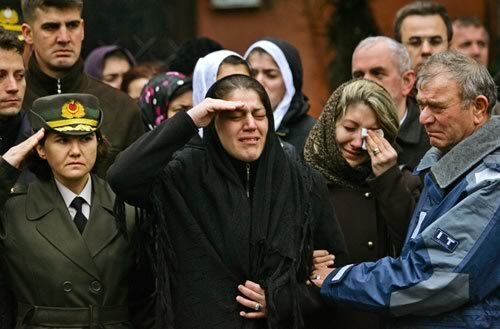 Tugba Eroglu, widow of slain army Capt. Sinan Eroglu, salutes her husband's coffin at his funeral in Istanbul, Turkey, on Wednesday. Eroglu was killed a day earlier during a clash with Kurdish rebels in southeastern Turkey. The army, which reported killing 14 rebels in two days of fighting, said they were among a group that killed 13 soldiers in an Oct. 7 ambush in Sirnak province.
(Ibrahim Usta / Associated Press)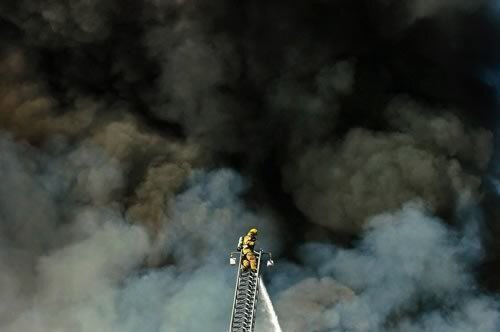 A firefighter turns for instructions as he mans a ladder pump while battling a fire at a furniture warehouse in Belton, Texas, on Wednesday. Emergency personnel from nine agencies fought the blaze at Indeco Sales Inc. most of the day. Local media reported that a large complex of buildings was destroyed, resulting in lost inventory and equipment worth about $1 million.
(Steve Traynor / Killeen Daily Herald)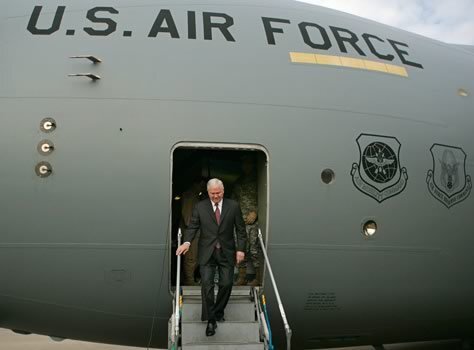 U.S. Defense Secretary Robert M. Gates steps off an Air Force transport plane upon his arrival in Mosul, Iraq, on Wednesday. Gates, on his sixth visit to the country since he took office last December, was returning to see for himself the effects of a recent decline in violence. At least 22 Iraqis were killed in four car bombings across the country that day, underscoring the persistent danger.
(Haraz N. Ghanbari / Associated Press)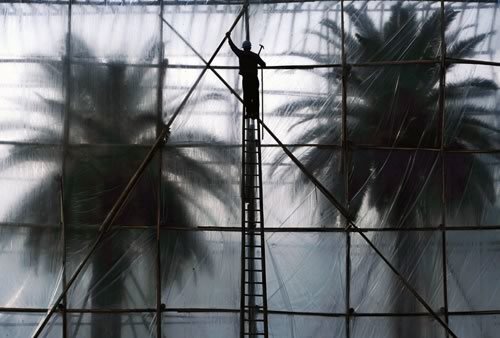 A worker assembles scaffolding around palm trees Monday to act as temporary protection during the coming cold winter months in Hangzhou, capital of China's eastern coastal province of Zhejiang.
(Associated Press)
A suicide bomber targeted a NATO convoy in Kabul, Afghanistan, on Tuesday, wounding 22 civilians passing nearby and damaging vehicles including this bus. The attack came as visiting U.S. Defense Secretary Robert M. Gates planned to meet with President Hamid Karzai and other Afghan officials in the capital city. The U.S. military said it was seeing early signs that Al Qaeda may be stepping up its activities in Afghanistan, a senior Pentagon official disclosed as Gates made his third trip to the country.
(Rafiq Maqbool / Associated Press)
An Iraqi is blindfolded by a U.S. Army soldier during a raid Monday in Mukhisa, Iraq. Seven men found there were detained by U.S. forces after more than the allowed number of assault rifles were found in a house in tense Diyala province. U.S. policy is to allow one AK-47 assault rifle per household.
(Chris Hondros / Getty Images)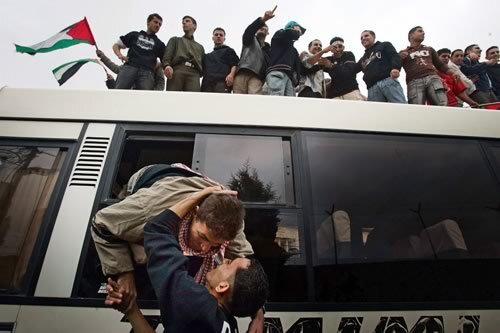 Jubilant relatives greeted Palestinian prisoners with firecrackers, blaring horns and tearful embraces Monday after Israel freed them in a peace gesture to moderate Palestinian leaders. Although Israel's release of 429 prisoners was the largest single batch in nearly three years, Palestinian officials said they were far from satisfied and would keep insisting on a broader amnesty during peace talks set to begin next week.
(David Furst / AFP / Getty Images)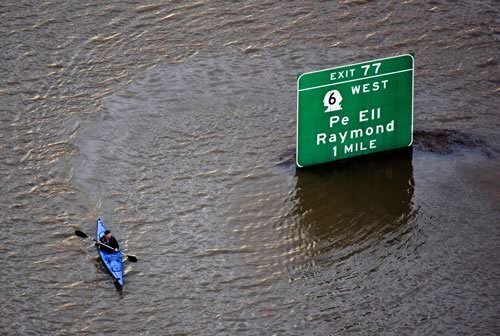 A huge storm battered the Pacific Northwest starting Sunday, resulting in at least five deaths and leading to severe flooding that shut down a 20-mile stretch of Interstate 5 near Chehalis, Wash. Here, a kayaker paddles through the northbound lanes of the highway, a main route between Portland and Seattle. Thousands of trees were downed, as were power lines and communication links. A state of emergency was declared in Washington and Oregon.
(Bruce Ely / The Oregonian)
Tod Martin sweeps a layer of thick mud away from the Western Royal Inn in Tillamook, Ore., after this week's fierce Pacific Northwest storm. Tillamook County was among the state's hardest hit; 17-foot waves battered its coast. Officials in Oregon and Washington predicted a long, costly cleanup.
(Don Ryan / Associated Press)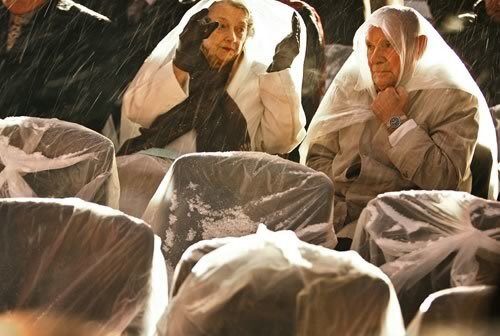 Rhoda Charron and her husband, Art, use plastic bags to take shelter from snow and freezing temperatures during the annual Christmas tree lighting ceremony Wednesday at the Capitol in Washington. "My goosebumps have got goosebumps," Art Charron said. This year's tree, a 55-foot balsam fir from Vermont's Green Mountain National Forest, is decorated with energy-efficient LED lights.
(Chip Somodevilla / Getty Images)