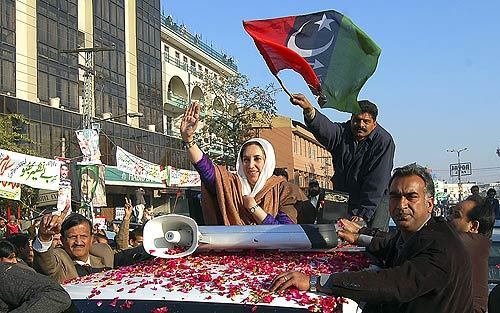 10 Images
Global pictures from Dec. 23-29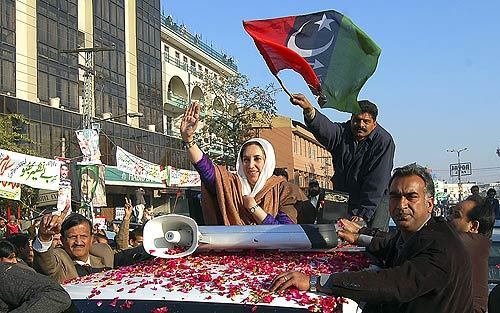 Benazir Bhutto waves to supporters Thursday at a public rally in Rawalpindi, Pakistan, where she gave what would be her last speech. The opposition leader was gunned down as her convoy pulled away from the event, and an explosion soon after the shooting charred her bullet-proof vehicle and killed at least 20 people. "I risked my life and came here because I believe our country is in danger," Bhutto told a crowd of flag-waving supporters at the rally.
(Mohammad Javed / Associated Press)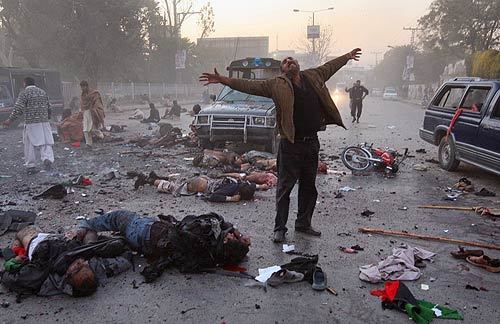 A survivor wails amid the carnage of the attack on Bhutto. Nine people were reported killed in scattered violence that broke out overnight as a nationwide wave of grief took hold of an already shaky Pakistan.
(John Moore / Getty Images)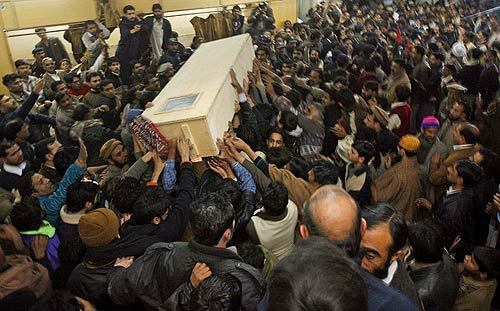 Supporters throng Rawalpindi General Hospital to carry out the coffin bearing Bhutto's remains. It was flown to Larkana, her ancestral home in Sindh province, to be placed in the same mausoleum as her father, Zulfikar Ali Bhutto.
(Warrick Page / Getty Images)
In Calcutta, residents light candles around an image of Bhutto in honor of the slain political leader.
(Piyal Adikary / EPA)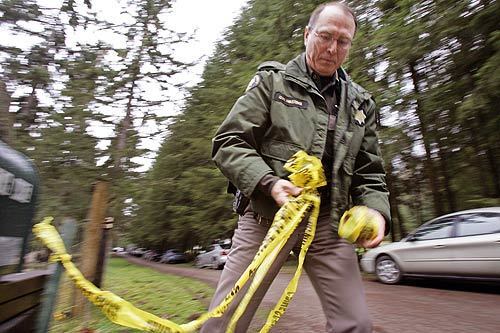 King County Sheriff's deputy Don Hasting strings police tape near a rural property east of Seattle where six people were found dead. The property owner's daughter and her boyfriend were arrested. The victims, most likely three generations of a family, apparently died of gunshot wounds.
(Elaine Thompson / Associated Press)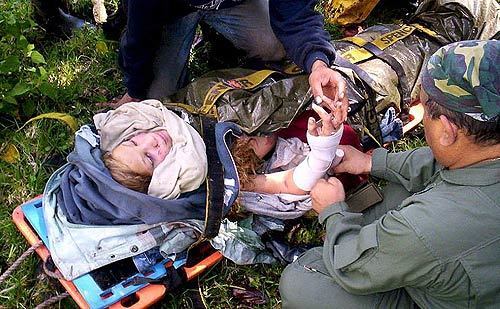 Rescue workers spent hours trying to move Francesca Lewis, 12, to a local hospital after the plane she was traveling in crashed in the rugged mountains of Panama's western province of Chiriqui. Francesca's friend Talia, 13, and her father, Santa Barbara businessman Michael Klein, 37, were found dead along with the small plane's pilot, Edwin Lasso, 23.
(Panama Civil Defense)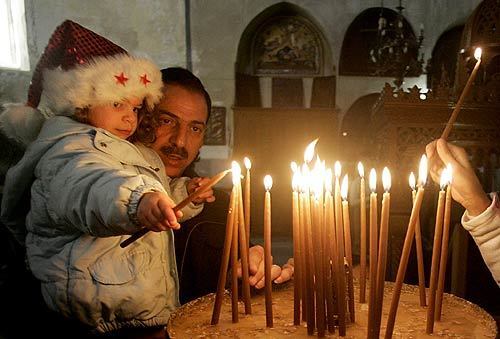 On Christmas Eve in Bethlehem, a pilgrim helps a child light candles in the Church of the Nativity, which tradition holds to be the site of the birthplace of Jesus. More Christians flocked to the West Bank town this year amid signs of improved security.
(Sebastian Scheiner / Associated Press)
A couple walks by police boat No. 813 in Khao Lak, Thailand. The boat was swept more than a mile inland during the devastating Indian Ocean tsunami on Dec. 26, 2004, and has become the yearly anniversary memorial site.
(David Longstreath / Associated Press)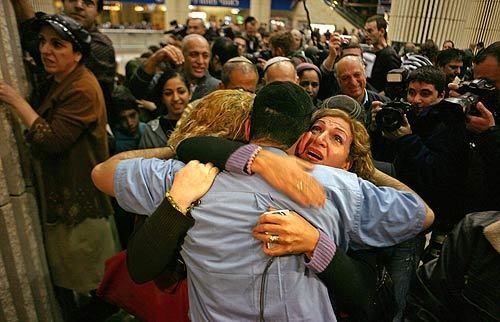 Israelis share a hug upon a relative's arrival at Ben Gurion Airport after a group of about 40 Jews from Iran landed in Israel. The immigrants were sponsored by a charity funded by U.S. evangelical donors and will each receive $10,000 to start anew in the Jewish state. Although Iran's Jewish community is protected by the country's constitution, Jews report discrimination and increasing concern about hard-line President Mahmoud Ahmadinejad's hostility toward Israel.
(Menahem Kahana / AFP / Getty Images)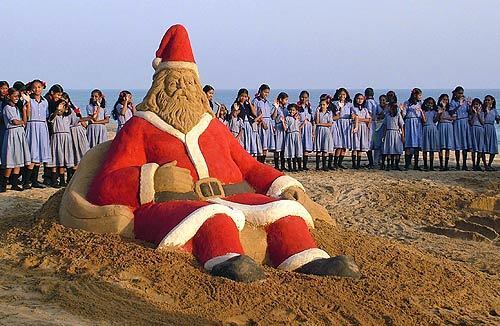 Children gather near a Santa Claus sand sculpture on Puri beach near the southeastern Indian temple city of Bhubaneswar. Sand artist Sudarshan Patnaik created the piece on Christmas Eve.
(Biswaranjan Rout / Associated Press)