15 Images
Election night across America
Congresswoman Nancy Pelosi waves to Democratic supporters at the Hyatt on Capitol Hill on election night.
(Carolyn Cole / LAT)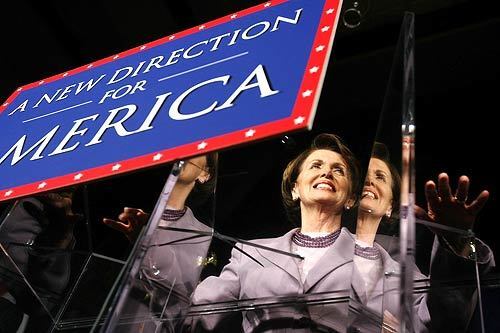 House Democratic party leader Nancy Pelosi (D-CA) is reflected through a plastic podium while addressing supporters at the Hyatt Regency Hotel in Washington, D.C.
(Chip Somodevilla / Getty Images)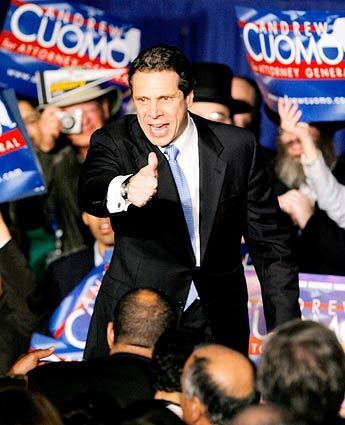 New York's new attorney general, Andrew Cuomo, is all smiles during an election-night celebration.
(Justin Lane / EPA)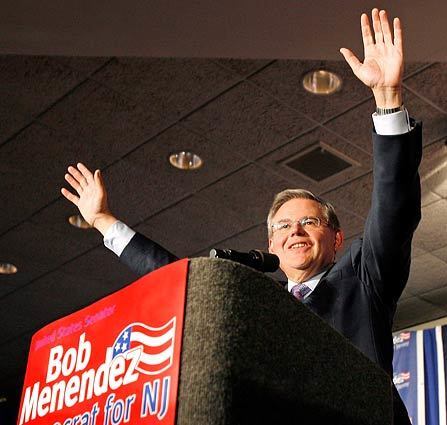 U.S. Senator Robert Menendez (D-NJ) waves to his supporters after winning his bid for reelection.
(Peter Foley / EPA)
Florida's governor-elect Charlie Crist responds to cheering supporters at an election-night celebration in St. Petersburg.
(Joe Burbank / Orlando Sentinel)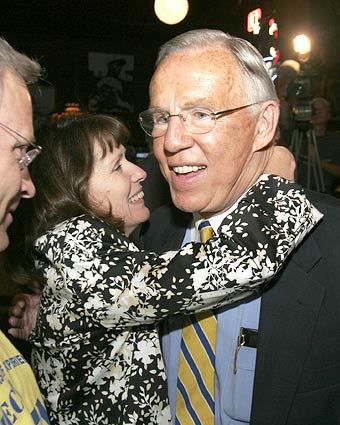 Ken Lucas, Democratic challenger for Kentucky's 4th Congressional District, gets a hug from a supporter as he arrives at a party. Lucas is trying to unseat Republican incumbent Rep. Geoff Davis.
(David Kohl / AP)
U.S. Senator Joseph Lieberman delivers his victory speech in Hartford, Conn., after winning reelection. Lieberman lost his bid for the Democratic nomination during the state's primary election in August, so he ran for reelection as an independent.
(CJ Gunther / EPA)
Republican Dave Weldon and his wife, Nancy, take the stage at the Imperial Hotel in Melbourne, Fla., to celebrate his congressional election.
(Kathleen Hinkel / AP)
Democratic Rep. Steny Hoyer of Maryland cheers supporters during a fete at the Hyatt Regency Hotel in Washington, D.C.
(Matthew Cavanaugh / EPA)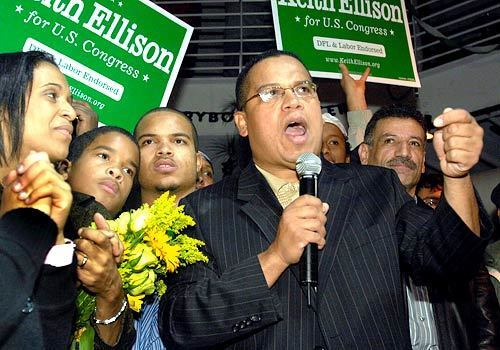 Minnesota's U.S. Congressman-elect Keith Ellison addresses a crowd gathered to celebrate his victory in Minneapolis. Ellison is the first Muslim to be elected to the U.S. House of Representatives.
(Craig Lassig / EPA)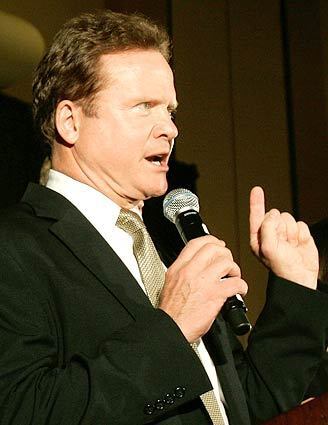 Democratic U.S. Senate candidate Jim Webb thanks supporters at a party in Vienna, Virginia. Webb is in a tight race with incumbent Sen. George Allen.
(Alex Wong / Getty Images)
Former President Bill Clinton embraces his wife, Sen. Hillary Clinton ( D-NY), at a celebration following her reelection.
(Justin Lane / EPA)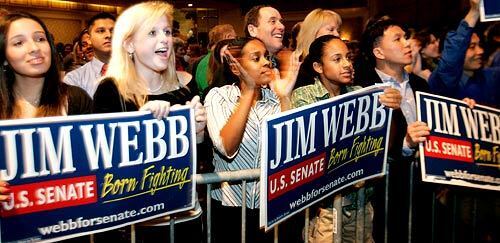 Supporters of Democratic U.S. Senate candidate Jim Webb cheer at an election-night event in Vienna, Virginia.
(Stefan Zaklin / EPA)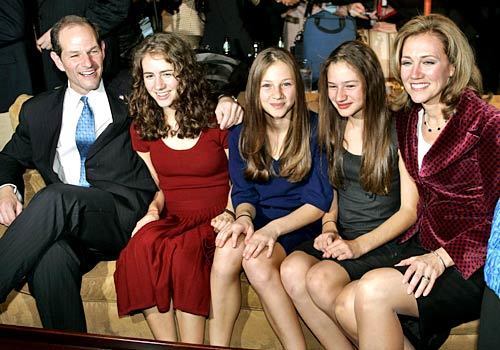 Democratic New York Governor candidate Eliot Spitzer, his wife, Silda Wall, and their three daughters watch returns from the midterm elections in their hotel suite before celebrating his success.
(Timothy A. Clary AFP/Getty Images)