21 Images
Benazir Bhutto | 1953-2007
Benazir Bhutto is shown in 1972 standing next to her father and Pakistani President Zulfikar Ali Bhutto as he shakes hands with Indian Prime Minister Indira Gandhi in Simla, India.
(AFP/Getty Images)
Bhutto graduated with honors from Oxford University in 1976. She was the first woman to be elected president of Oxford Union, the famed debating society.
(Associated Press)
Benazir Bhutto, top right, with her family in 1978. From left: Her mother Nusrat, brother Shahnawaz, father and Prime Minister Zulfikar Ali, brother Murtaza and sister Sanam. Her father was overthrown by a military coup led by Army Gen. Mohammad Zia-ul-Haq and was hanged in 1979.
(Associated Press)
Bhutto is shown arriving in Nice, France, in 1985 with her brother-in-law Nasser Hussain for the trial concerning the poisoning death of her brother Shahnawaz.
(Ralph Gatti / AFP / Getty Images)
In April 1986, Pakistani People's Party leader Bhutto displays a picture of a party activist who died during a protest.
(AFP/Getty Images)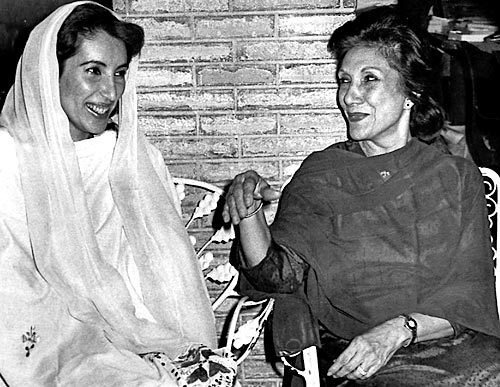 Benazir Bhutto and her mother Nusrat are shown in 1987 at their seaside villa in Karachi after returning from London to prepare for Benazir's impending marriage.
(Zafar Ahmed / AFP / Getty Images)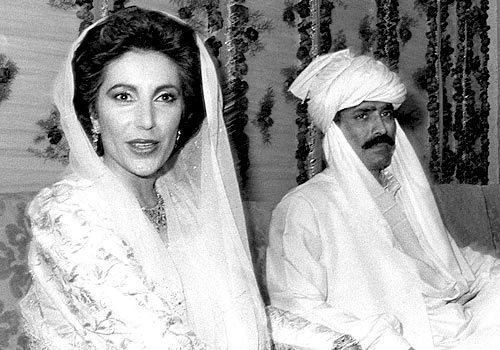 Bhutto marries businessman Asif Ali Zardari on Dec. 18, 1987, in Karachi. She had returned to Pakistan the year before to challenge the military regime that had executed her father.
(Zafar Ahmed / AFP / Getty Images)
A day after the Pakistan People's Party won control of the largest single bloc of seats in the National Assembly in 1988, opposition leader Bhutto addresses a news conference. "The people have given their verdict, and I hope it will be respected in its true spirit," she said.
(Zahid Hussein / Associated Press)
Bhutto is sworn in as a newly elected member of the National Assembly during a ceremony in Islamabad on Nov. 30, 1988. "Coming through the halls today, I realized how important the struggle had been to reach Parliament," she said. "Although there are many restrictions, we are still hopeful to bring change." At age 35, she became the first female prime minister in the Muslim world.
(B.K. Bangash / Associated Press)
Bhutto is shown in 1991 with her second child, Bakhtwar. Her daughter's name means "one who brings luck" in Persian.
(Associated Press)
Bhutto is shown in 1993 a few days before she reclaimed the prime minister's post. In the background hangs a portrait of her late father, Zulfikar Ali Bhutto.
(Saeed Khan / AFP / Getty Images)
Pakistani Premier Benazir Bhutto and her Chinese counterpart Li Peng head to a meeting room at the Great Hall of the People in Beijing after an official welcoming ceremony in 1993.
(Manuel Ceneta / AFP / Getty Images)
With President Bill Clinton looking on, Pakistani Prime Minister Bhutto speaks at a joint press conference at the White House in 1995. The two met in an effort to improve economic and military ties.
(Luke Frazza / AFP / Getty Images)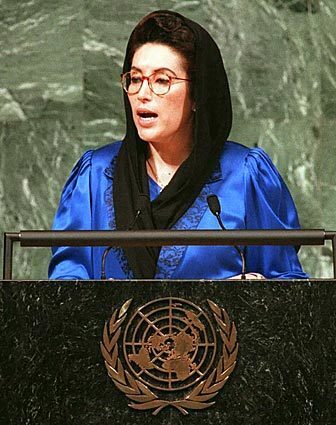 The Pakistani leader addresses the 51st session of the U.N. General Assembly in New York in October 1996. A month later she was ordered to step down as prime minister amid charges of corruption and mismanagement.
(Bob Strong / AFP / Getty Images)
The deposed leader is shown in January 1997 prior to a public speech in Sehwan, Pakistan.
(Saeed Khan / AFP / Getty Images)
A couple of days later, Bhutto addresses a press conference at her residence after a court rejected the petition against her dismissal.
(Saeed Khan / AFP / Getty Images)
Bhutto leaves the Landhi jail in 1998 with her son Bilawal and daughter Asifain in tow after visiting her husband Asif Ali Zardari. He had been in jail since Bhutto's government was dismissed in 1996 on corruption charges and was released in 2004.
(Associated Press)
In October, supporters surround Bhutto's vehicle after a pair of explosions ripped through the crowd during her homecoming procession in Karachi. Nearly 140 people were killed and at least 250 injured, according to authorities.
(John Moore / Getty Images)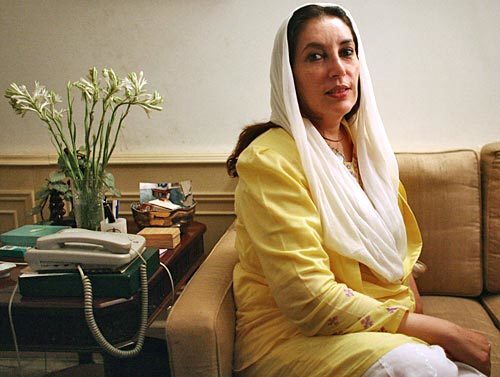 Before holding a prayer service with family and friends of the victims of the attacks, Bhutto speaks with the media. "We will continue to meet the public. We will not be deterred," she said.
(Daniel Berehulak / Getty Images)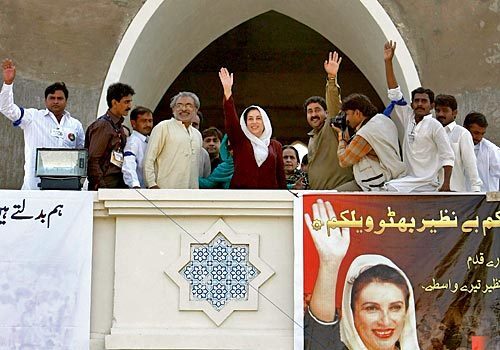 The opposition leader waves to supporters at the Bhutto family mausoleum near her ancestral village, Garhi Khuda Baksh. It was her first trip outside Karachi since the deadly October attacks.
(Daniel Berehulak / Getty Images)
"The areas between Pakistan and Afghanistan became a haven for extremists, and the extremism and terrorism is flowing down into other areas," Bhutto said on Dec. 26 while campaigning for Jan. 8 elections. She promised to crack down on Islamic militancy if she won.
(Tariq Mahmood AFP/Getty Images)