Outflanked by China, Tillerson arrives in Africa with a narrow mission — counter-terrorism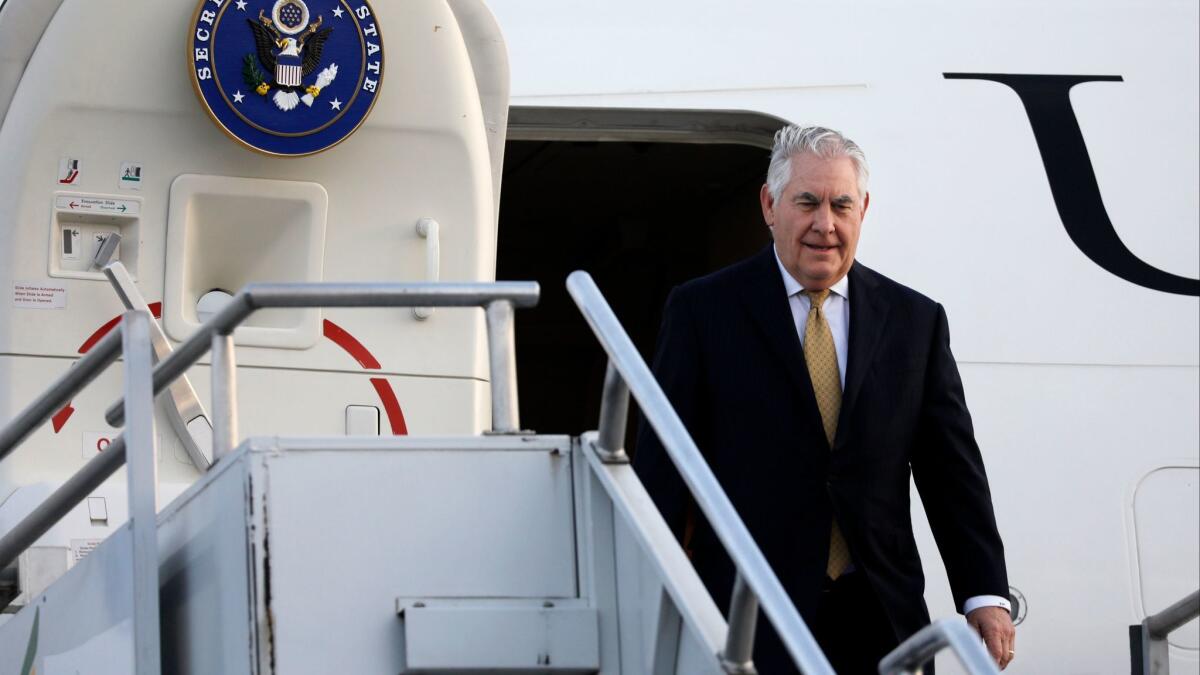 Reporting from Johannesburg, South Africa —
Secretary of State Rex Tillerson's five-nation itinerary told African leaders everything they needed to know about the Trump administration's approach to the continent: Counter-terrorism is in. Human rights and democracy, not so much.
His tour of the African countries focuses squarely on counter-terrorism and security, visiting nations engaged in battling Islamist terrorism, including Djibouti, home to Camp Lemonnier, America's largest and most important African military base. Democracy, human rights and development take a back seat under the Trump administration, with sharp cuts in foreign aid.
Previous U.S. administrations have tended to woo African nations that have good records on governance, rights and democracy. But with China edging out Western interests, dealing with dictators and democrats alike, the Trump administration appears to be adopting a more pragmatic approach, homing in on what matters most to Washington: containing the threat of terrorism in East Africa and the Sahel region.
Tillerson's visit comes less than two months after President Trump described African nations as "shithole countries" in comments at an Oval Office migration briefing to lawmakers— comments he later denied.
Trump's remarks, seen by many as racist, outraged African leaders and were condemned by the African Union, the continental leadership body. They also came amid other signs the U.S. had sharply downgraded Africa as a global priority, including Trump's failure to fill key diplomatic posts, more than a year after taking office.
Tillerson's visit began Wednesday evening in Addis Ababa, the Ethiopian capital and headquarters of the African Union, where he was to meet the organization's leaders.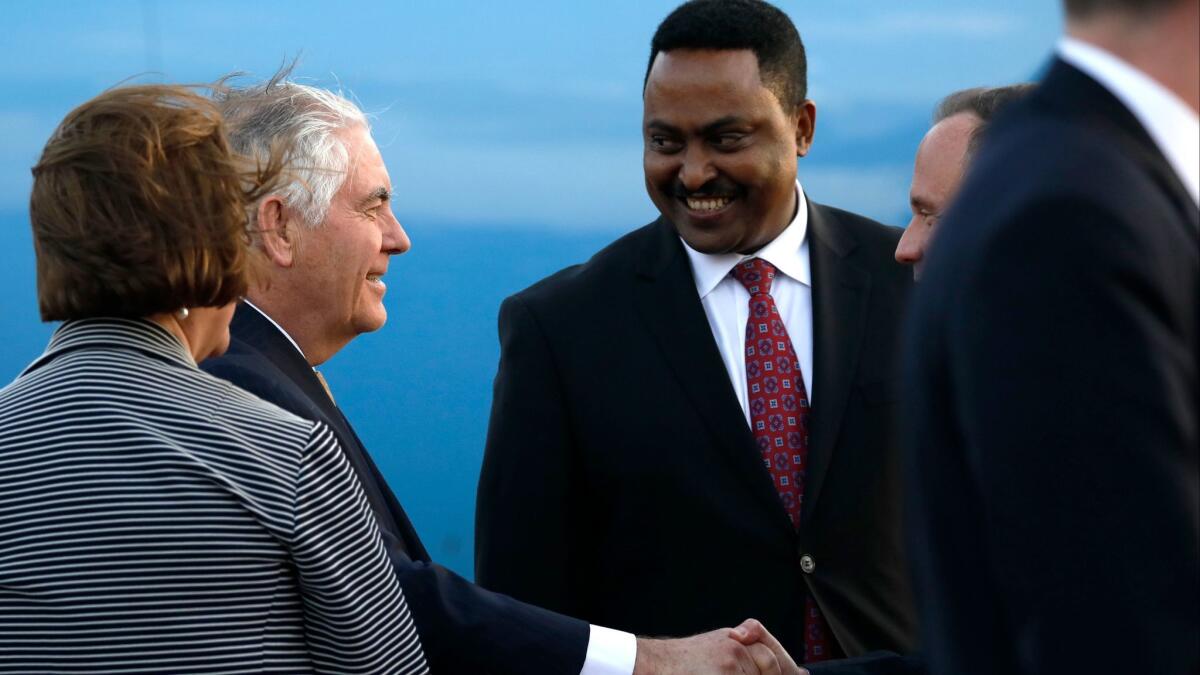 Ethiopia, authoritarian and opaque, is a close U.S. ally in its counter-terrorism operations in East Africa, notably against the Shabab, the extremist group fighting the United Nations-backed government in neighboring Somalia. Ethiopia declared a state of emergency after two years of protests over state repression led to the prime minister's resignation.
Tillerson will also visit Djibouti, a tiny but strategically important ally in the Horn of Africa where the authoritarian leader, Ismail Omar Guelleh, has been in power since 1999, after taking over from his uncle; and Kenya, which is also fighting the Shabab in Somalia.
He'll also stop in Chad and Nigeria, both fighting the Islamic State-linked extremist group Boko Haram. Nigeria is Africa's largest oil producer.
Before arriving in Addis Ababa, Tillerson announced $533 million in additional humanitarian assistance to fight famine and hunger in Ethiopia, Somalia, South Sudan and other countries.
The African tour comes as the U.S. is being outflanked and outspent by China, which has poured billions of dollars into the continent, offering soft loans for infrastructure projects such as ports, roads, railways and airports, which African governments have struggled to fund. In return, China has gained increased access to the continent's vast mineral and petroleum resources. China has not demanded improvements in governance or human rights as part of its warming relationship with Africa.
In a speech at George Mason University before departing for Africa, Tillerson argued that "our country's security and economic prosperity are linked with Africa's like never before." But he arrives with no bold initiatives that could convince leaders the administration is serious about Africa.
Critics say that the Trump administration's neglect of Africa and narrow focus have left the U.S. increasingly irrelevant to African leaders.
John Stremlau, an analyst on Africa and a visiting professor at the University of the Witwatersrand, argues that America's decline in influence in Africa has accelerated under Trump.
"Realistically, Tillerson's mission will produce few benefits for Africa, or for U.S.-Africa relations," he wrote in an analysis on the university website, adding that African leaders will be skeptical because of the trip's limited scope.
"Geographically it is restricted to the so-called arc of instability. Evidently counter-terrorism is America's main Africa concern. If Trump and Tillerson were seriously interested in issues of trade, public health and good governance, he would have at least included democratic South Africa on his agenda," Stremlau said.
"Instead, Tillerson has prioritized repressive governments and ones under states of emergency."
Stremlau said that instead of diplomatic engagement, America's approach in Africa is increasingly militaristic.
"Neither Trump or Tillerson has announced an overarching Africa policy. No assistant secretary for Africa has been named. Important embassies, including in South Africa, lack ambassadors," he said.
Brahima Coulibaly, director of the Brookings Institution's Africa Growth Initiative, said the Trump administration's narrow security focus in Africa risked losing ground to competitors such as China.
"The continent has a lot of potential and a lot to offer and that's being recognized by Africa's other partners who are quite aggressive in fostering their relationships," Coulibaly said. "And I see the competition only getting stronger."
America's military footprint on the continent has been growing as it deploys drones and special forces to help governments in West and East Africa fight local Islamist extremist militias. The U.S. has about 6,000 troops in 50 African countries, including forces deployed to secure embassies, and carries out about 3,500 operations, exercises and programs in Africa each year.
But China's military role in Africa is also growing fast, providing soldiers and police in U.N. peacekeeping missions in several countries. It recently established an 8,000-member peacekeeping force registered with the U.N. Like the U.S., France, Italy and Japan, it has a military base in Djibouti.
Gen. Thomas Waldhauser, who heads the U.S. military's Africa Command, expressed concerns Tuesday that China could get control of the geopolitically strategic port in Djibouti, after the government last month threw out a Dubai firm, DP World, that had been running it since 2006.
In his Djibouti visit Tillerson will probably seek assurances that U.S. access to the port to refuel military vessels and resupply its military base will not be restricted.
Waldhauser's comments appeared to depart from remarks he made less than six months ago, when he suggested the U.S. would opt for military cooperation with China after Beijing expressed interest in having Chinese and U.S. marines engage in joint training in Djibouti.
"The fact that we have mutual interests in Africa means that we can and should cooperate," he said in September, adding that "our goal is to work with China in Africa as fellow stakeholders in peace, security and stability on the continent."
But on Tuesday, Tillerson disparaged China's role in Africa, accusing it of creating dependency and causing African nations to build up unsustainable debt while creating few jobs.
It's a criticism that previous administrations have leveled, and one that China has consistently rejected. Chinese Foreign Ministry spokesman Geng Shuang said during a news briefing Tuesday in Beijing that China's cooperation with Africa was not aimed at any other country and was not designed to exclude anyone.
"We hope that the U.S. side can objectively and fairly view China's development and China-Africa cooperation," he said.
Twitter: @RobynDixon_LAT
Sign up for Essential California for the L.A. Times biggest news, features and recommendations in your inbox six days a week.
You may occasionally receive promotional content from the Los Angeles Times.