Bangladesh prime minister denies accusations of rigged vote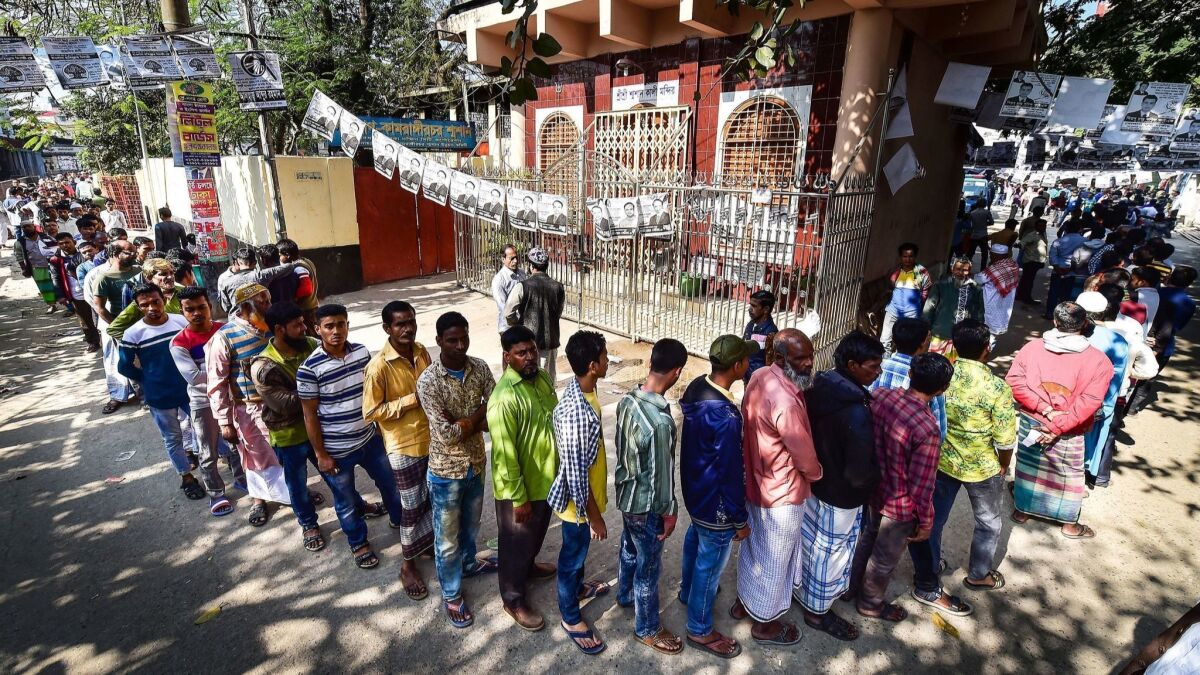 Reporting from DHAKA, Bangladesh —
The day after winning a record fourth term in power, Bangladesh Prime Minister Sheikh Hasina trumpeted her accomplishments and dismissed opposition claims that the vote was rigged.
Hasina's ruling alliance won virtually every parliamentary seat in the general election, according to official results released Monday, giving her a third consecutive term despite opposition allegations of intimidation. Hasina earlier served a separate single term.
The coalition led by Hasina's Awami League party won 288 out of 300 seats — 96% — in Sunday's polls, Election Commission Secretary Helal Uddin Ahmed said. The opposition alliance led by prominent lawyer Kamal Hossain won only seven seats.
The opposition rejected the outcome, with Hossain calling the election "farcical" and demanding a new election be held under the authority of a "nonpartisan government."
But Chief Election Commissioner K.M. Nurul Huda ruled out any revote, saying there were no reports of large irregularities.
"There is no scope to hold the election again," Huda said. He said the turnout in Sunday's vote was 80%.
Hasina's main rival for decades has been former Prime Minister Khaleda Zia, the leader of the opposition Bangladesh Nationalist Party, whom a court deemed ineligible to run for office because she was sentenced to more than two years in prison after being convicted of corruption. Zia's supporters say the charges were politically motivated.
In Zia's absence, opposition parties formed a coalition led by Hossain, an 82-year-old former member of the Awami League who served as foreign minister under Hasina's father, Mujibur Rahman, Bangladesh's founding leader.
The political opposition and groups including Human Rights Watch say Hasina has become increasingly authoritarian. More than a dozen people were killed in election-related violence on Sunday, and the election campaign was dogged by allegations of the arrest and jailing of thousands of Hasina's opponents.
In a wide-ranging discussion with foreign journalists and election observers at her official residence in Dhaka on Monday, Hasina refused a suggestion that she offer her political foes an olive branch.
"The opposition you see, who are they? The main party, BNP, it was established by a military dictator [Zia's husband, Ziaur Rahman] who introduced martial law in this country, there was no constitutional right of the people.
"This military dictator, first they captured power, then they become politicians and formed their own party. And the rigging system and everything, they introduced to this country," she said.
Hasina dismissed questions about the fairness of the vote.
"I feel that it was a very peaceful election, some incidents took place, some of our Awami League party workers were killed by the opposition. I'm very sorry for that, but I always appreciate our law enforcement agencies, also our people who were working hard to have this election in a peaceful manner," she said.
About 104 million people in the Muslim-majority country were eligible to vote — including many young, first-time voters — in Bangladesh's 11th general election since independence from Pakistan.
Both sides were hoping to avoid a repeat of 2014, when Zia and the BNP boycotted and voter turnout was only 22%. More than half of the 300 parliamentary seats were uncontested. The Awami League's landslide victory was met with violence that left at least 22 people dead.
Must-read stories from the L.A. Times
Get the day's top news with our Today's Headlines newsletter, sent every weekday morning.
You may occasionally receive promotional content from the Los Angeles Times.