Border incursion was Colombian gamble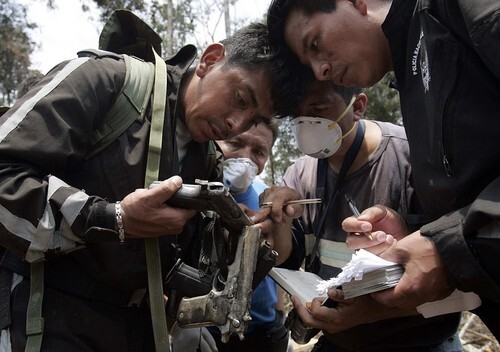 An Ecuadorean police forensic team examines pistols that were found at a camp of the Revolutionary Armed Forces of Colombia, or FARC, where Colombian forces killed a senior rebel leader and 16 other guerrillas.
(Dolores Ochoa / Associated Press)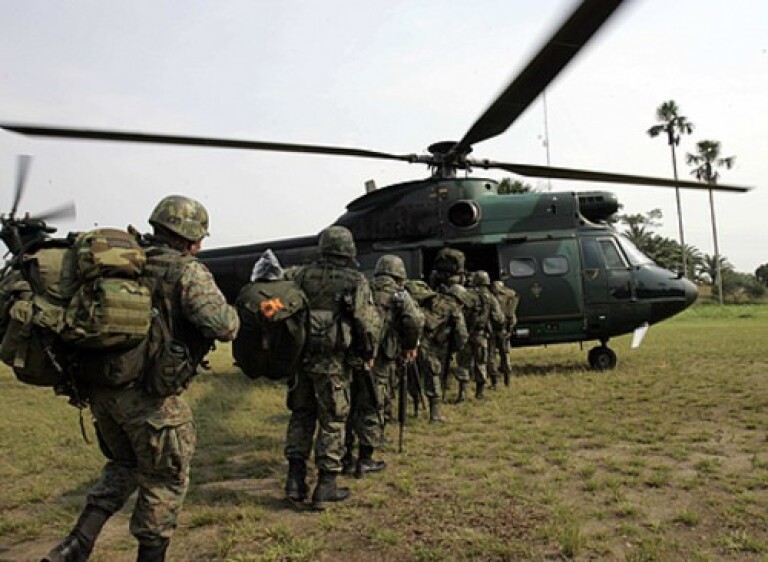 Ecuadorean soldiers run to board a helicopter in Lago Agrio, northeast Ecuador.
(Dolores Ochoa / Associated Press)
Ecuadorean soldiers arrive in Angostura, next to the Colombian border, in Ecuador.
(Dolores Ochoa / Associated Press)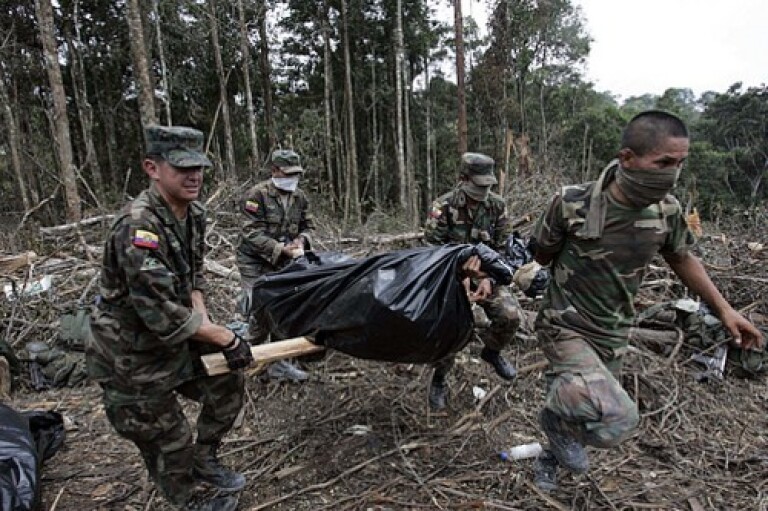 Ecuadorean soldiers carry the body of a Revolutionary Armed Forces of Colombia, or FARC, rebel in Angostura, Ecuador.
(Dolores Ochoa / Associated Press)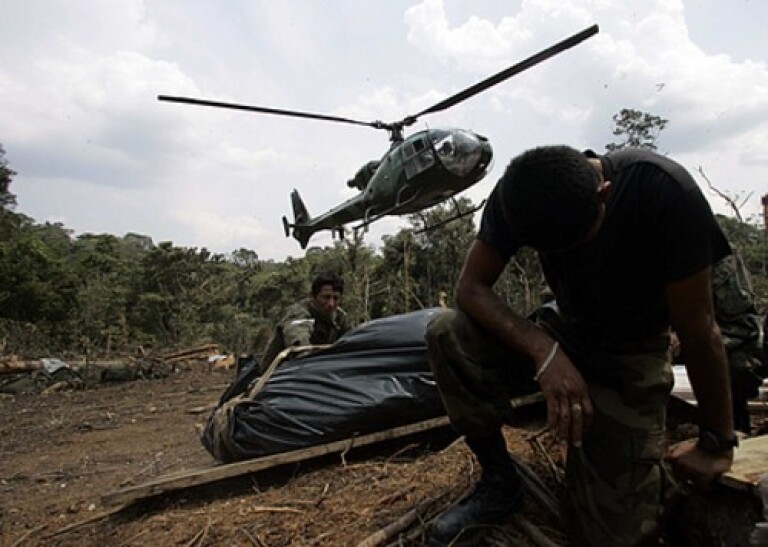 Ducking helicopter turbulence, soldiers kneel by the bodies of Colombian rebels who were slain inside Ecuador by Colombian forces.
(Dolores Ochoa / Associated Press)
Los Angeles Times Staff Writer
BOGOTA, COLOMBIA —
President Alvaro Uribe appears to have taken a calculated risk in ordering his armed forces to invade Ecuador to kill a top rebel leader, deciding to risk the ire of his southern neighbor to inflict a major loss in a decades-long war.
Tensions continued to mount Monday after the clandestine operation in which Colombian soldiers and aircraft entered Ecuador to kill Raul Reyes, the nom de guerre of the No. 2 commander in Colombia's largest rebel group, known by its Spanish initials, FARC.
Venezuelan and Ecuadorean troops are massing at Colombia's borders. Uribe faces a scolding at a special meeting of the Organization of American States today, and his neighbors have recalled their ambassadors and expelled his. Venezuelan President Hugo Chavez is threatening war if Colombian forces cross his border.
All in all, it's a grim situation in a region where good relations have long been the norm. Tensions haven't been this high since 1987, when Colombia sent a naval vessel to Venezuela's Gulf of Maracaibo to stake a short-lived claim to an offshore island.
But experts say Uribe decided that the opportunity to kill Reyes was worth the diplomatic storm, figuring that immigration and economic ties among neighbors, in addition to aversion to war, would stave off anything worse.
"The operation was planned and the risks were studied," said Camilo Gonzalez of Indepaz, a peace advocacy think tank in Bogota. "In the end, Uribe decided to get his military success and assume the cost of a diplomatic incident."
Bruce Bagley, a political scientist at the University of Miami and a Colombia specialist, said Uribe was exasperated by his neighbors' unwillingness to do anything about the FARC's presence on their territory. Uribe gambled because he was "desperate for major kills" and because the chance of war breaking out along either border is small.
"Although you can never discount a mistake leading to a shooting war," none of the three countries can afford to risk the billions in trade between them, Bagley said. "But I foresee weeks and months of tension and a military buildup on all sides."
In Colombia, Uribe's gamble adds to his popularity, which in recent polls already exceeded 80%. Few here mourn the loss of Reyes, 59, who as the public face of the FARC embodied the killings, extortion and kidnappings the rebels have inflicted on Colombians for decades.
In Venezuela, there were signs that Chavez's call to arms was falling on unreceptive ears. Several opposition politicians and retired generals questioned the need for a mobilization. Others charged that Chavez wanted war to distract Venezuelans from rising inflation and scarcity of food items.
"Most Venezuelans are against the Colombian guerrillas," said political analyst Anibal Romero in a telephone interview from Caracas. "We have nothing in common with them, we don't like them and there is no reason for us to support Chavez in his support of them."
Colombian officials say the predawn raid Saturday began on their side of the border. But after troops and aircraft allegedly drew fire from FARC rebels in a camp on the other side of the Putumayo River, Colombian forces entered a mile deep into Ecuador in "hot pursuit."
Reyes and 16 other guerrillas were killed.
Ecuadorean President Rafael Correa's initial reaction was muted.
But on Sunday night he lashed out, saying Uribe had lied to him about what happened.
By then, Ecuadorean military experts had visited the site and determined that at least some of the guerrillas were killed as they slept.
In a televised address to the nation, Correa said the mission was a "planned air attack" two miles inside Ecuador "in plain consciousness that they were violating our sovereignty."
Ecuador will ask the OAS today to denounce Colombia's incursion. A State Department spokeswoman declined to say how interim U.S. representative Robert Manzanares would vote on the measure. But Colombia will make a charge of its own, that Chavez and Correa support the FARC rebels, and will ask the OAS to authorize a special commission to investigate the alleged links.
Among Colombia's evidence are three laptop computers seized in Reyes' jungle camp.
Colombian police said they contained a trove of information on the close relations between the leftist FARC guerrillas and the Ecuadorean and Venezuelan governments.
Files alleged to have been stored in the computers were released here Monday. The files include information on a $300-million payment Chavez allegedly made to the FARC and a promise from FARC leader Manuel Marulanda to help defend Venezuela in the event of American aggression, police commander Gen. Oscar Naranjo said at a news conference.
On Sunday, Colombia said Reyes' computer files indicated that Ecuador accommodates the presence of the rebels by stationing "non-hostile" police and army units in the zone where they camp.
Files also documented meetings between Ecuadorean Interior Minister Gustavo Larrea and Reyes, the Colombians charged.
Larrea acknowledged Monday that he met with Reyes in January in an unspecified third country to discuss the release of hostages held by the FARC.
---
Must-read stories from the L.A. Times
Get the day's top news with our Today's Headlines newsletter, sent every weekday morning.
You may occasionally receive promotional content from the Los Angeles Times.