Brazil school shooting spurs debate; a 'bullet caucus' senator wants to arm teachers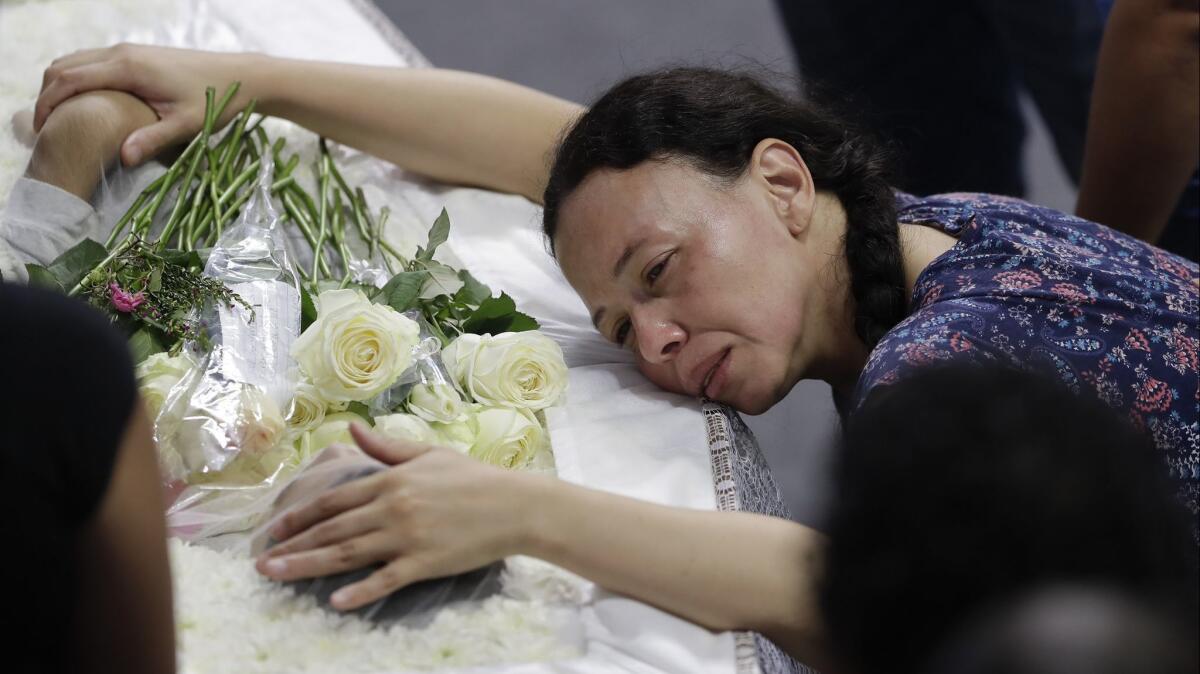 Reporting from SAO PAULO, Brazil —
Just before two former students took a .38 revolver into a school outside Sao Paulo and opened fire, Brazil's president talked about loosening the nation's gun laws.
Hours after the gunmen killed eight people, then themselves, a Brazilian senator proclaimed in response, "As long as guns are illegal, only criminals will have guns."
He then suggested that armed teachers could have prevented the shooting, an idea endorsed by President Trump last year after a gunman killed 17 people at a Parkland, Fla., high school.
The rare school shooting March 13 in the town of Suzano has heightened the debate in Brazil about the country's gun laws — and amplified pro-gun politicians' rhetoric echoing that of the U.S. gun lobby.
The former students, 17 and 25, walked into Raul Brasil public school at 9:30 a.m. during the morning snack break. They'd already killed the younger gunman's uncle. Their faces were covered with skull masks and they carried the revolver, a crossbow, a bow and arrow and an ax. They killed five teenage students and two school workers before killing themselves.
The same morning, at a breakfast meeting that started at 8:30, President Jair Bolsonaro announced he was working on a bill to loosen Brazil's strict laws on gun-carry permits, which currently allow only security professionals to carry firearms while on the job.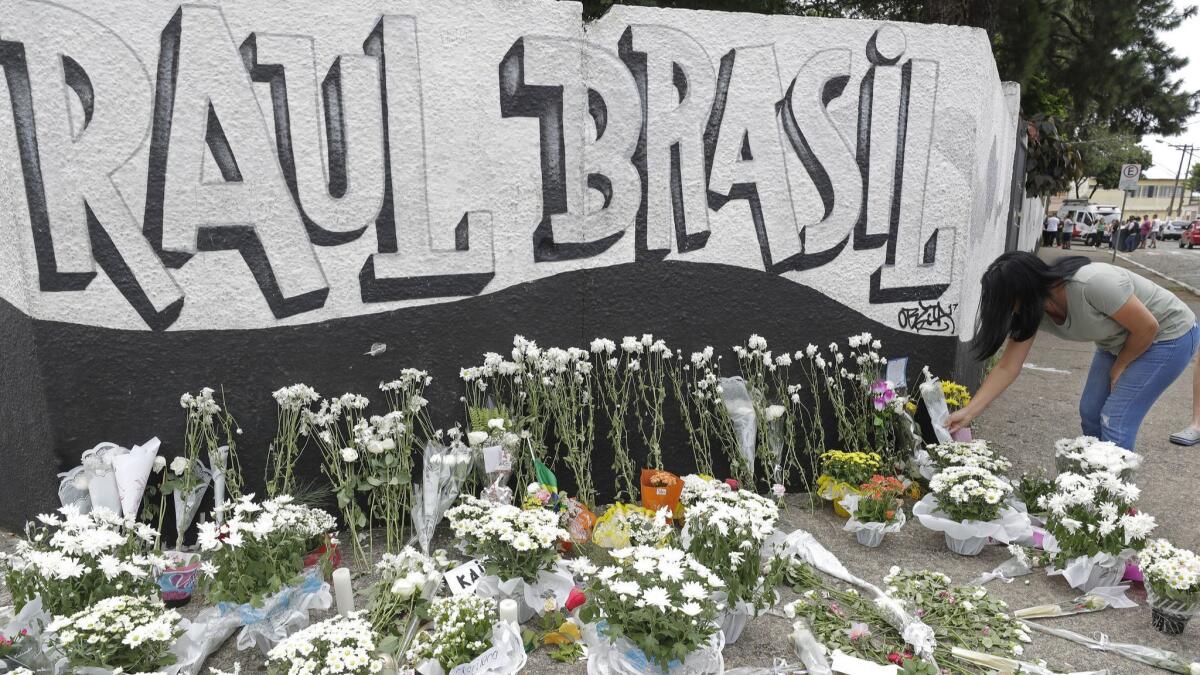 It's part of a campaign promise the new president insists will help fight violent crime and reduce the number of homicides in the country, which approached 64,000 in 2017. In January, he signed an executive order to loosen laws around gun ownership.
Bolsonaro's actions went against the sentiment of a majority of Brazilians, according to a December poll. Sixty-one percent said the possession of firearms should be prohibited because it represents a threat to the lives of others, according to independent polling firm Datafolha.
But Bolsonaro's moves came as no surprise. During the campaign, an undated video of Bolsonaro at a Taurus gun sales stand circulated on social media. In it, he insists he's not there to help promote the company, one of the world's leading gun manufacturers, and asks a sales representative about the models of revolvers and rifles displayed on the table.
With a T4 in his hand — a rifle Taurus describes on its website as being based on M4s and M16s — Bolsonaro says he's always been "passionate about guns."
"If I get there [to the presidency], you, good citizens, will have this in your home," he says in the video, holding up a TX revolver. "And you, farmers, if it's up to me, will have this too," he continues, holding up the T4.
"More important than your life is your freedom. An armed population will never be an enslaved population."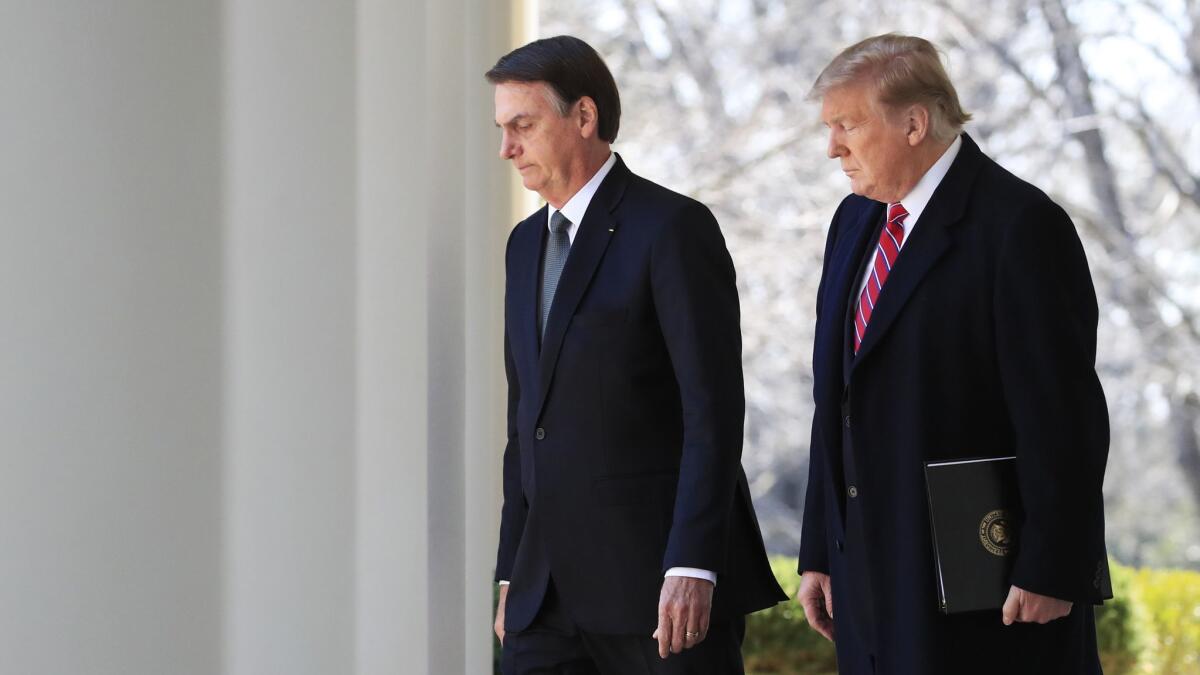 It is no accident that Bolsonaro's rhetoric reflects that of U.S. gun-rights activists — despite the fact that Brazilians do not have the constitutional right to bear arms.
The National Rifle Assn. has a special section on its website where Taurus gun owners can register for a free one-year membership courtesy of the firearms manufacturer.
The organization that donates to so many U.S. politicians has long shown interest in Brazil's pro-gun movement. It advised pro-gun activists here in a failed attempt to block the passage of the 2003 Statute of Disarmament, a law that made it hard for most people to buy or own a firearm.
An NRA official traveled to Brazil that year, discussing strategies with organizations fighting gun laws, according to a report by one of the groups, the American Society for the Defense of Tradition, Family and Property.
When Brazil held a referendum two years later on banning the sale of firearms and ammunition, it was widely expected to pass. But after a public lobbying effort that framed the debate in terms of the right to own a gun, voters rejected the ban.
Now the divide in Brazil has become starker.
Before October's federal election, Brazil's pro-gun caucus, known as the bancada da bala, or "bullet caucus," didn't hold any seats in the Senate. Now, the group has 18 senators — out of 81 — ready to vote in favor of legalizing carry permits, and they haven't shown any sign of backing down in the week since the school shooting.
On the day of the shooting, Sen. Sergio Olimpio Gomes, known as Maj. Olimpio, not only defended the president's decision to loosen gun ownership laws, but also suggested arming teachers could have prevented the shooting.
"If you had a citizen with a regulated gun inside the school — a teacher, an employee, a retired police officer working there — he could have minimized the tragedy," Olimpio, the Senate leader of Bolsonaro's Social Liberal Party, said during a session of the Senate Commission on Constitution and Justice.
But Rodrigo Maia, president of Brazil's lower house, says what Olimpio is suggesting would be "barbaric" and a step in the wrong direction.
"I hope people will think a little bit about the victims of this tragedy and understand that public security is the state's responsibility and not the responsibility of citizens," he said on the day of the shooting.
"Now the debate is no longer just about gun ownership," he said, noting that arming teachers would become part of the discussion about carrying a concealed weapon. "I think that would lead us to a barbaric proposal for our Brazil, and one that should not move forward."
But pro-gun activists reject arguments like Maia's, insisting the shooting in Suzano should not weigh on the decision to loosen carry laws.
"Carrying a concealed weapon is prohibited, but that didn't stop the aggressors from getting hold of a gun and using it in this nefarious attack," said Fabricio Rebelo, a criminal attorney who was director of the pro-gun Viva Brazil Movement from 2010 to 2015. "What we actually have is proof that the legal restrictions against the circulation of firearms are completely ineffective in avoiding these types of insane acts."
Brazil's President-elect Jair Bolsonaro makes no secret of his admiration for Trump »
Research says otherwise. According to a 2018 study by the Institute of Applied Economic Research, or Ipea, for every 1% increase in the number of firearms in circulation, the rate of homicides increases 2%. The study noted that guns caused 71.1% of the homicides in Brazil in 2016.
"A firearm is not an element that brings safety to a home, but one that will propagate insecurity in it and to the wider public," said Daniel Cerqueira, a researcher at Ipea and council member at the Brazilian Forum on Public Security. "This idea of making access to guns more flexible is completely misguided and is irresponsible public policy."
Bolsonaro's son Eduardo, who in 2018 received more votes that any lawmaker in the country's history, is another backer of his father's upcoming bill. In the aftermath of the shooting in Suzano, he compared the dangers of guns to those of cars.
"We always use the argument that a gun is a piece of metal; it does the same damage as a car," the younger Bolsonaro told reporters on the day of the shooting. "That is, for it to do harm, you need a person behind it. Guns don't kill anyone. People kill people, whether it be with a gun, a pistol, a knife or stones."
He also argued that the number of homicides in Brazil continued to increase after the implementation of the 2003 Statute of Disarmament.
But a 2016 study of gun violence in the country conducted by the Latin American Social Sciences Institute found a markedly slower increase in the rate of homicides caused by firearms after the statute took effect. Between 1980 and 2003, gun-related homicides increased by 8.1% each year. That growth slowed to 2.2% annually after the Statute of Disarmament was enacted in 2003.
For some Brazilians, that slowed growth is not enough to make them feel safe.
"I've been robbed at gunpoint three times. You have to just hand everything over," said Adelio de Sousa, who owns a small restaurant in downtown Sao Paulo. "But having a gun wouldn't have made things any better. I would probably be dead now if I had pulled a gun on one of the thieves. More guns won't make our country any safer. We have to find a better solution than that."
Langlois is a special correspondent.
Sign up for Essential California for the L.A. Times biggest news, features and recommendations in your inbox six days a week.
You may occasionally receive promotional content from the Los Angeles Times.