As yellow fever spreads toward big cities, Brazil struggles to vaccinate millions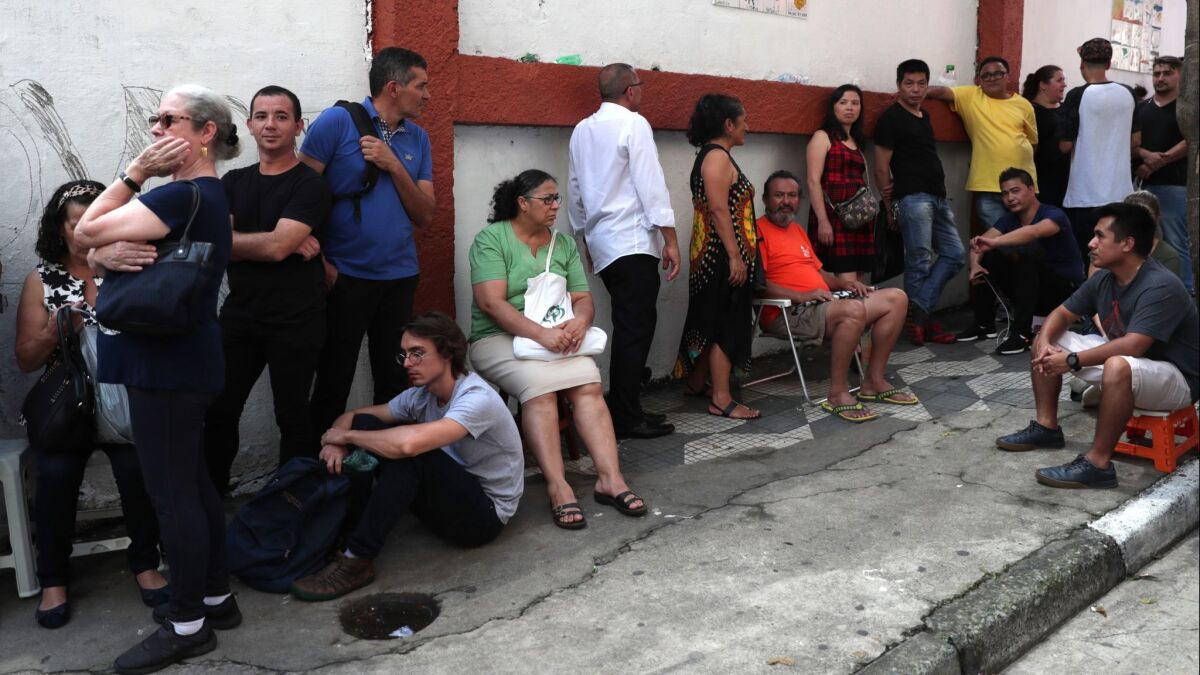 Reporting from SAO PAULO, Brazil —
With air mattresses and beach chairs tucked under their arms, they began arriving as early as midnight, lining up down the sidewalk and around the corner in downtown Sao Paulo, Brazil.
"Make sure you have your vaccination card and your number in hand," a public health clinic worker shouted to those lucky enough to have one of the 300 numbers that would allow them to receive a full dose of the yellow fever vaccine, good for a lifetime.
"If you're not here when your number is called, you'll lose your place in line!"
Brazil is fighting to stay ahead of one of its worst epidemics of yellow fever, a sometimes-fatal virus transmitted by Haemagogus and Sabethes mosquitoes and named for the yellowing of the skin and eyes of those infected.
Though the surge has largely been in rural areas, there is increasing concern that if people don't get the vaccine, the virus could spread into the country's biggest cities.
Those lined up on the January morning in Sao Paulo were also racing against the clock. The Brazilian government, faced with the task of vaccinating millions as quickly as possible, said it would begin reducing vaccine doses in Sao Paulo and Rio de Janeiro by the end of January to help stretch supplies.
Though health officials insisted even a partial dose would protect people for up to eight years, many remained unconvinced.
"Why would I only want only part of a vaccination?" asked Isabel Antonia Martins, who waited in line that day. "We don't know if it will have the same effect as a full dose. I'm not taking any chances, especially with the way yellow fever has been spreading."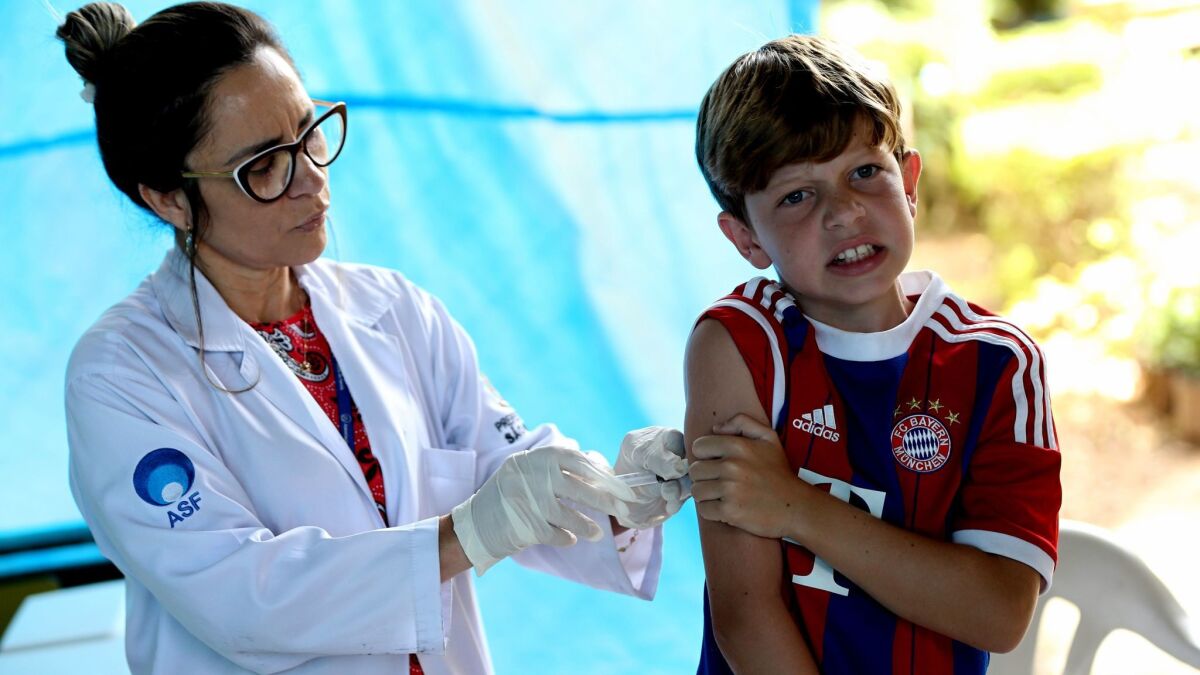 Unlike the country's recent epidemic of Zika, another mosquito-borne virus that caused microcephaly and other birth defects in hundreds of babies, the yellow fever that is spreading across the country is not being transmitted by Aedes aegypti, the urban-dwelling mosquito blamed for the Zika epidemic.
Still, the yellow fever that has surged in rural parts of the country has made its way into Minas Gerais, Sao Paulo and Rio de Janeiro, three states with some of the country's largest metropolitan centers — areas where people traditionally don't have to worry about getting the vaccine.
"It's a case of opportunity," said Mauricio Nogueira, president of the Brazilian Society for Virology. "To urbanize, it would need a population that is susceptible [to the virus] and mosquitoes that are susceptible to the city. So the quicker we control these rural outbreaks, the lower the chances that it will urbanize.
"It's something we can't waver on," he added. "We need to vaccinate the largest number of people as quickly as possible."
The advancing virus has stoked both fear and suspicion in Brazil's urban centers.
People line up for hours to get the vaccine. Cases of the doses have been stolen from government health clinics and private practices. And in Sao Paulo, 32 city parks were closed after a monkey contracted yellow fever and began to die. In a surge of panic and misunderstanding, people began slaughtering monkeys, wrongly thinking they were responsible for spreading the virus.
Sao Paulo state has seen the most dramatic jump in cases of yellow fever. In the first six weeks of 2018, there were already 133 confirmed cases and 49 deaths blamed on the virus, a staggering increase from 2017 when there were 53 cases and 16 deaths for the entire year. Rio had 47 cases and 21 deaths in January alone, compared with 27 cases and nine deaths for all of the previous year.
Yellow fever's migration south, which Nogueira says has always been monitored, comes as no surprise to specialists. But the speed at which it has been traveling is something new. As the virus spreads and moves toward areas generally not threatened by yellow fever, the government's vaccination campaign has struggled to keep up.
Even with the early rush to get vaccinated, the Ministry of Health's goal to vaccinate 20.5 million people in Sao Paulo and Rio between Jan. 25 and Feb. 15 reached only 20% of its targeted population. With just 3.6 million people vaccinated, it decided to extend the campaign into March.
But some people are choosing to forgo the vaccination, convinced by rumors that the vaccine is a bigger threat than the actual virus, false information that has been passed along on social media.
A post on Facebook claiming a teenager died because of side effects from the yellow fever vaccine went viral, even though officials from the town where she lived said the teen's death was due to bacterial pneumonia. An audio recording of a woman claiming to be a doctor and warning that the vaccine isn't safe also made the rounds on WhatsApp, a popular messaging app in Brazil.
Although there were five deaths attributed to the vaccine in Brazil last year, such serious problems are rare. Side effects of the yellow fever vaccine are usually minor and include headaches, muscle pain, low-grade fever and a mild rash.
The real problem, according to Nogueira, isn't the vaccine, but the government's lack of transparency.
"Brazilians should be more concerned about the transparency of their government," he said. "The government needs to be very clear and needs to explain why it didn't start vaccinating last year. It needs to say, 'Look, we didn't have enough vaccines then.' And it needs to admit that what we have right now is an epidemic."
To read this article in Spanish click here
Langlois is a special correspondent
Must-read stories from the L.A. Times
Get the day's top news with our Today's Headlines newsletter, sent every weekday morning.
You may occasionally receive promotional content from the Los Angeles Times.