British officials say low risk of contamination of others in nerve agent poisoning of former spy and daughter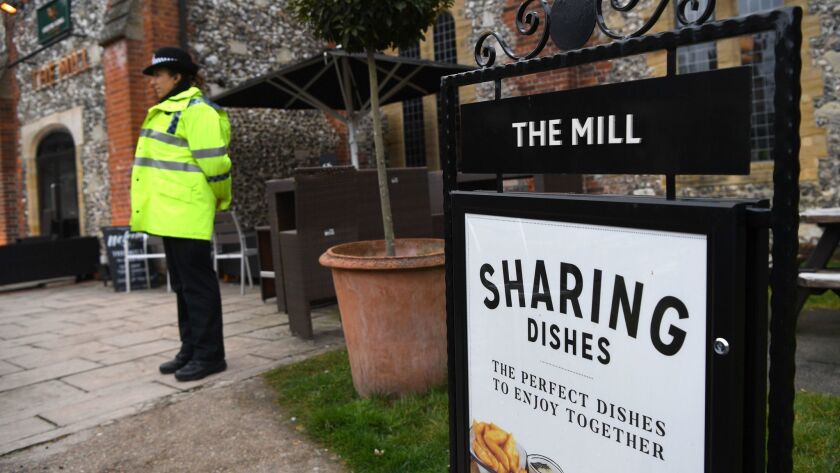 Reporting from Salisbury, England —
The health implications of the nerve agent attack on a Russian ex-spy and his adult daughter broadened Sunday when British officials conceded that limited traces of contamination were found in a restaurant and a pub in Salisbury, England.
Public health officials said the risk of others being sickened by the chemicals that put the father and daughter in critical condition a week ago was very low. But they advised people who had patronized the businesses during a two-day period to wash their clothes, double-bag articles for dry cleaning and to wipe down items like jewelry.
"It's really important to understand the general public should not be concerned. There is, on the evidence currently, a very low risk," Dr. Jenny Harries of Public Health England said during a news conference.
Sergei Skripal, 66, and his daughter, Yulia, 33 were found comatose on a bench near Zizzi restaurant and The Mill pub on March 4. Several hundred people would have been in the Salisbury establishments that day and the day after, Harries said.
The public health concerns — and the seven days it took authorities to give instructions for reducing possible exposure risks — are increasing pressure on the British government to take action against whoever is deemed responsible for the rare nerve agent attack.
In Salisbury, a medieval city near the ancient monument of Stonehenge and where Skripal lived, health officials tried to reassure the public. They described the safety advice as precautions to prevent any ill effects that might come from repeated contact with minute amounts of the nerve agent.
Harries said there was no evidence restaurant and bar patrons had gotten traces of poison on their clothes, but that it was "practical" to take proactive steps. Even so, Harries said clothing with traces of contamination would not cause harm after a few days; problems might develop if there was "repetitive" exposure over weeks and months, she said.
Authorities haven't revealed how or where the Skripals were exposed to the nerve agent. They remain in critical but stable condition. A British police detective who came to their aid is also hospitalized in serious condition. He is said to be conscious and talking to visitors.
Hospital officials in Salisbury stressed there was no evidence of a wider risk beyond those three people, although at least 21 have sought treatment or medical advice since the attack.
The government's health warning said that any clothing worn in the pub or restaurant on March 4 or 5 should be washed in "an ordinary washing machine using your regular detergent at the temperature recommended for the clothing."
It also said to "wipe personal items such as phones, handbags and other electronic items with cleansing or baby wipes and dispose of the wipes in the bin." It urged people to make sure to wash their hands afterward.
---
Must-read stories from the L.A. Times
Get all the day's most vital news with our Today's Headlines newsletter, sent every weekday morning.
You may occasionally receive promotional content from the Los Angeles Times.