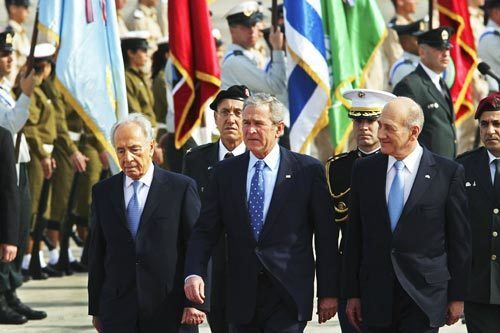 5 Images
Bush visits Israel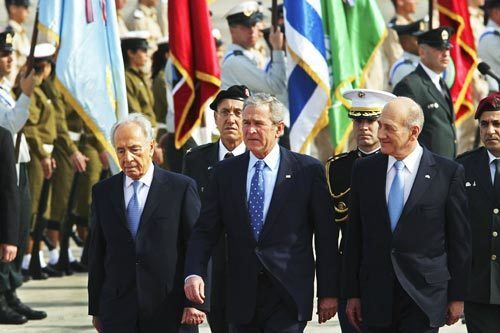 President Bush is flanked by Israeli Prime Minister Ehud Olmert, right, and President Shimon Peres as they walk down the red carpet during an official welcoming ceremony at Israel's Ben Gurion Airport near Tel Aviv.
(David Silverman / Getty Images)
Children give Bush a warm welcome as he and Peres make their way into the Israeli president's residence in Jerusalem. In the background is Secretary of State Condoleezza Rice.
(Mandel Ngan / AFP/Getty Images)
Prime Minister Olmert presents Bush with a GPS MP3. During the president's three day tour, he will visit Jerusalem, the Church of the Nativity in Bethlehem and the West Bank and will also meet with Palestinian Authority President Mahmoud Abbas in an effort to boost Mideast peace talks.
(Moshe Milner / Getty Images)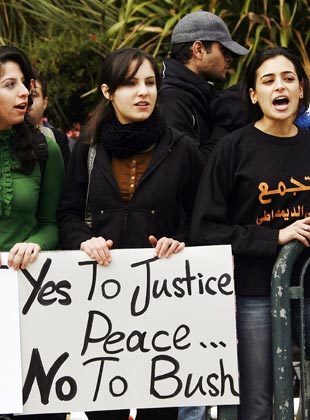 Arab students at the Hebrew University in Jerusalem protest Bush's visit to the Middle East. Elsewhere, the president was greeted warmly and said upon his arrival to Israel, "I come with high hopes. And the role of the United States will be to foster a vision of peace."
(Awad Awad / AFP/Getty Images)