Cambodia's 'last bastion of independent media' is thrown into turmoil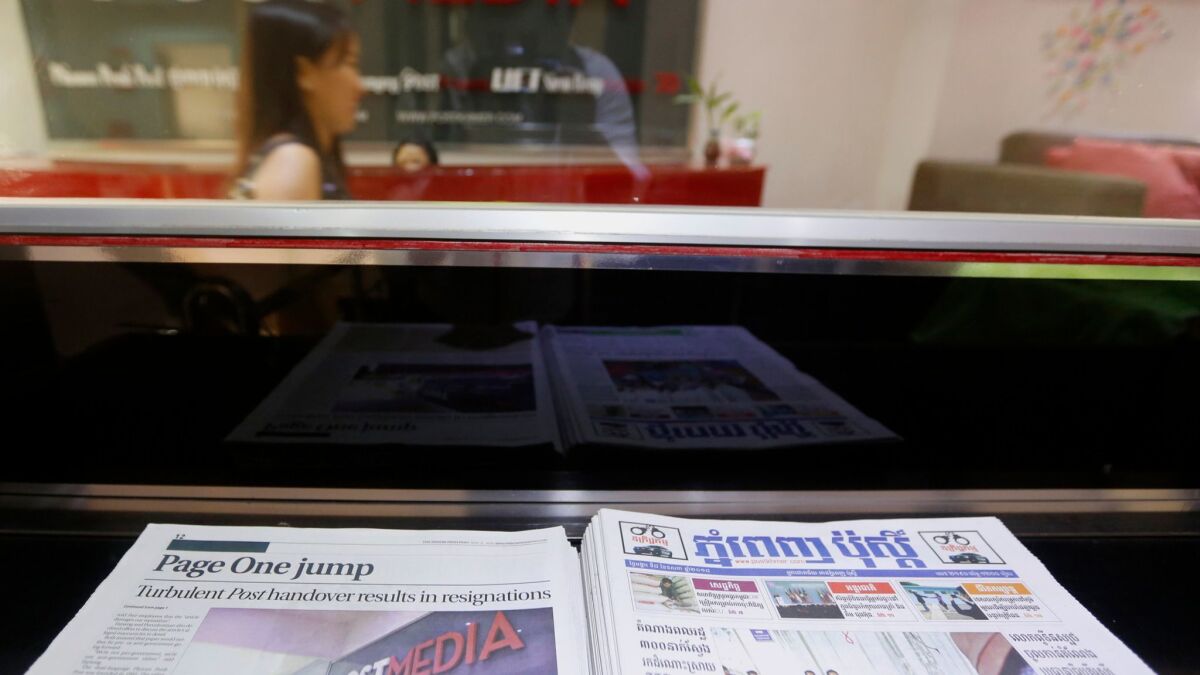 Reporting from PHNOM PENH, CAMBODIA —
For more than 25 years, the Phnom Penh Post was one of Cambodia's most important publications, among the few institutions trying to hold an increasingly authoritarian government to account.
It published scoops on illegal logging, unearthed irregularities on voting lists and exposed corrupt officials, winning awards for its coverage and attracting young journalists from the U.S. and Europe, many of whom jump-started their careers working alongside Cambodian reporters. Though its print circulation is small, the Post had exploded in popularity online in recent years, racking up more than 6 million Facebook followers in a country of about 15 million.
"Our stories routinely embarrassed the government," said Chad Williams, who was editor in chief for three years until 2017. "Not because we were trying to push them through some prism of outrage, but because the basic facts were genuinely awful."
But the paper's sale this month to a Malaysian businessman who once did public relations work for the government has cast serious doubt on whether that legacy of hard-hitting reporting will continue.
A day after the sale to Sivakumar S. Ganapathy was announced, the Post published a critical report of the deal, sparking demands from his representatives for the article to be removed from the paper's website.
Editors refused, and the backlash was swift. Monday saw an exodus of staff including the editor in chief, the chief executive and the entire senior editorial team of the English-language version of the newspaper. Seven more journalists — all foreigners — resigned Tuesday.
With families to support and few jobs left in journalism in the country, most Cambodian staffers decided to stay. "I felt very shocked to see what happened," said Ben Sokhean, a Cambodian reporter there. "I never expected it would happen to the Post."
The paper's convulsion comes less than a year after the ruling party — which has held power since the fall of the genocidal Khmer Rouge government in 1979 — forced the closure of the Cambodia Daily, which was also known for its aggressive coverage.
The Daily was shuttered by its owners, who were unable to pay a $6.3-million tax bill they say was politically motivated. The Post was also facing a $3.9-million bill, which was settled as part of the sale.
Prime Minister Hun Sen has also shut down dozens of radio stations and forced the U.S.-backed Radio Free Asia and Voice of America — key sources of news for the country's largely rural population — off the air.
In the latest annual press freedom index by Reporters Without Borders, Cambodia slid 10 places to 142 out of 180 countries.
"What's astonishing is the international community just sat by and watched as Cambodia's free press was dismantled piece by piece," said Phil Robertson, deputy Asia director for Human Rights Watch. "Cambodia's once-vibrant media landscape is now a sparse desert, emptied by hook or by crook by Prime Minister Hun Sen."
Edgardo Legaspi, executive director of the Southeast Asian Press Alliance, which advocated for press freedom, called the Post "the last bastion of independent media in Cambodia."
The crackdown on a free press is part of a wider assault by Hun Sen against his critics. In November, his government dissolved the opposition Cambodia National Rescue Party, which posed the biggest threat to his rule. Its leader, Kem Sokha, is being held in a maximum-security prison on charges of treason. Most of the party's senior members have fled into exile abroad.
Lee Morgenbesser, a researcher on authoritarian regimes at Australia's Griffith University, said the crippling of the Post further undermines the credibility of elections that are scheduled for late July.
"There will be far less of the government being held to account for its various misdemeanors including nepotism and corruption, land grabbing and repression," he said. "The coverage of the election was always going to be biased, but there's no active defender of the Fourth Estate anymore. There's no newspaper or radio station to do that."
Hun Sen became the country's leader in 1985, prevailed in United Nations-backed elections in 1993 and has won reelection four times. He has become increasingly brazen in his authoritarianism despite billions of dollars in assistance that the U.S. and Europe have poured into Cambodia over the last two decades. Increasingly he has turned to China — which does not tie its support to human rights — for financial and political backing.
It is unclear whether his government played any role in the sale of the Post. Government spokesman Phay Siphan could not be reached for comment.
Morgenbesser said it appears to be a "classic move" of modern dictators. "They all use this tactic," he said. "They get friends or distant friends to buy newspapers or radio or TV stations under the guise of a legitimate, independent sale. And they get these individuals to come in and gut the paper or station, and this is usually how it's done in a legal way."
But Marcus Holmes, the ousted CEO, said he believes that the sale was not politically motivated and that the clash between management and staff boiled down to culturally divergent views on authority.
"Fundamentally I think it's a difference in philosophy from the Western way of looking at things, where journalists are free to pursue the truth and free to write whatever they like, and a much more Asian idea about what press freedom means where the publisher tells the journalist what they want to [see] and controls, ultimately, what is printed in the paper," he said.
The article that sparked the mass resignations at the Post reported that the new owner was the executive director of Asia PR, a firm based in Malaysia whose website list several former clients, including Hun Sen, the Cambodian government, the Central Bank of Malaysia and several international brands.
The article has since been removed from the newspaper's website.
In a statement, more than 20 staff members condemned the decision to pull the article as "made in contradiction to the values of a free press that our hardworking staff have upheld since 1992."
For his part, Sivakumar released a statement slamming the article as a "disgrace" and "bordering on internal sabotage," saying that the reporting was "careless" and "smells of malice." He denied any links to the government, saying that Asia PR worked for Hun Sen more than 25 years ago.
The Post quoted Sivakumar as saying that the new ownership was "fully committed to upholding the paper's editorial principles/independence without infringing any relevant laws."
The journalists who stayed on published another front-page article Tuesday about turmoil at the newspaper. But the newly installed editor in chief — Joshua Purushotman, who spent a decade working in PR, according to LinkedIn — removed references to the broader crackdown on press and civil society in Cambodia, according to reporter Erin Handley, an Australian.
After a series of meetings with the paper's new management, she and six other reporters followed their editors out the door.
"We made a decision that we wouldn't be continuing, as editorial independence couldn't be guaranteed anymore," she said.
Robertson is a special correspondent.
Must-read stories from the L.A. Times
Get the day's top news with our Today's Headlines newsletter, sent every weekday morning.
You may occasionally receive promotional content from the Los Angeles Times.