As Latin America turns rightward, Chile returns former President Sebastian Piñera to office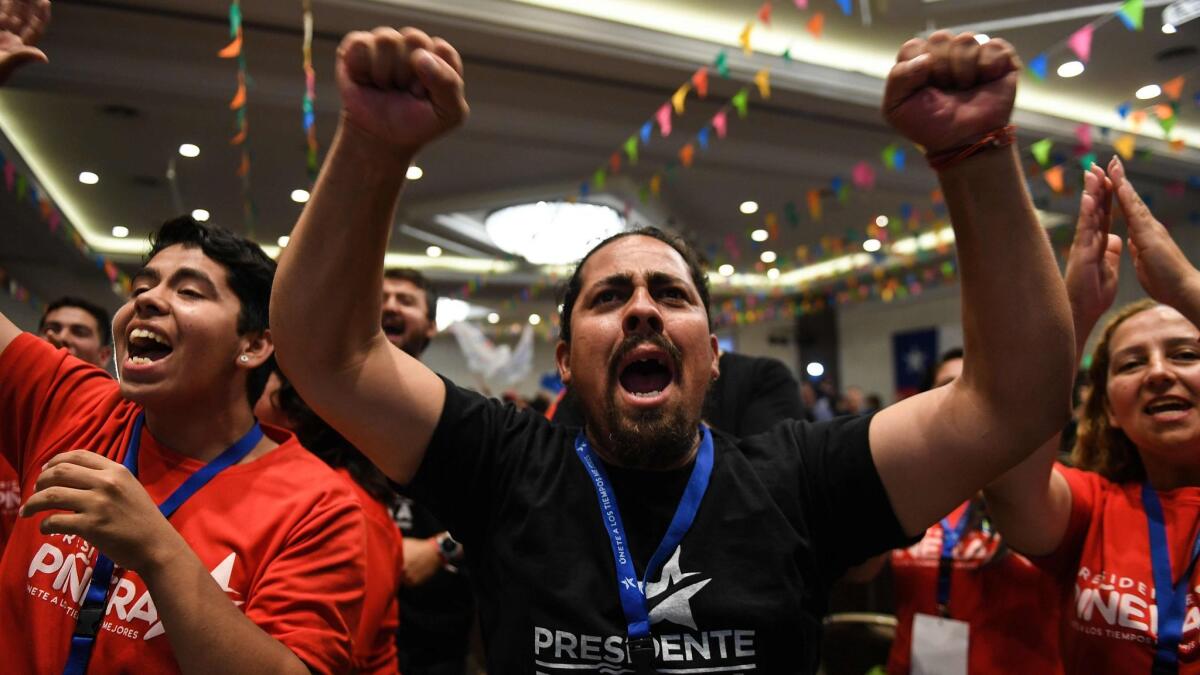 Reporting from Santiago, Chile —
Chilean magnate Sebastian Piñera coasted to victory Sunday in his bid for a second presidential term, easily beating a center-left candidate by promising to kick-start the country's stagnant economy.
The results in a runoff election continued a shift in recent years of Latin American voters veering away from populism and leftist social initiatives and toward right-of-center candidates promising economic growth. Peru, Argentina, Brazil and now Chile have seen the installation of presidents who place greater priority on stimulating the economy and balancing the books over social programs and subsidized services.
Like much of Latin America, Chile has been hurt by the global decline in prices of commodities on which its economy depends.
The conservative Piñera ran a campaign that promised incentives to re-energize the economy, which is growing at a sluggish 1.4% rate this year. His opponent, Alejandro Guillier, a senator and former TV anchor, had promised to build on outgoing President Michelle Bachelet's social reforms, promote urban development and possibly raise taxes on the rich.
Voters' economic concerns evidently trumped social policies. With nearly all votes counted, Piñera had 54.6% to Guillier's 45.4%.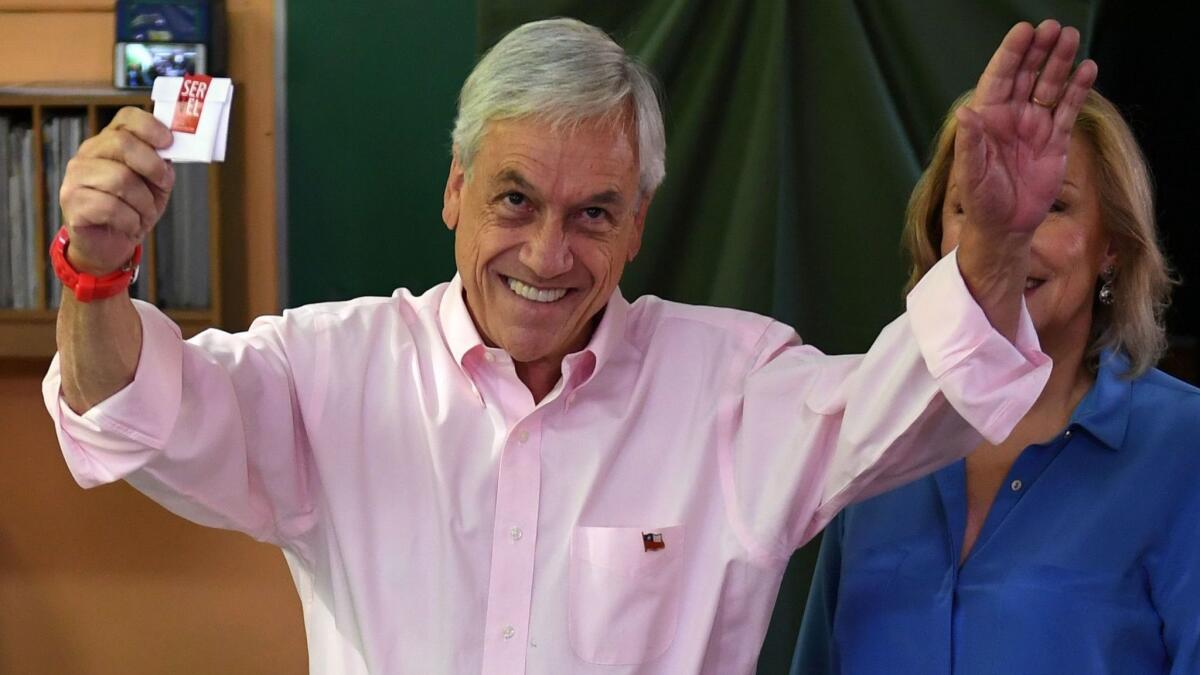 After receiving Guillier at his campaign headquarters in a hotel in downtown Santiago, Piñera briefly spoke with the press and promised to address the needs of "all Chileans, especially the most vulnerable and our middle class."
"Chile needs agreements rather than confrontations. It needs dialogue, collaboration, because that is how countries progress," Pinera said. "What unites us is our love for Chile, our firm will to deliver the best of ourselves, so that we can have a fuller life."
Piñera, who previously served as president from 2010-14, received a congratulatory telephone call from Bachelet and told her: "I have never had the slightest doubt that both you and I want the best for Chile." He will take the oath of office in March.
Chile does not allow presidents to serve consecutive terms. Bachelet served from 2006-10 before relinquishing the office to Piñera. She then returned to office in 2014.
In a concession speech, Guillier congratulated Piñera for his "impeccable and solid triumph." He added: "We have suffered a hard defeat but it's when you lose that you learn the most."
Turnout was anemic, running at less than 50% of the 14.3 million Chileans eligible. Analysts said before the vote that Guillier would need a heavy voter turnout to win after trailing Piñera by a wide margin in the first round in November.
Voters throughout the country were unmoved by government offers of free public transportation. Bachelet said she regretted backing a law during her first term that made voting voluntary instead of obligatory.
"I was wrong, I thought that people had a greater civic spirit than they have shown," Bachelet told reporters after voting Sunday morning at a school in Santiago, the capital.
Piñera, who also voted at a school in downtown Santiago, said after casting his ballot that he was confident that Chileans "will choose the right path" and that the election's outcome would determine the country's path for "many decades."
Guillier voted in his native town of Antofagasta, a mining city on Chile's northern coast.
"This has been the most intense year of my life," Guillier said before boarding a flight for Santiago. The former broadcaster entered politics in 2013 with a victorious Senate campaign.
Interviewed after voting in Santiago, public relations executive Sonia Wulf said she voted for Piñera and "growth and development" because policies under Bachelet were too similar to the "populist model that resembles Venezuela."
Providencia fashion designer Carla Escobedo said she voted for Guillier because of his more liberal social beliefs. "My problem with Piñera is that he is against abortion and gay marriage, " she said.
Special correspondents Poblete reported from Santiago and Kraul from Bogota, Colombia.
---
UPDATES:
5:15 p.m.: This article has been updated with quotes from Piñera, background.
4:15 p.m.: This article has been updated with nearly complete results, quotes, background.
This article was originally posted at 3:40 p.m.
Sign up for Essential California for news, features and recommendations from the L.A. Times and beyond in your inbox six days a week.
You may occasionally receive promotional content from the Los Angeles Times.