In China's 'money worshiping' movie industry, stars' high pay becomes a target of the central government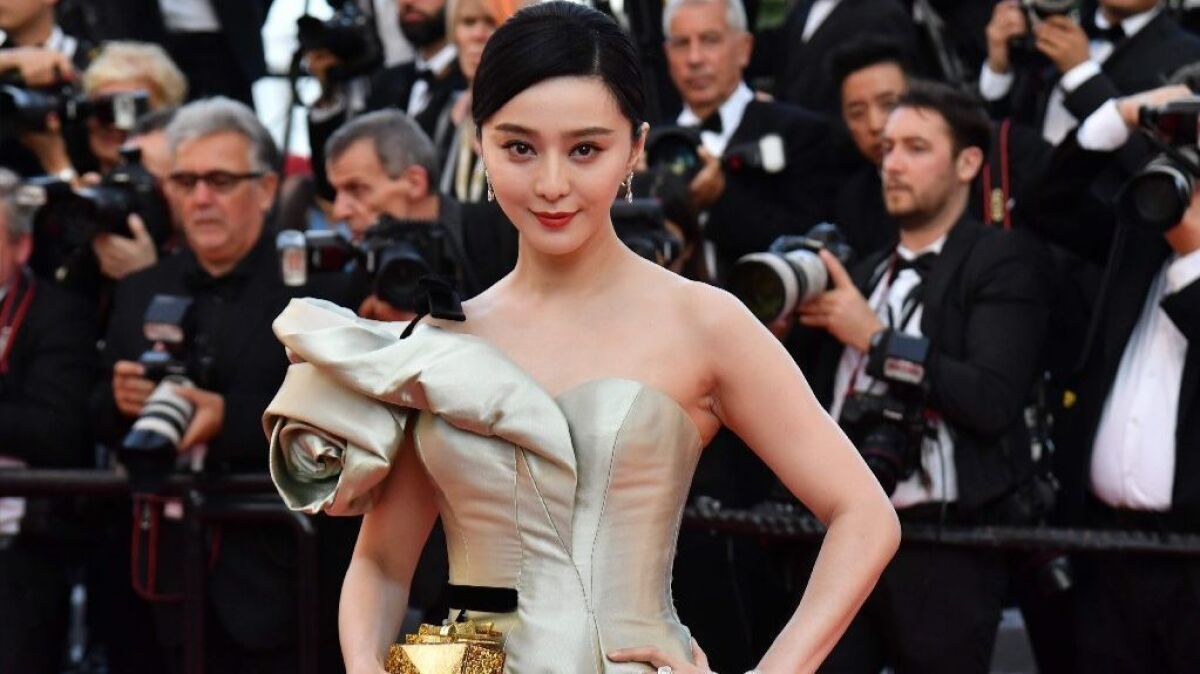 Reporting from Shanghai —
China's surging movie box office receipts, on pace to surpass North America's in 2020, are celebrated here as part of China's growing influence in the global film market.
But the rise has what officials see as a pernicious side, a kind of "Hollywoodification" of the Chinese entertainment business: Studios are chasing after A-list stars with eye-popping salaries to lure idol-struck audiences.
Now the government has moved to rein in pay it says can't be morally justified. Authorities announced last week that actors' compensation would be capped at 40% of production costs. In a related action, local officials said they would investigate China's biggest celebrity, Fan Bingbing, who is suspected of evading taxes by benefiting from dual-pay schemes known as "yin-yang contracts."
The China Alliance of Radio, Film and Television issued guidelines in the fall with the same salary cap for actors, but they were apparently ignored by the industry. Yin-yang contracts — so named for having two different but interconnected parts, one public and one under the table — also have been an open secret in China's film and television industry for years.
Authorities acted only after Cui Yongyuan, a popular television anchor, railed against the practice in May, posting online yin-yang contracts involving millions of dollars and widely presumed to have been awarded to Fan.
The revelations sparked widespread outrage on social media, embarrassing not only Fan but also government officials, who are acutely sensitive to populist sentiments.
"When you rub their face in manure, they have to do something," said Stanley Rosen, an expert on Chinese film and politics at USC.
Leng Hongfei, 28, an app developer in Shanghai, didn't comment online, but in an interview outside the Premiere Cinemas multiplex, where he was about to see a movie, he seemed to speak for many ordinary citizens. "Fan Bingbing's pay is ridiculous," he said.
In this nominally socialist country, the widening gap between rich and poor remains a touchy subject that leaders can ill-afford to ignore. The central government recently drafted plans for tax cuts, particularly for those with lower incomes, in part to help ease the disparity.
At the same time, it remains to be seen how authorities will handle the Fan case and the wider implications from the promised crackdown on the 36-year-old actress. President Xi Jinping's much-touted China Dream celebrates a confident China on the international stage, and Fan has been a doyen of entertainment representing the country on red carpet walks in Hollywood and Cannes.
Up to now, her Hollywood movie credits have been minor. She appeared in "X men: Days of Future Past" as a mutant called Blink, a name befitting her brief talking scene, and she was cast as an unnamed nurse in "Iron Man 3," a U.S.-China co-production that added scenes of Fan for the Chinese market.
But her international profile is set to rise with the future U.S. release of "355," a thriller in which she co-stars with Jessica Chastain, Marion Cotillard, Penelope Cruz and Lupita Nyong'o.
In China, Fan is already huge on television and in film, and her multiple endorsements include Adidas and Chopard. She is said to have triggered a boom in sales of an Australian brand of Vitamin E cream after a tube of the product fell out of her handbag and caught the attention of the public.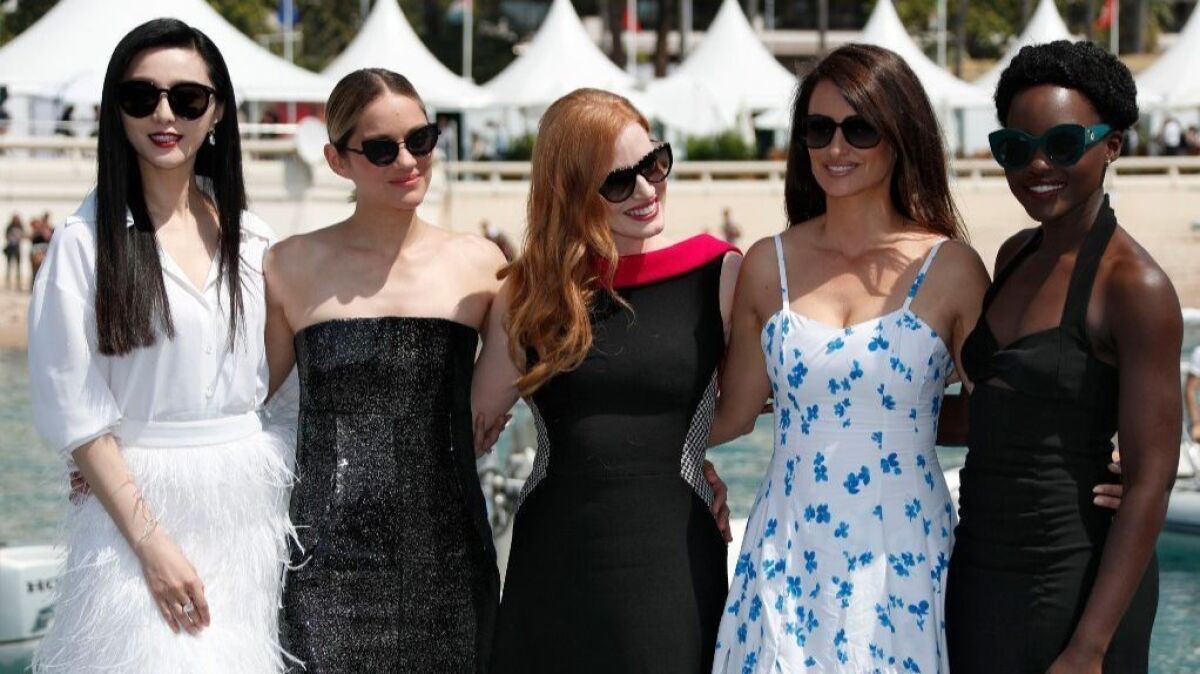 By Forbes' account, Fan ranked at the top of the income list among Chinese celebrities, with 2017 earnings estimated at $45 million. That's more than America's highest-paid actresses, Emma Stone, Jennifer Aniston and Jennifer Lawrence.
Cui, the television host, claimed he had a drawer full of yin-yang contracts. He didn't name Fan in his online posts, but her name was disclosed in the contracts he revealed. One set of yin-yang papers showed two payments for the same work on an unnamed film — one in the amount of $1.6 million for four days' work, and the other, a covert bonus of $7.8 million.
Hours after Cui posted the contracts on Weibo, China's version of Twitter, Fan's studio company near Shanghai issued statements decrying how Cui's posts had "publicly insulted" her and infringed on the actress' rights and interests.
Her statements, however, did not deny the substance of the contracts. Fan's studio in Wuxi and her legal adviser, Xingquan Law Firm in Beijing, declined to comment.
Fan's case may be just the "tip of the iceberg" as far as tax evasion is concerned, said People's Daily, the newspaper of the Chinese Communist Party, in an opinion piece published last month. It said yin-yang contracts involve stars, production companies and investors, among others.
China's box office revenue exceeded $8 billion last year, second to North America's nearly $11 billion. China already has the most screens in the world, and as it continues to add more, Rosen and other experts say its box office sales should take the top spot in two years.
Scores of celebrities in China today make as much as stars in Hollywood, in part because of yin-yang deals.
The contracts are prevalent in other industries too, including construction and food services, said Leng Xuefeng, a tax expert and senior partner at Dentons in Beijing.
Leng said he couldn't estimate how much taxes were being avoided through yin-yang deals, but he predicted the government would take a harder line, employing new data technologies to help enforce tax laws.
For actors, freelancers and others paid per job or performance, incomes higher than about 50,000 yuan, or $7,700, are taxed at a 40% rate. The highest tax rate for regular wage earners paid by employers is 45% and kicks in when annual income tops about $150,000.
In promulgating the pay rules, the government agencies noted that excessive salaries to actors were harming the quality of Chinese film and television production. When payment to actors takes up 60% to even 80% of a production budget, there's little left for shooting, editing and even decent makeup, said Liu Fan, associate professor at the Chinese National Academy of Arts in Beijing.
He agreed with the government's assessment that the industry was a poor influence on today's youth, "distorting social values" and a creating a culture of "money worship." "In China, a lot of my friends think the stars make too much money, but don't set a good example for the audience," he said.
Rosen sees a basic contradiction in such thinking: "China wants to be a leading film market in the world…. They're saying we're promoting socialist values while trying to have a film market that can compete with Hollywood, which is all about money."
Shaoyi Sun, a professor at Shanghai Theater Academy, viewed the governmental decree as nothing more than a move to calm the social waters that Cui stirred up. "I don't think it has any long-term effect," he said.
The regulations also would prevent lead actors' earnings from exceeding 70% of the pay for the full cast, a rule apparently aimed at freeing up more money for ordinary actors.
Xu Xiaoming, 44, whose last role was in an internet comedy movie called "A Brave Man," said an average actor like him could expect to earn $300 to $450 for a day on the set. In his best year working at Hengdian studios, he said, he made a little over $30,000.
"For us, we don't have yin-yang contracts," Xu said with a laugh.
Follow me at @dleelatimes
---
Must-read stories from the L.A. Times
Get the day's top news with our Today's Headlines newsletter, sent every weekday morning.
You may occasionally receive promotional content from the Los Angeles Times.