China threatens to demolish a mosque, the same day it faces questions at the U.N. over its treatment of Muslims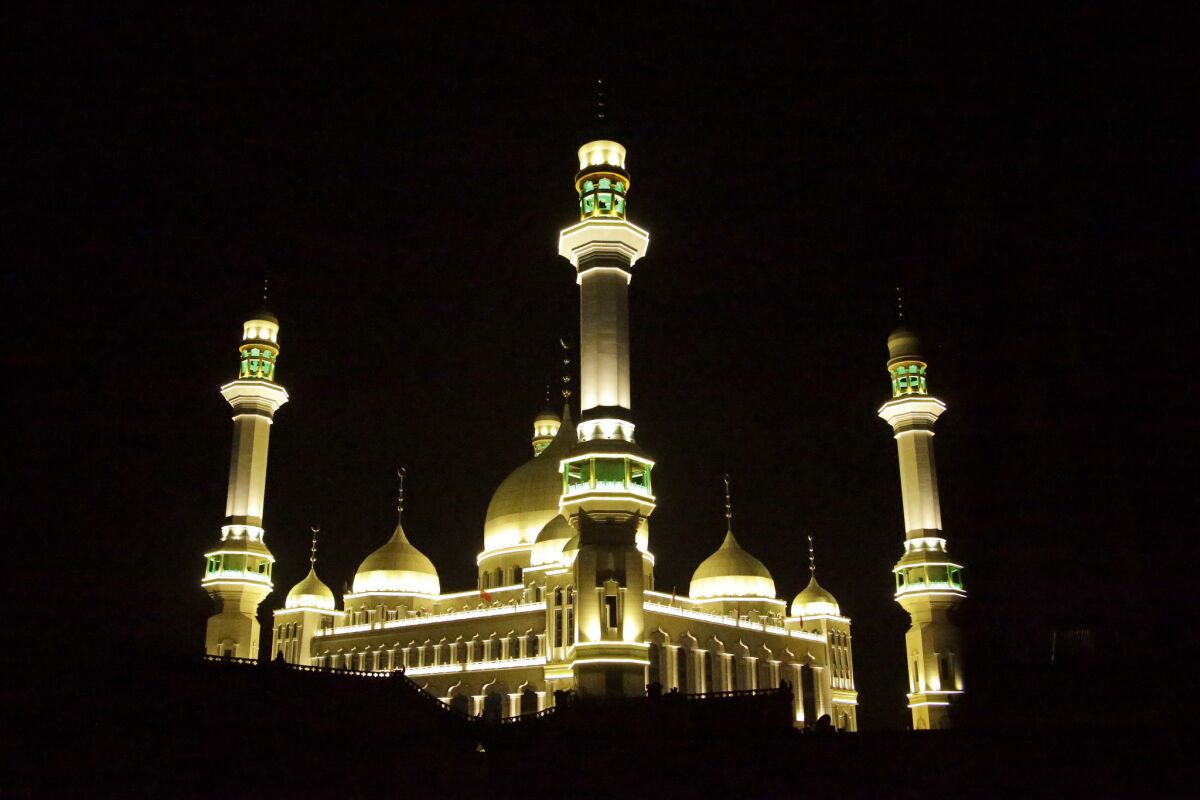 Reporting from Beijing —
It took two years to build the Grand Mosque of Weizhou, with its four towering minarets and nine onion-shaped domes.
On Aug. 3, officials in Tongxin county in northern China ruled the all-white structure had been built without proper permits and ordered that it be razed in seven days or the government would tear it down.
The choice of the deadline was unfortunate: It fell on a Friday, a day of prayer for Muslims. That same day, China's record on racial discrimination was being reviewed by a U.N. committee in Geneva.
Gay McDougall, an American human rights attorney and vice chairwoman of the U.N.'s Committee on the Elimination of Racial Discrimination, on Friday cited credible reports that over 1 million people from Muslim minorities have been detained in camps in western China.
The demolition order, according to activists, was part of a larger pattern of China repressing Muslim minority groups, particularly Uighurs and Kazakhs — hundreds of thousands of whom have been detained in reeducation camps that human rights groups liken to prisons. The Chinese government denies such camps exist, but researchers say evidence of their use is persuasive.
On Friday, a joint submission by Chinese Human Rights Defenders and other nongovernment organizations to the U.N. committee called on the Chinese government to clarify details about "disappearing individuals to force them to undergo ideological 'reeducation.'"
Around 660,000 people may have been detained in camps in Xinjiang, an autonomous region in northwest China, the groups said. Another 1.3 million have been forced to attend mandatory day and evening reeducation classes.
When Chinese Human Rights Defenders interviewed people in Xinjiang this year and last, one resident told researchers that "entire villages … have been emptied of young and middle-aged people, all rounded up into reeducation classes," and that "only the elderly and the very docile are left."
Human Rights Watch said Muslims have been held for months at a time, unable to contact family or lawyers, and subjected to extensive lectures on "Xi Jinping thought" — a reference to the Chinese president — and forced to make expressions of loyalty to the Chinese government. "Chinese authorities require some Uighurs to give DNA samples and other bio-data to obtain passports, and also confiscate Uighur passports as a means of arbitrarily punishing them," the group wrote.
The submission to the U.N. said that possessing halal products, wearing a long beard or a full-face head scarf and refusing to tune into state television or radio were all grounds for detention in reeducation camps.
The Weizhou mosque was built by ethnic Huis, a Muslim minority that typically is subjected to less scrutiny by authorities than Uighurs and Kazakhs because they speak the Chinese language and are more integrated with the Han ethnic majority.
The demolition threat came following the introduction of a 2015 policy to "Sinicize" religion — to fuse it with Chinese culture, which has led to crescents, domes and Arabic script being removed from mosques.
Chinese authorities' concerns about extremism and radicalization increased after a 2014 stabbing attack that killed 31 people at a railway station in Yunnan province. The government described the culprits as separatists from Xinjiang province.
Radio Free Asia cited a Uighur source in 2014 claiming the attackers came from Hanerik township in Hotan prefecture, where 15 people died after a mosque closure led to protests and police action.
The Uighur and Kazakh populations in Xinjiang and the Tibet population have been hardest hit by the Sinicization campaign, according to activists. Human Rights Watch last year reported on a group of more than 100 Tibetan Buddhist monks and nuns forcibly expelled from a monastery before their living quarters were destroyed and the nuns were humiliated and "reeducated" by officials.
In Xinjiang, there is an intensive security presence — with police checkpoints, mobile phone checks, surveillance cameras and digital facial recognition. Media access to the region is extremely limited. Recent government figures indicated that those arrested in Xinjiang province accounted for 21% of total national arrests, although the population accounts for less than 2% of the national total.
James Liebold, an expert on Chinese politics and ethnic policy at La Trobe University in Melbourne, Australia, has studied how China treats its diverse Muslim population. In a paper for the Jamestown Foundation, a nonpartisan global research group, he wrote:
"China has a long tradition of dividing its Muslim population into two camps: the 'good Muslims,' like the Hui, who speak the Chinese language, abide by core elements of its culture, and thus can be trusted; and the 'bad Muslims,' like the Uighurs, who continue to resist the inevitable process of assimilation and thus are susceptible to the 'Three Evil Forces' of separatism, terrorism and extremism."
In Weizhou, the threatened demolition prompted demonstrations on Thursday and Friday, with some of the protests documented in social media. One Hui Muslim who posted videos on Twitter from the scene said locals were determined to protect the mosque and would stay all night.
The protests worked — to an extent. Local authorities on Friday backed down from threats to raze the mosque. A local government official refused to comment, referring the matter to the Ningxia Hui Autonomous Region government, which could not be reached Friday.
Though authorities withdrew the demolition threat, they instead demanded that the mosque's grand design be drastically scaled down, including the removal of the spectacular domes. The larger pattern of abusing the rights of minorities remains, said Maya Wang, the Human Rights Watch spokeswoman on China.
"The demolition of the mosque as well as the crackdown in Xinjiang that is taking place right this moment — where over hundreds of thousands of Muslims are being held unlawfully without charge — does show China's utter disregard for its human rights obligations," Wang said. "Keep in mind that the Hui tended to be the more tolerated group of Muslims. The fact that even their mosques face demolition shows the increased restrictions on religion are broadening."
The Global Times, a Communist Party newspaper, acknowledged in a Saturday editorial that demolishing the mosque would upset local people, but said religions must be governed by law. "If the local government does not react to the illegal act, it will fuel the idea that religions are superior over China's laws," it wrote.
China's delegation at the U.N. committee Friday did not respond to McDougall's concerns over what she termed "a sort of 'no rights zone.'"
The review continues Monday.
Twitter: @RobynDixon_LAT
Must-read stories from the L.A. Times
Get the day's top news with our Today's Headlines newsletter, sent every weekday morning.
You may occasionally receive promotional content from the Los Angeles Times.