In a village where all the parents have left, the 'left-behind' children miss out on China's economic miracle
Reporting from Baiyan, China —
After school, a skinny 9-year-old girl with a sky-blue umbrella and a pink Mickey Mouse satchel clambers up a mile of stone steps slick as ice in the rain. She takes a steep, curving road through a misty mountain pass, past old mud farmhouses and paddy fields, along a muddy track and pond.
Han Jingjing is one of the "left-behind" children: Her mother and father are absent working grueling jobs far away, like most parents from rural Baiyan village.
It takes her almost two hours to return home to an old farmhouse with cracked mud walls, a fire stove and tribes of cats, dogs and hens pecking at a pile of green leaves on the earthen floor. Most school days, she shepherds her little brother, Qiang, 5, along the steep path.
Their grandmother, Wang Youxin, 64, tosses a huge dollop of pork lard into a wok over the fire, while their other grandmother feeds sticks into the flames. On Zhang Gong Mountain in southern China, aging men and women toil long hours in their fields, cook and clean, keep pigs, hens and ducks, slip on the treacherous paths and fall ill to ailments they do not understand. They also raise their grandchildren — and they hope their 24/7 assistance will pave the way for the youngsters to have a better life than the previous generation.
But they are also realists. Nobody here has any hope the village children will receive an education equal to that of the elite urban children of China's wealthy coastal cities.
"There's no way for our grandchildren to catch up with those city children, no way," says farmer Chen Shunlin, 62.
Such beliefs are backed up by the numbers. A 2016 study by a Stanford University economist, Scott Rozelle, and others found students from poor rural counties of China were seven times less likely to go to college and 11 times less likely to enter an elite university. A student from a poor rural county had a 0.6% chance of getting into an elite school.
On the flip side of China's economic miracle — and its achievement of lifting about 800 million people out of poverty in the last 40 years — is a yawning gap between well-heeled city and struggling rural families. About 69 million rural children are left behind while one or both parents work far away, according to UNICEF.
"I went to the university of hard work," says grandmother Wang, laughing dryly. "I have no education. I know how hard it is to be illiterate in this society and I don't want them to go through that. So I'll do anything for them to study as far as they can."
But there is no local school past third grade, so the families will have to send them away to boarding school — no panacea — in a regional town.
Many grandparents do not want their children to board because they fear bullying or inadequate after-school care.
A 2015 survey of 30,000 students by child welfare group Growing Home found that nearly half of boarding school children were acutely pessimistic, 64% were lonely, 17.6% suffered from depression and 8.4% exhibited suicidal tendencies. Nutrition was poor. Students were often locked alone in classrooms for long periods to do homework.
Yet local education authorities are pressuring grandparents in Baiyan to place the children in a free government boarding school in the larger regional town of Tanghe. With only 18 pupils left at the Baiyan Hope School — a decline from 40 last year — locals have been told their local school may be closed.
Han Jingjing is the only child in third grade. She sits at her desk with her class book and frilly pink pencil case, copying the characters her teacher writes on the blackboard.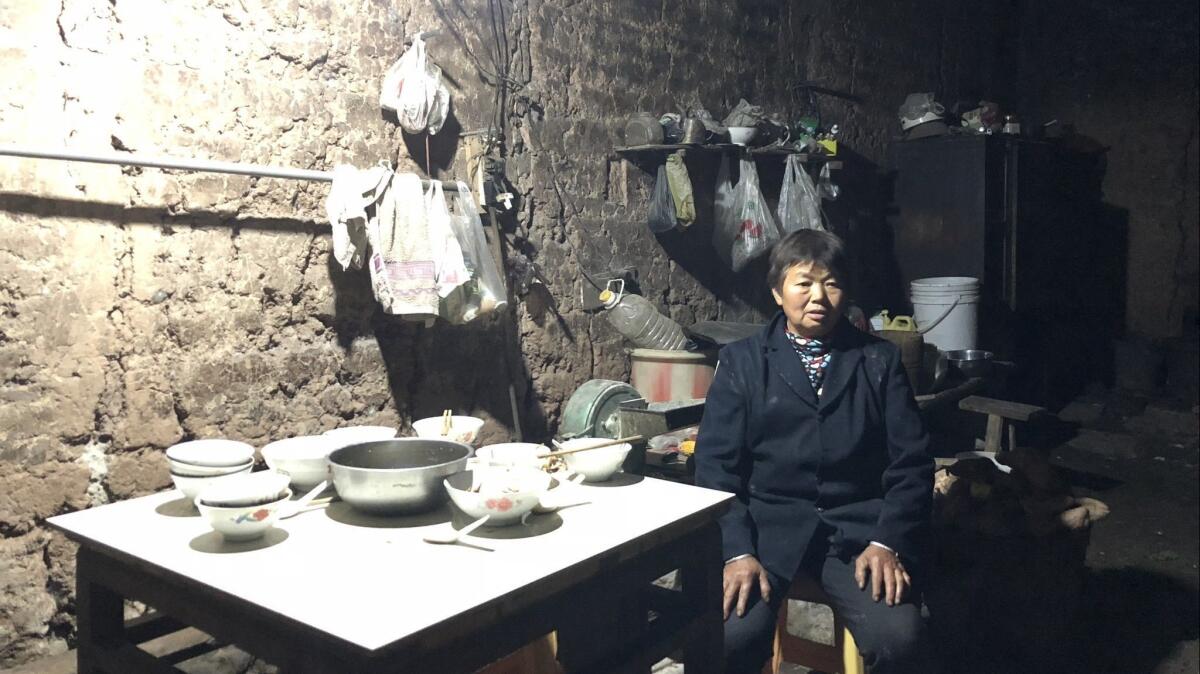 Opening a soy sauce bottle with her teeth, Wang splashes it liberally into her sizzling wok. Her husband died in April after she nursed him for four years.
"He was drunk and slipped over on a muddy path at night and got paralyzed," she says bluntly. "I had to manage the farm by myself and raise two small children.
"It was my family. I just had to keep on going, no matter what."
Migrant workers cannot bring their children to cities because they lack a residence registration, so cannot access free schools. Grandparents who cannot read or write can provide only limited academic advice or help.
Yet if China fails to improve rural education, its economic miracle could founder, warns Rozelle of Stanford.
Only a third of China's 800-million-person workforce graduated high school — but automation is destroying unskilled factory jobs. The gulf between rural and urban education, described by the Organization for Economic Co-operation and Development as one of China's greatest challenges, could deprive China of enough skilled workers to compete as a high-tech economy in future decades.
With no school of its own in the 1990s, Baiyan village set up a community school with a volunteer teacher. They named it Baiyan Hope.
From 1997, the local government provided additional teachers, but none stayed long on the mountain. The government withdrew recognition in 2006 and stopped sending teachers in 2010.
That the Hope school survives to this day — now in a building with six spartan classrooms — is astonishing. It endures because a Chongqing nonprofit organization, the Small School Bag Public Welfare, supports three volunteer teachers. The charity sends 100 teachers a year to 19 schools in remote areas of southern China.
Since 2001, the government has closed 280,000 small rural schools, leaving families with no choice but to send children as young as 6 to the regional boarding schools.
Those at boarding schools are "no better academically and they're worse off socio-emotionally, if you look at their stress and anxiety," Rozelle said. "Only students living with their families, close to the schools, benefit."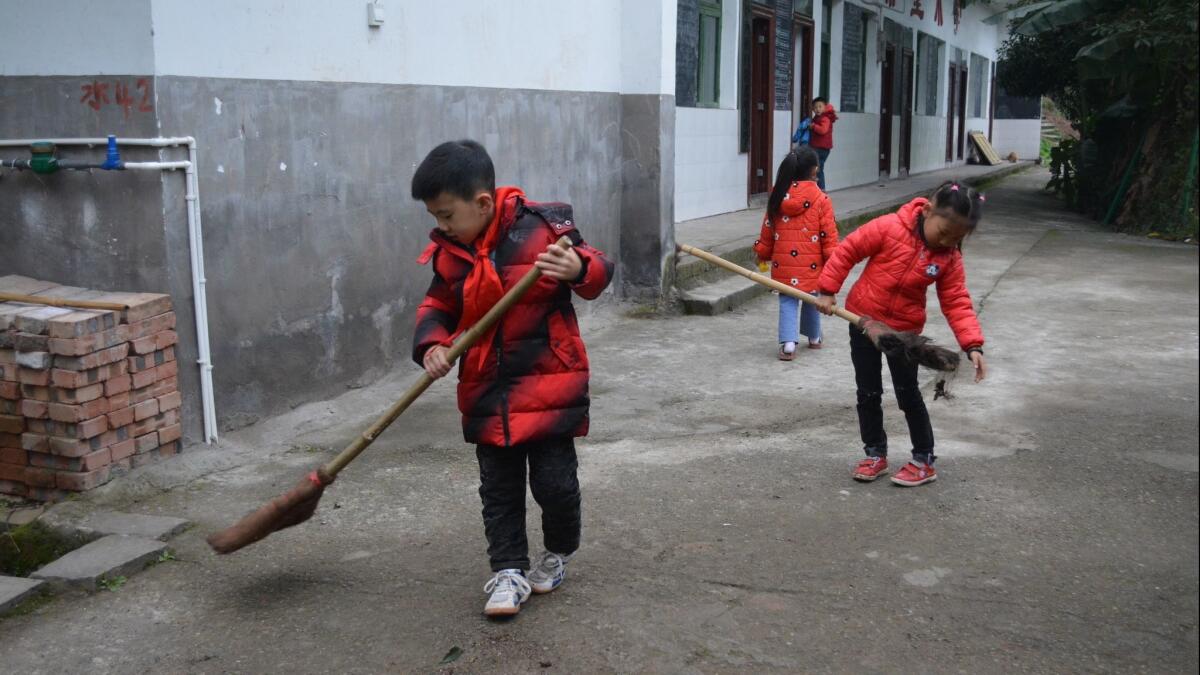 Friday morning is cleanup day at Hope and the students, ages 4 to 9, wield straw brooms that look too big for them, sweeping up as if it were a game, while teacher Han Hongmei, 31, wipes down the walls.
The daughter of an impoverished porter who once carried huge loads up the mountain, she attended the school herself. After completing university and a teaching qualification, she returned as a volunteer teacher two years ago when she came back to Baiyan with her young daughter to care for her aging father.
"I love teaching here because they're my neighbors' kids and I want to give back to the community," she said. Two other volunteers, both local women, also teach.
Each morning, grandparents arrive laden with bags of vegetables and meat, taking their turn to light the fire and cook the school lunch in the smoke-stained kitchen. They chop vegetables and swirl garlic, onion, ginger and chilies into a sizzling wok as steam swathes them like a pale shawl.
Farmer Chen and his wife, Ma Ruqun, 55, do not want to send their 8- and 4-year-old grandsons to a distant boarding school. But they will have no choice once their children reach third grade, because Baiyan Hope School does not have a fourth grade.
"We're illiterate. We are the most disadvantaged people of all," Ma said. "There's no way they can compete."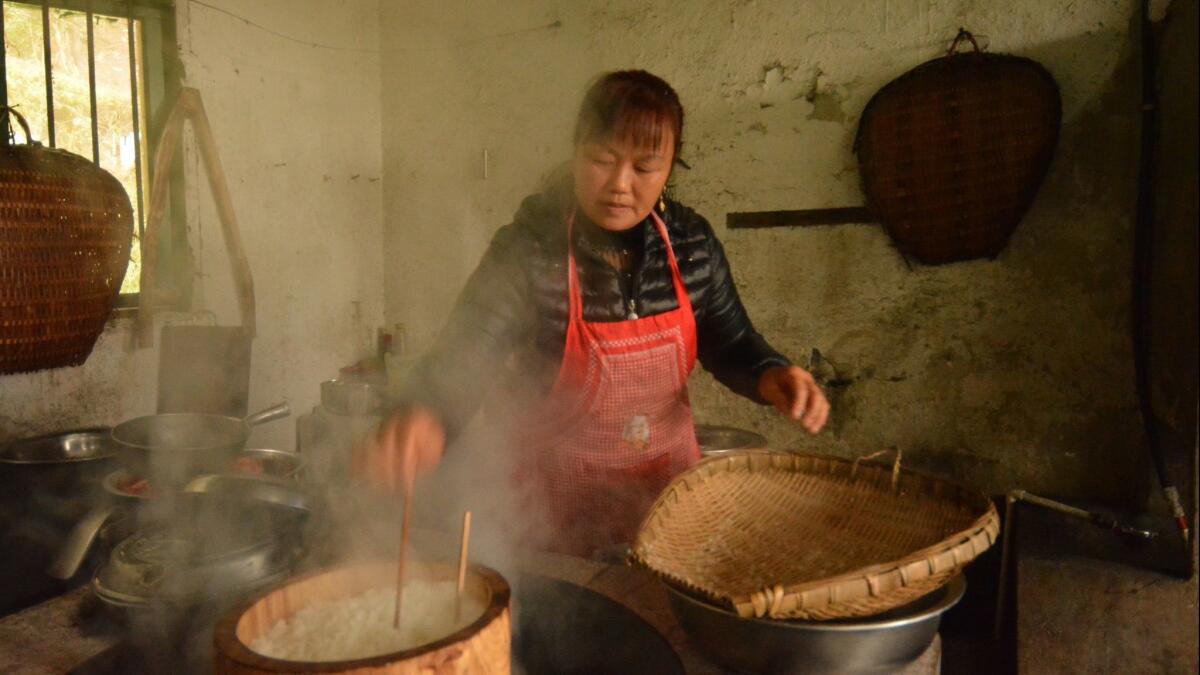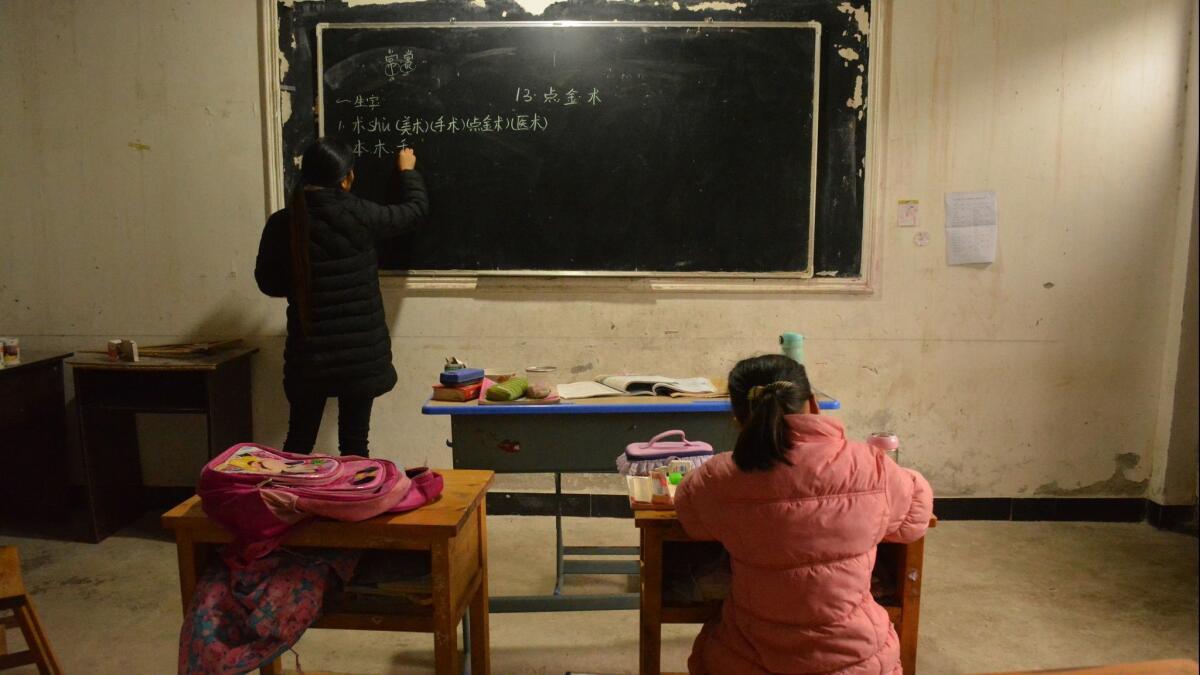 Han, the teacher, moved out of her father's damp and ramshackle house to live in a spare room at the school with her daughter Luo Yiran, 5. The room at the school is much better than the house, which she fears is about to collapse. At night, she and her daughter sit in the cold school kitchen, soaking their feet in a bucket of hot water to warm up.
Han's reading class repeats words in sing-song tones. She worries about one young boy who struggles to concentrate and keep still.
Her physical education class dances through an energetic repertoire of songs as she demonstrates the movements, or they shoot back the ping-pong balls she sends down the table. At the end of each day, she and the other teachers hold a homework session because most children have farm chores to do at home.
She is proud of the school, but does not believe it will survive long.
"For sure it's dying. We are struggling to find teachers," she said. "The reality is they come from privileged families so they cannot stand the conditions for very long.
"They come, they stay one semester and they leave. It's not like us. We're used to it. This is our community."
China has improved high school retention rates since the 1990s. After the tumult of the 1966-76 Cultural Revolution when universities were shut down, leader Deng Xiaoping was determined to develop science and industry, creating an elite core of top universities and high schools in 1985 to provide engineers and scientists, and a mass education system focused on basic and vocational education.
But Rozelle contends that this deepened the long-term disparity between cities and rural villages, because most of the resources went into the elite urban system.
Now China faces a potential shortage of advanced higher-paid technical employees, he says.
"What are these four to five hundred million kids who can barely read or write and who have made their way through rural education, what are they going to do, 10 years from now or 20 years from now?" he asked.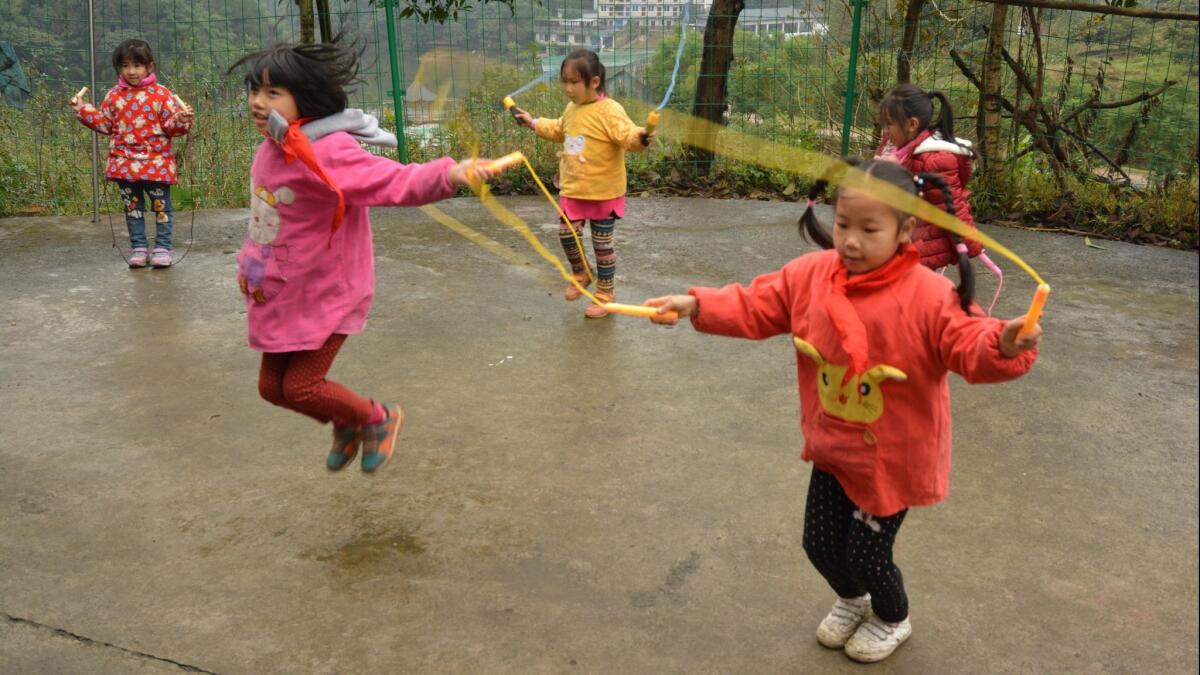 Villagers get a glimpse of the urban-rural divide when privileged city students glued to their mobile phones come to stay a week at Baiyan to gain insight into village life. The gulf is a little dispiriting but one grandfather, Chen Wanshi, 61, sees some fine qualities in his two grandchildren.
"Here we don't spoil our kids. We want them to be independent," he said, taking solace in the knowledge that at least, "the chances for my grandchildren are much higher than in my day."
He draws on a cheap cigarette after laboring with his wife to prepare homemade tofu for the schoolchildren's lunch.
But as for their chances of getting into university, he has small hope and no idea how the family would pay even if they did.
"I want them to study as far as they can and we'll support it if we can," he shrugs.
Gaochao Zhang of The Times' Beijing Bureau contributed to this report.
Twitter: @RobynDixon_LAT
Sign up for Essential California for the L.A. Times biggest news, features and recommendations in your inbox six days a week.
You may occasionally receive promotional content from the Los Angeles Times.