China announces retaliatory tariffs on 128 U.S. products, including California wine and almonds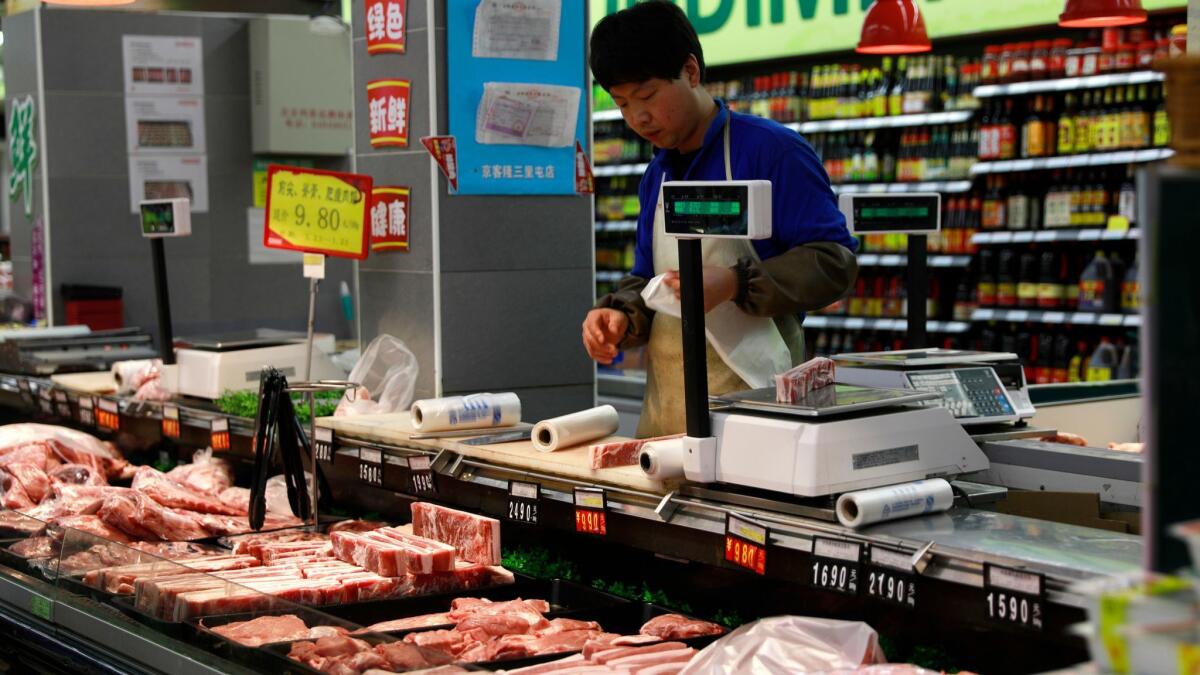 Reporting from Beijing —
China on Friday announced it would impose retaliatory import tariffs on 128 U.S. products — goods that amount to $3 billion — targeting staples that include California wines, fruits and almonds.
The move follows President Trump's decision this week to slap tariffs on about $50 billion worth of Chinese goods, triggering a potentially damaging trade confrontation with Beijing.
Chinese officials said the proposed actions were in response to the White House's previous tariffs on steel and aluminum, which took effect Friday. But the timing, hours after Trump made his White House announcement to impose tariffs specifically aimed at China, sent an unmistakable message.
The lopsided responses — China's Ministry of Commerce posted a relatively staid comment on its website — signal vastly different strategies between the world's two largest economies in an escalating dispute that has raised fears of a trade war. Trump wants quick action and big results. China is aiming for restrained, targeted movements — an attempt to ward off a full-on conflict, while also showing it won't cede too much ground.
"China is playing this very smartly, doing just enough retaliation to prove it's serious," said Arthur Kroeber, managing director of Gavekal Dragonomics, a Beijing research firm. "It's doing what it can to position itself as the global good guy, with a fair amount of success."
China's tariffs would first hit U.S. products such as avocados and nuts, with 15% duties. Beijing, if officials deemed it worthwhile, could also place 25% tariffs on American-made goods such as pork and aluminum. Friday's statement did not indicate a specific date the tariffs would go into effect, but noted that businesses had until March 31 to offer opinions. It said officials would "take legal action within the framework of the World Trade Organization."
This announcement did not mention Trump's latest tariffs, which follow an investigation into China's intellectual property practices and its harm to American businesses. Officials, as expected, found that China forced U.S. companies to hand over their trade secrets or make unfair concessions for access to its vast market.
But in a separate statement, Chinese officials called Trump's intellectual-property investigation "typical unilateralism and trade protectionism." China doesn't want a trade war, it said, "but is absolutely not afraid of a trade war."
Trump's announcement battered the stock markets in Asia and the U.S., where the Dow Jones industrial average has sunk more than 1,100 points the last two days.
Analysts struggled to immediately understand why items such as wine, a product from the Democratic stronghold of California, would make the list but not top U.S. imports such as sorghum and soybeans. Chinese officials last month launched an inquiry into American sorghum imports, and both agricultural products come from regions more supportive of Trump.
"We are technically in rhetorical territory here," said Andrew Polk, cofounder of Trivium/China, a Beijing-based research firm. "There is a small window to effect policy. … They're going to make a little noise, but then they're going to let U.S. industry and the stock market do the talking for them."
The White House will publish the list of targeted goods within the next 15 days, and Chinese authorities may be waiting until they see the breakdown or face even heftier actions. China's top economic officials, a number of whom were educated in the U.S., are known for their savvy regarding the American system and its electoral cycles.
"For Trump, it is easier to blame other countries for the U.S.' problems and garner votes in the mid-term election, instead of taking the pain to restructure the country's economy," China Daily, a state-run English newspaper, said Friday in an editorial. "He cannot force China to give in, however, because China knows the U.S.' demands are insatiable."
China is one of the world's most protectionist countries, and American businesses have long complained about requirements to create joint ventures or sacrifice proprietary information. In addition to the U.S.-imposed tariffs, the Treasury Department will restrict Chinese investment in American tech firms.
Trump's tariffs reflect beliefs that years of negotiations have failed, and China now threatens its security and success in areas like artificial intelligence. Under President Xi Jinping, China has sought to strengthen its advanced industries and global standing. Officials there view the U.S. domination of leading technologies as a challenge to Chinese interests.
The U.S. is essentially demanding that China "provide as much market access to the U.S. as the U.S. provides to China," said Scott Kennedy, an expert on China's economic policy at the Center for Strategic and International Studies in Washington. "That's a really big list for China. Xi Jinping is a nationalist … and he's not interested in giving the U.S. or anyone else a level playing field."
Trump likes to prove his point by highlighting a growing trade deficit with China, which reached a record $375 billion last year, according to the U.S. Commerce Department. While the latest tariffs could hit certain sectors, its macro impact on China's gross domestic product is still minimal, said Wang Tao, head of Asia economics at UBS investment bank in Hong Kong.
Trump's steel tariffs would affect China even less, as the nation accounts for only 2.5% of U.S. steel imports as a result of existing regulations.
But the latest moves hinted at the start of what could become a tit-for-tat battle that cracks global supply chains and increases costs for consumers. Trump's announcement came the same day he announced he was replacing national security advisor H.R. McMaster with John Bolton, a former United Nations ambassador who advocates a more aggressive response to China.
"It all becomes some kind of battle for supremacy," said Louis Kuijs, head of Asia economics for the global forecasting firm Oxford Economics. "If we take President Trump at his word, this is not the end."
The ramifications could extend well beyond trade in goods. About 350,000 Chinese students study in the U.S., and Chinese tourists spend more money here than those from any other country, noted Wang Huiyao, president of the Center for China and Globalization, a Beijing-based think tank.
"Rather than just look at goods trade, we should look at services, infrastructure, e-commerce," he said. "We should expand those things as well, rather than just focus on the goods movement. The calculation is out of date, the theory is out of date, and the mentality is out of date."
Staff Writer Jonathan Kaiman and special correspondents Nicole Liu and Kemeng Fan contributed reporting from Beijing.
Meyers is a special correspondent.
Twitter: @jessicameyers
With Xi in office for the long haul, China touts its stability — 'the opposite of Washington, D.C.'
White House moving forward on tariffs of Chinese goods, raising specter of trade war
Trump will move this week on steel, aluminum tariffs, aides say, dismissing warnings of trade war
Sign up for Essential California for news, features and recommendations from the L.A. Times and beyond in your inbox six days a week.
You may occasionally receive promotional content from the Los Angeles Times.