China accuses the U.S. of holding a knife to its neck and rules out new talks to resolve the trade war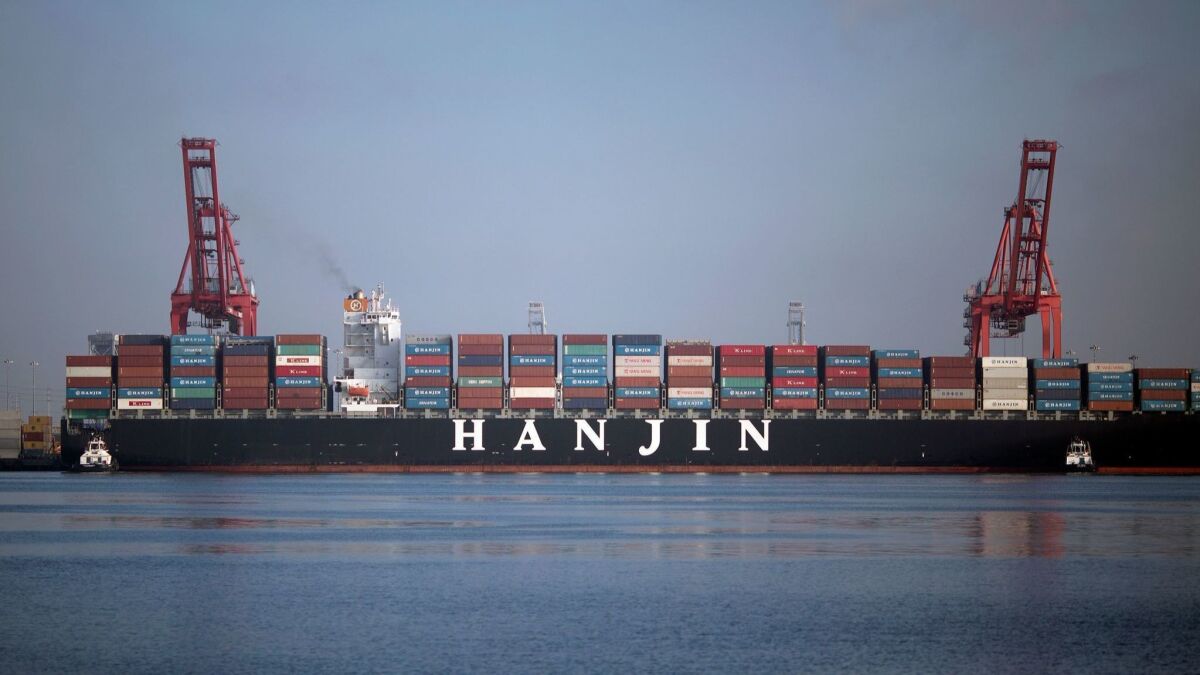 Reporting from Beijing —
A day after a bruising round of new tariffs came into effect, China ramped up its criticism of the U.S. in a news conference of six top trade and industry officials, portraying itself as a virtuous defender of global trade and the Trump administration as hurting the global economy.
Hardening China's tone, trade negotiator Wang Shouwen said new U.S. tariffs on $200 billion in Chinese goods were so massive that it made trade talks impossible.
"Now that the United States has adopted such huge restrictive measures, like holding a knife to someone's neck, how can negotiations proceed?" said Wang at a news conference. "It would not be negotiations of equality." Wang said American officials had lacked sincerity and trustworthiness in several previous rounds of trade talks.
As trade tensions escalated this past summer, Chinese officials offered a muted defense against U.S. claims that China had been cheating in global trade for years. With hopes fading for an early resolution to the trade war, Tuesday's news conference offered the sharpest defense of China's position so far. Officials warned of the global costs of an extended, all-out trade war, warning it would not only hurt China and the United States, but companies around the world.
"I think all companies dislike trade wars," Wang said. "The trade war means damage to companies all around the world."
"War in all forms, whether a trade war or a real war, comes at a great price and it will be people who suffer in the end," warned Fu Ziying, China's international trade representative.
The Trump administration imposed new tariffs on $200 billion in Chinese goods Monday, and China immediately retaliated by imposing tariffs on $60 billion in American goods, dashing hopes of an early end to the conflict.
In the past, President Trump has portrayed China's trade deficit with the U.S. as "rape" or the "biggest theft in the history of the world."
"China last year took out $500 billion from our country — 500 billion. Five hundred — not million — 500 billion," he told an election rally Friday in Missouri, referring to the $505.6 billion in Chinese imports to the U.S. in 2017. (The U.S.-China trade deficit was $376 billion last year.) He boasted that "we have far more bullets" in the trade war.
There was no sign at Tuesday's news conference that China was willing to offer the sweeping changes demanded by Washington, including steps to operate more like a market economy, ending subsidies to key industries and enabling foreign firms to be more competitive. Officials said China would continue to open up its economy — but at its own pace.
Chinese officials Tuesday were at pains to woo foreign companies to continue investing in China despite the escalating tensions. In an apparent effort to drive a wedge between the U.S. and its allies, Wang said other countries could benefit from reduced Chinese imports of U.S. products by stepping up their exports to China.
He said Germany had overtaken the U.S. as the biggest supplier of automobiles to China, while sales of American cars were declining. Both German and Japanese car sales in China were rising, Wang said in the televised news conference, called to elaborate on a white paper on the trade war released by China on Monday. As the trade war heats up, U.S. companies fear the risk of a boycott of American goods — especially on big-ticket items such as cars — by Chinese consumers.
Wang said American producers of liquid natural gas would also miss out, as China looked to Australia and elsewhere because of tariffs.
Chinese officials attempted to rebut some key U.S. grievances, shared by European companies and governments, in particular forced transfers of technology to Chinese firms by foreign companies doing business in China, and accusations of theft of technology.
The deputy commissioner of the National Intellectual Property Administration, He Hua, said accusations of forced transfers and theft of intellectual property rights were groundless. He said China was stepping up protection of intellectual property rights, and that 80% of companies that took court action in China over intellectual property rights won out.
Wang said China recently passed regulations prohibiting any government department from forcing a foreign company to hand over its intellectual property.
The U.S. complaints about Chinese acquisition of American technological know-how were detailed in a March report from the U.S. Trade Representative, arguing that China often required foreign companies to enter joint ventures in order to operate in China, followed by a requirement to hand over technology.
"A key part of China's technology drive involves the acquisition of foreign technologies through acts, policies, and practices by the Chinese government that are unreasonable or discriminatory and burden or restrict U.S. commerce," the report said. It accused China of failing to protect the intellectual property rights of foreign firms in China.
Wang said foreign companies reached deals with Chinese companies based on mutual benefit, allowing them to access China's market.
"It's also OK for them to sell their technology on a voluntary basis. There's no obstacle." Foreign companies who reached agreement with Chinese partners must have done so because they saw it as a good deal, he said adding that the Ford Motor Company was selling more cars in China and making more profit than in the U.S.
"These are negotiations on an equal footing between companies. There is no government role."
Wang added that many other countries required foreign companies to enter joint ventures in key sectors. "It cannot be used as an excuse for a trade war."
Zou Jiayi, vice finance minister, said China's subsidies were in line with World Trade Organization rules and had led to no market distortions.
Fu, the international trade representative, said China's trade had remained buoyant in the first eight months of the year despite the trade frictions, with imports up by more than 20% and exports increasing by nearly 13%. He said China was not afraid of a trade war.
Luo Wen, vice minister for industry and information, said the trade war would roil global production and supply chains and could see the global trade rules undermined. He predicted that some foreign companies would move production out of China, but that more would stay.
"It's true that the trade frictions provoked by the U.S. may have some impact on Chinese companies and some U.S. companies may move to other countries in order to lower their costs." He said the government would take measures to help business, including reduced taxes.
"China is a big market. Many of the foreign companies will choose to stay in China and grow their business with China. We believe that more and more foreign companies will come to China to invest and we believe that most of the foreign companies operating in China will continue to do business in China."
Ford's executive vice president for global operations Joseph Hinrichs, said Monday the company was considering an increase in its car production in China, rather than exporting vehicles to China and facing a 40% tariff, according to media reports. He said China was an important market for Ford, but the trade conflict looked likely to continue for some time.
Earlier this month, Trump tweeted that Ford's decision to no longer sell its Chinese-built Ford Focus Active in the U.S. would mean the company could start manufacturing the car in America. "This is just the beginning. This car can now be BUILT IN THE U.S.A. and Ford will pay no tariffs!"
Ford quickly ruled out plans to build the model in the U.S. because it would not be profitable.
Twitter: @RobynDixon_LAT
---
Must-read stories from the L.A. Times
Get the day's top news with our Today's Headlines newsletter, sent every weekday morning.
You may occasionally receive promotional content from the Los Angeles Times.