Did Trump just throw Canada under the bus by saying he might intervene in Huawei case?
Reporting from Beijing —
Did President Trump just throw Canada under the bus?
After days of angry protests from Chinese officials over the arrest in Canada of Huawei executive Meng Wanzhou — and explanations from Canadian and U.S. officials that this was not a political stunt, just a matter of legal process — Trump upended the conversation Tuesday when he said that the criminal case against the daughter of one of China's wealthiest tech billionaires could become a bargaining chip in trade war negotiations.
To some, Trump seemed to have handed the Chinese a major propaganda boost by suggesting what Beijing has argued all along — that Meng's arrest was political. Others took his comment as confirmation that Meng was being used as a hostage in the trade talks to exert pressure on China.
Chinese officials have drawn a particularly tough line, saying Canada would face "serious consequences" if Meng — who was arrested at Washington's request — wasn't freed. On Tuesday, Meng was released on bail but must remain in Vancouver in one of her two homes there.
Canada, meanwhile, said it had merely followed its legal obligations to process a U.S. extradition request, even if damaging to its own interests. China's state-owned Global Times mocked Canada on Wednesday as a province awaiting marching orders from its powerful neighbor to the south.
But Trump's comments in a Reuters interview appeared to pull the rug out from under Canada. The president said he would "certainly intervene" in Meng's extradition if he thought it would serve national security interests or help close a trade deal with China.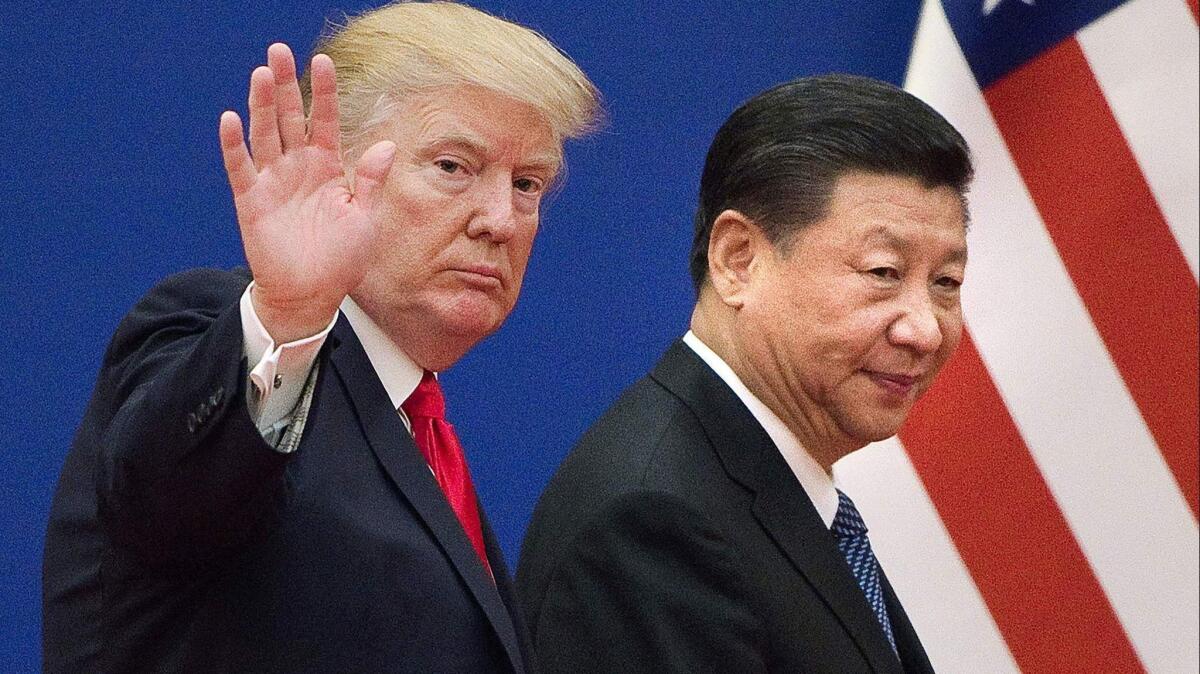 "Whatever's good for this country, I would do. If I think it's good for the country, if I think it's good for what will be certainly the largest trade deal ever made — which is a very important thing — what's good for national security, I would certainly intervene if I thought it was necessary."
In Beijing, Trump's statement could be seen as a sign that China's furious reaction to Meng's arrest achieved the desired result and should be considered a useful tactic in the future. But it might also have a chilling effect on nations like Canada when they are asked to carry out the United States' legal moves abroad.
Roland Paris, a former foreign policy advisor to Canadian Prime Minister Justin Trudeau, called Trump's comments "troubling."
"Canada is acting in good faith, according to the law, in response to a U.S. extradition request. Canada is fulfilling the terms of its treaty obligations and upholding the rule of law in good faith, and paying a price to do so," he tweeted. "If the US is not equally committed to the rule of law in this case, the extradition request should be withdrawn immediately."
Former Canadian Ambassador to China David Mulroney said it was concerning that both China and the U.S. were willing to ignore the rule of law. He described Trump as "a discordant voice."
"That the leaders of both China and the U.S. fail to respect the rule of law is worrying and discouraging," Mulroney tweeted. "But in the case of the U.S., Trump's is simply a discordant voice. We need to stay focused on doing the right thing, and get used to navigating on our own."
Canada canceled a trade delegation trip to China on Monday over fears of repercussions for Meng's arrest. The same day, former Canadian diplomat Michael Kovrig was detained by the Beijing Bureau of State Security, according to his employer, the International Crisis Group. The Chinese Ministry of Foreign Affairs said Kovrig's employers had broken the law by failing to register as a nongovernmental organization.
Jorge Guajardo, a former Mexican ambassador to Beijing, said Trump's comments could make countries think twice about helping the U.S. pursue justice abroad.
"By President Trump implying that he may use this for bargaining power, even if he wasn't able to use her in that capacity, the mere fact that he implies it, leaves Canada in a very poor position, especially after we've seen how China has reacted to Canada."
Guajardo said Trump, whether he intended to or not, sent a loud message to the world.
"I think it puts the U.S. in a very weak position. It hurts its message all over the world. It hurts its effort and it puts Americans all over the world at risk because then they can be used as pawns in these political trading games."
Lynette Ong, a science professor at Toronto University and an expert on China, said Trump's comments damage both Canada and the U.S.
"The Chinese reaction to Meng's arrest has always been that it is politically motivated," she said. "Now those statements by Trump would just fuel that belief."
Lu Kang, a Chinese foreign ministry official, welcomed Trump's remarks.
"Any person, especially if it is a leader of the United States, or a high-level figure, who is willing to make positive efforts to push this situation toward the correct direction, then that, of course, deserves to be well received," Lu said at a press briefing Tuesday. He called Meng's arrest "a mistake from the start" and reiterated calls on Canada and the U.S. to release her immediately. Meng was released on bail later Tuesday.
If convicted in the U.S. for fraud related to breaches of U.S. sanctions on Iran, the basis for her arrest, Meng could face up to 30 years in prison.
In the Reuters interview Trump said he wanted to see what China had to say before making a decision on Meng's extradition — a signal that he regarded the case not as a matter for the courts, but as a political opportunity.
"So I want to see what China requests," he said. "So far they have not made that request."
Trump's comments marked the second time in a year that he has shown a willingness to use American sanctions as leverage chips in a trade war with its biggest geopolitical rival. Earlier this year, Trump sent a message to China that he was willing to intervene to rescue powerful Chinese firms from the legal consequences of breaching American trade sanctions on countries like Iran or North Korea.
The arrests of Meng and Kovrig come at a time of rising global competition between the U.S. and China, and strategic rivalry in high-tech fields like robotics, superconductors and artificial intelligence, heightening fears that American businesspeople or companies could be targeted by Chinese officials, should trade relations deteriorate.
The U.S. and China have 90 days to negotiate a comprehensive deal to end a bruising trade war that has seen both sides slap tariffs on billions of dollars in goods. The conflict has hurt businesses in both China and the U.S. and could slow global economic growth.
Trump was characteristically vague on how he might intervene in Meng's extradition — or how her case could influence trade talks.
His comments also contradicted U.S. trade representative Robert Lighthizer, who said Sunday that the extradition case was "totally separate" from trade talks.
"This is a criminal justice matter. It is totally separate from anything I work on or anything that trade policy people in the administration work on," Lighthizer said on CBS' "Face the Nation."
The Trump administration has long complained of China ignoring global rules and using underhanded tactics or outright theft to obtain American technical secrets and intellectual property. But if Trump is willing to brush aside conventions on judicial independence in cases against major Chinese companies or their executives, it could leave China more — not less — likely to do the same in the future, according to analysts.
Asked whether Meng could potentially be cleared, Trump said, "Well, it's possible that a lot of different things could happen. It's also possible it will be a part of negotiations. But we'll speak to the Justice Department, we'll speak to them, we'll get a lot of people involved."
Meng, the daughter of Huawei founder Ren Zhengfei, one of China's most prominent tech figures, offered her appreciation on social media after she was freed on $7.5 million bail and surrendered her passport.
"I'm in Vancouver, by my family's side. I'm proud of Huawei, and proud of my home country. Thanks to everyone who has been concerned about me."
Chinese officials offered no details Wednesday on Kovrig's whereabouts.
Twitter: @RobynDixon_LAT
Sign up for Essential California for news, features and recommendations from the L.A. Times and beyond in your inbox six days a week.
You may occasionally receive promotional content from the Los Angeles Times.