New British Prime Minister Theresa May vows to rise to the challenge of a split from the European Union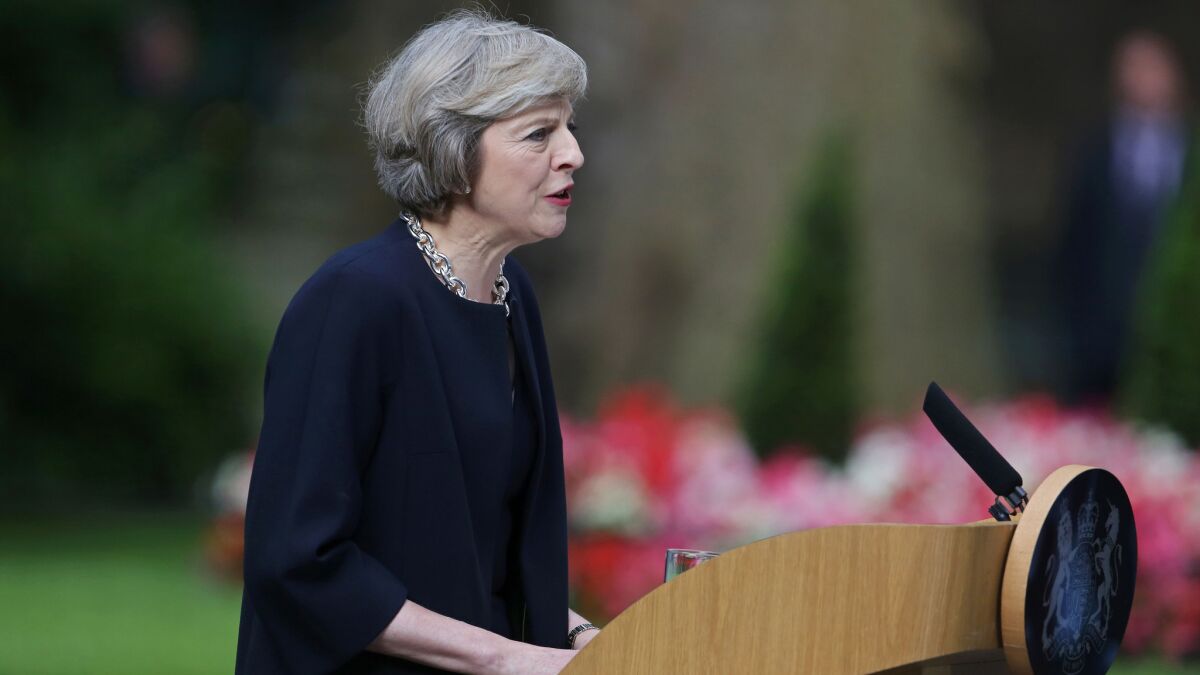 New British Prime Minister Theresa May vowed Wednesday to steer her country through the uncertainty and turbulence of its split from the European Union, declaring, "Because we are Great Britain, we will rise to the challenge."
But there were few illusions about the enormity of the task confronting May as she seeks to navigate a complex new relationship with continental Europe and foster unity in a society whose deep rifts were laid bare by last month's "Brexit" referendum.
It was a day of the pomp-filled choreography that characterizes both solemn and joyous British formal events — and one punctuated by moments of unguarded emotion, especially on the part of departing leader David Cameron. May also quickly got down to business, naming some key members of her new Cabinet — including prominent "Leave" campaigner and former London Mayor Boris Johnson as the new foreign secretary.
Earlier events carried the air of national spectacle. Cameron ceremonially tendered his resignation to Queen Elizabeth II, less than three weeks after the electorate defied his wishes and voted to abandon the European Union. Aerial cameras followed his last journey by motorcade from the prime minister's residence to the flag-topped bulk of Buckingham Palace.
Immediately following Cameron's private audience with the queen, May, 59, the second woman to serve as British prime minister, was summoned for the traditional transition-of-power meeting in which she was formally invited to form a government. The palace swiftly released an image of her curtsying to Elizabeth — with a trademark black handbag draped over the monarch's arm as the two clasped hands, both smiling broadly.
The deal was sealed. And in a neatly timed vehicular switch that took place during her royal audience, May left the palace in her new wheels: the prime minister's silver Jaguar.
The new leader's first order of business was to begin assembling her new Cabinet, which was to include a Brexit minister tasked with overseeing the separation from the 28-member EU. May also was expected to bolster female representation and include both Brexit backers and opponents.
May, who promised to abide by the referendum results, had lent low-key support to then-boss Cameron during the campaign, but is viewed as sympathetic to the Euroskeptic camp. The new prime minister has a reputation for both unflappability and being a tough negotiator, and analysts said those qualities would be sorely tested in coming months.
"A lot of it will depend on who she chooses in her Cabinet," said Michelle Egan, a fellow with the Woodrow Wilson Center's Global Europe program. "She's in a tough spot, a really difficult position."
The first of those appointments, in addition to Johnson, who as one of the most visible public faces of the winning side had been expected to garner a prominent post, included Philip Hammond, who had been the foreign secretary and a "Remain" backer, and was named chancellor of the Exchequer, or finance minister — a key post amid post-Brexit economic turmoil. Lawmaker David Davis, of the Leave camp, was named the minister for the EU exit.
In addition to presiding over a drawn-out and messy prospective split from Europe, May also will have to contend with separatist rumblings from Scotland, which voted in favor of staying in the EU, and may seek to bolt the United Kingdom if Brexit comes to fruition.
In her first remarks as prime minister, May told an assembled throng outside 10 Downing Street that she would strive to protect the "precious, precious bond" between England, Scotland, Wales and Northern Ireland.
And May — speaking in almost Bernie Sanders-esque terms — vowed to address the economic and class inequalities that came so clearly to the fore during the referendum campaign. Prosperity, she said, should not rest with "the privileged few."
"If you're one of those families — if you're just managing — I want to address you directly," she said, peering resolutely into the cameras. "I know sometimes life can be a struggle."
Even with earthquake-like upheaval the new norm in British politics, this week's events unfolded with unaccustomed speed. May was named head of the governing Conservative Party on Monday after a welter of rivals fell away, setting the stage for her to assume the prime minister's post.
Cameron then declared his readiness to depart 10 Downing Street, the prime minister's residence, in a scant 48 hours. Thus unburdened, he appeared almost jovial, caught on microphones humming a jaunty tune.
The leadership contest had been expected to last through the summer, but the accelerated timetable, and the swift closing of party ranks behind May, was spurred in part by a craving for stability that could stem the already painful economic fallout of the prospective divorce from Europe.
May is an experienced Cabinet minister, but largely untested in the realms of foreign relations and finance — which will be the overriding concerns as Britain comes under pressure from Europe to avoid foot-dragging. The exit process will not begin until the new leader invokes what is known as Article 50 of the Treaty of Lisbon, the triggering mechanism for a member state to depart the EU.
I will miss the roar of the crowd. I will miss the barbs of the opposition.
— David Cameron
As for departures, Cameron's final hours in office were remarkably free of rancor after the polarizing referendum and its bitter aftermath.
In a final parliamentary appearance earlier Wednesday — a regular weekly session known as the Prime Minister's Questions, which often takes on the character of a blood sport — Cameron received a warm send-off from lawmakers, taking a determinedly lighthearted tone.
"I will miss the roar of the crowd. I will miss the barbs of the opposition," said the 49-year-old leader, who was considered a political wunderkind when he ascended to the top post six years ago. Lawmakers rose from their upholstered green benches to give a cheer-filled standing ovation to Cameron, who will remain a Conservative member of Parliament.
With his last hours in office ticking away, the prime minister joked that his appointment calendar that afternoon was remarkably light — other than his visit to Buckingham Palace.
ALSO
Incoming British prime minister gets set to begin — oh, and the cat gets to stay
U.S. lawyer who led Philippines' case says Beijing's boycott made his job harder in South China Sea arguments
When does a rock become an island? It's a key to the South China Sea case
---
UPDATES:
2:06 p.m.: This article has been updated with additional information about the cabinet.
1:09 p.m.: This article has been updated with more information about Britain's new cabinet.
12:12 p.m.: This article has been updated with information about changes in Britain's cabinet.
11:44 a.m.: This article has been updated with Theresa May's first remarks as prime minister.
9:59 a.m.: This article has been updated with Queen Elizabeth II inviting Theresa May to form a new government.
9:34 a.m.: This article has been updated with David Cameron's resignation.
8:10 a.m.: This article has been updated with staff reporting.
6:20 a.m.: This article has been updated with additional details
This article was originally published at 4:56 a.m.
---
Must-read stories from the L.A. Times
Get the day's top news with our Today's Headlines newsletter, sent every weekday morning.
You may occasionally receive promotional content from the Los Angeles Times.