Eight men own as much wealth as the poorest half of the world's population, report says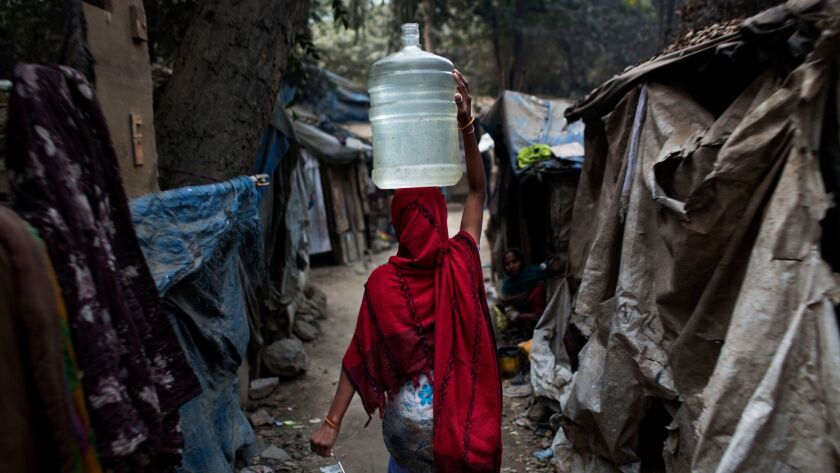 Reporting from DAVOS, Switzerland —
The gap between the super-rich and the poorest half of the global population is starker than previously thought, with just eight men, including Bill Gates and Michael Bloomberg, owning as much wealth as 3.6 billion people, according to an analysis by Oxfam released Monday.
Presenting its findings on the dawn of the annual gathering of the global political and business elites in the Swiss ski resort of Davos, anti-poverty organization Oxfam says the gap between the very rich and poor is far greater than just a year ago. Oxfam is urging leaders to do more than pay lip service to the problem.
If not, it warns, public anger against this kind of inequality will continue to grow and lead to more seismic political changes akin to last year's election of Donald Trump as U.S. president and Britain's vote to leave the European Union.
"It is obscene for so much wealth to be held in the hands of so few when 1 in 10 people survive on less than $2 a day," said Winnie Byanyima, executive director of Oxfam International, who will be attending the meeting in Davos. "Inequality is trapping hundreds of millions in poverty; it is fracturing our societies and undermining democracy."
It is obscene for so much wealth to be held in the hands of so few when 1 in 10 people survive on less than $2 a day.
— Winnie Byanyima, executive director of Oxfam International
A report last year said the richest 62 people on the planet in 2015 owned as much wealth as the poorest half of the population. Oxfam has since revised that figure down to eight.
Oxfam used Forbes' billionaires list, which was last published in March 2016, to make its headline claim. According to the Forbes list, Microsoft founder Gates is the richest individual with a net worth of $75 billion. The others, in order of ranking, are Amancio Ortega, the Spanish founder of fashion house Inditex; financier Warren Buffett; Mexican business magnate Carlos Slim Helu; Amazon boss Jeff Bezos; Facebook creator Mark Zuckerberg; Oracle's Larry Ellison; and Bloomberg, the former mayor of New York.
Oxfam outlined measures that it hopes will be enacted to help reduce the inequality.
The recommendations include higher taxes on both wealth and income to ensure a more level playing field and to fund investments in public services and jobs, as well as greater international cooperation by governments on ensuring workers are paid decently and the rich don't dodge their taxes. And business leaders should commit to paying their fair share of taxes and a living wage to employees.
Max Lawson, Oxfam's policy advisor, urged billionaires to "do the right thing," and to do "what Bill Gates has called on them to do, which is pay their taxes."
The ability of the rich to avoid paying their fair share of taxes was vividly exposed last year in the so-called Panama Papers, a leaked trove of data that revealed details on offshore accounts that helped individuals shelter their wealth.
"We have a situation where billionaires are paying less tax often than their cleaner or their secretary," Lawson said. "That's crazy."
ALSO
What we know about Christopher Steele, the British ex-spy who wrote the controversial Trump dossier
Paris peace conference agrees on two-state solution in Mideast — but neither Israel nor Palestinians take part
When Obama dropped the 'wet foot, dry foot' policy, he also snuffed out another program few Americans knew about
---
Must-read stories from the L.A. Times
Get the day's top news with our Today's Headlines newsletter, sent every weekday morning.
You may occasionally receive promotional content from the Los Angeles Times.