Egypt parliament OKs constitutional changes to extend President Sisi's power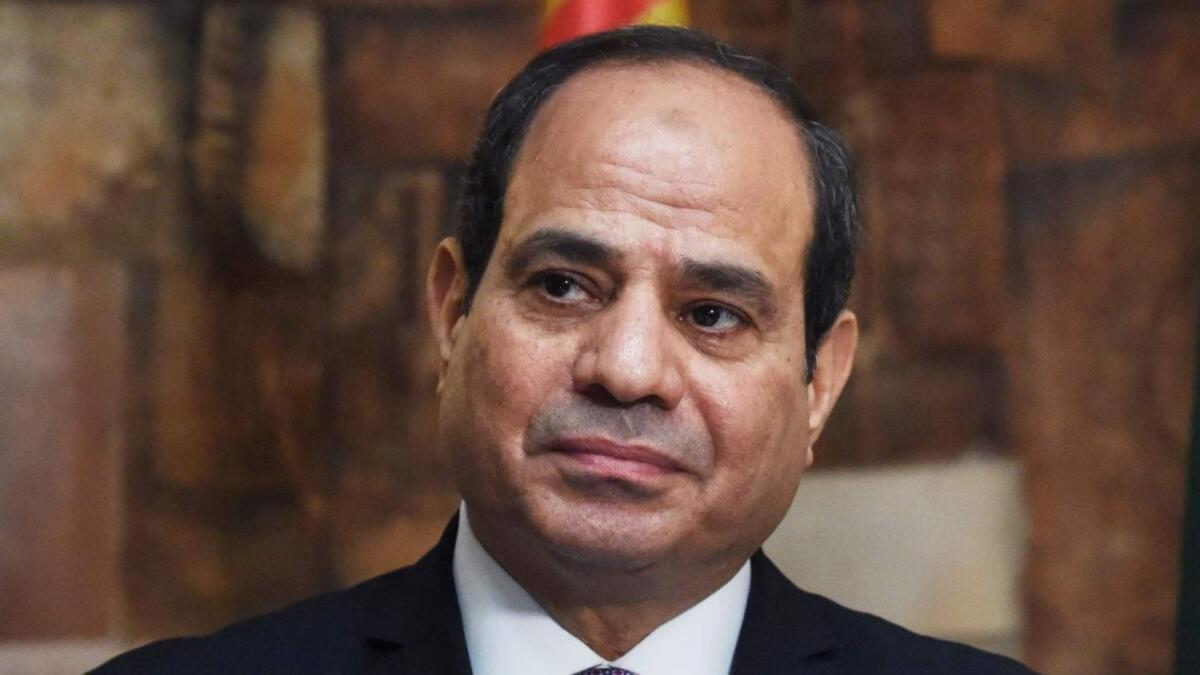 Reporting from Cairo —
Egypt's parliament on Tuesday overwhelmingly approved constitutional amendments that tighten President Abdel Fattah Sisi's grip on power and could keep him in office until at least 2030. The changes are to be put to the public in a national referendum expected as early as next week.
The proposals, which also expand Sisi's control over the judiciary and give the military greater sway in political affairs, were approved by 531 of the 554 lawmakers who voted, well over the two-thirds majority required. The 596-seat parliament is full of Sisi loyalists.
Sisi's fierce crackdown on dissent had disintegrated much of his opposition and weakened what remained. Egypt detains tens of thousands of political prisoners and has virtually outlawed demonstrations. The country is the third-biggest jailer of journalists in the world, and Egyptian media are nearly all under the government's thumb.
For many, the amendments represent the final nail in the coffin for the freedoms won after the 2011 uprising that saw the nearly 30-year military dictatorship of Hosni Mubarak toppled by popular protest.
The amendments would lengthen Sisi's current four-year term to six years and would enable him to run for an additional six-year term, taking him to 2030. Amendments introduced in February could have extended Sisi's rule until 2034 but were rejected by a parliamentary committee.
Under Egypt's 2014 Constitution, Sisi must step down after his current and second four-year term — in 2022.
The speaker for the House of Representatives, Ali Abdel Aal, called the change "a middle-ground option."
"This way, I can say that the amended constitution still does not lead to any kind of inheritance of power or perpetuation of rule," he said at a committee hearing this week.
But Abdel Aal suggested that the charter could be altered again: "We are in need of a new constitution, and there is no way that 10 years will pass without there being a new constitution."
Even though the amendments were opposed by some members of parliament and a coalition of secular and left-leaning opposition parties known as the Civil Democratic Movement, opposition voices largely have been stifled.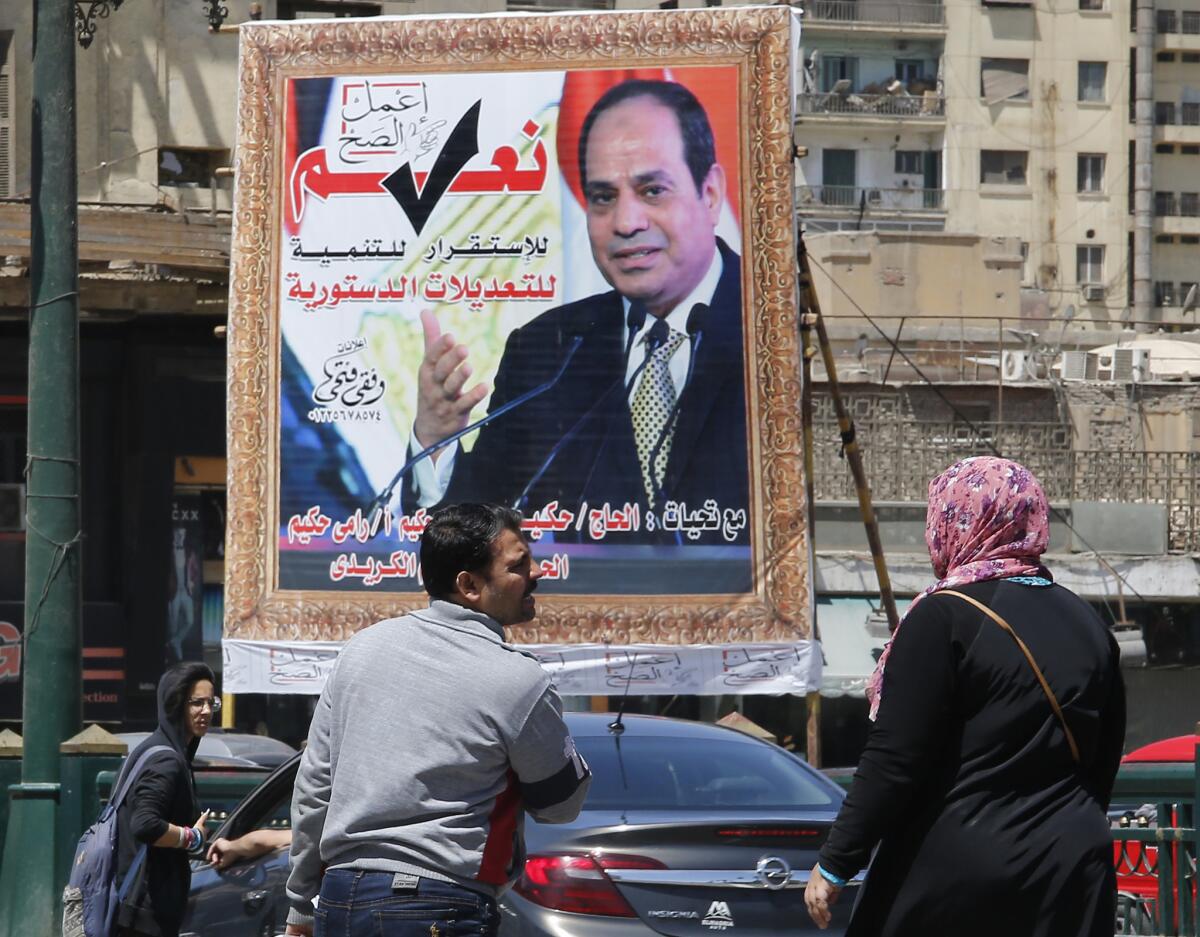 Mai Sadany, legal and judicial director at the Tahrir Institute for Middle East Policy, said that the amendment process had "largely adhered to the parliamentary bylaws" but that there had been little dissent allowed.
"There have been significant concerns about the fairness and transparency of the process in light of the smear campaigns targeting MPs who opposed the amendments, the failure to sufficiently incorporate opposition voices in the dialogue sessions and the larger context in which opposition voices outside the parliament have been subject to forcible disappearance, arrest, prosecution and silencing," she said.
Mustafa Kamel Sayed, a Cairo University politics professor who is on the steering committee of the Civil Democratic Movement, agreed.
"Newspapers in general do not publish articles which are critical of the amendments…. Also the media, the TV, the radio are accessible only to people who wholeheartedly support the amendments," he said.
Egyptian authorities have blocked more than 34,000 internet domains in an attempt to prevent an online opposition campaign, according to the internet censorship monitoring group NetBlocks.
This doesn't bode well for the opposition, who are calling on Egyptians to not boycott but instead to vote no in the upcoming referendum, which could be as early as Monday.
Large banners urging people to vote yes to the changes were spotted in Cairo more than a week earlier, but opposition banners haven't been apparent.
"We do not expect the majority of voters to support our view. I don't think they even know of our existence," Sayed said. "I think the turnout rate will be low, and the government might decide to use some heavy-handed measures to get people to the voting places."
On the streets of Cairo, enthusiasm for a referendum certainly appeared in short supply, even among Sisi's supporters.
In 'fake news' crackdown, Egypt is a world leader on jailing journalists, bloggers and social media users »
"Sisi has a lot of big mega-projects and no one else would be able to handle this," said Mohamed Eid Mohamed Ahmed, a 67-year-old antiques seller, speaking just a few minutes' walk from the parliament, where large banners encouraging people to "participate for your say" and "do the right thing" by voting are plastered all over the street.
Ahmed said he intends to heed the call and vote yes, but he added, "All this big advertising on the referendum, though, is an unnecessary cost. We should take priority over such advertising. People are hungry and want to eat and are tired."
"I don't know what all the amendments are yet," acknowledged Ahmed Hamed Mahmoud, a retired military officer. "I will see if I agree with the amendments and if I approve more than 75%, then I will say yes."
Though the 76-year-old said he backs Sisi, he expressed reservations about the need to extend presidential terms and the prominent role that the military already plays in state affairs.
In one small shop in Cairo's downtown district, however, people were more forthright. Asked about the referendum, a customer who appeared to be in his 50s simply declared it "a sham" before quickly walking out.
The shopkeeper in his 60s, who spoke on condition of anonymity for his safety, expressed anger about rising inflation and subsidy cuts over recent years, which he said had made it hard to purchase basic food and necessities for his family. He also decried what he said are the erosion of freedoms under Sisi.
"I will not vote yes or no," he said as he smoked a cigarette, "instead I will write curse words on the ballot paper."
Islam is a special correspondent.
Sign up for Essential California for news, features and recommendations from the L.A. Times and beyond in your inbox six days a week.
You may occasionally receive promotional content from the Los Angeles Times.