Ethnic violence in Ethiopia has forced nearly 3 million people from their homes
Reporting from Dilla, Ethiopia —
On a drenched field in southern Ethiopia, hundreds of members of the ethnic Gedeo community are huddled together with nothing to do but wait. It had rained all night and the ragged shelters they had strung together were sinking in the mud.
"We can't go back," said Haptemu Mariam, 28, a father of six who fled his home in the Guji area of the neighboring Oromia region last year. "The Guji people are dangerous," he said, referring to a group with which his people had lived peacefully until a recent flare-up of violence between the two groups.
About 700,000 people have been displaced by the Gedeo-Guji dispute, according to the United Nations. Yet it is just one of many inter-ethnic conflicts raging in Ethiopia that have given the country an unenviable distinction: Last year more people fled their homes there than in any other nation on Earth.
In total, 2.9 million people had been displaced by December 2018, more than those dislodged in Syria, Yemen, Somalia and Afghanistan combined, according to estimates published this month.
The upsurge in communal violence has coincided with the early days of Abiy Ahmed's tenure as prime minister and is arguably the greatest threat to his lofty ambitions.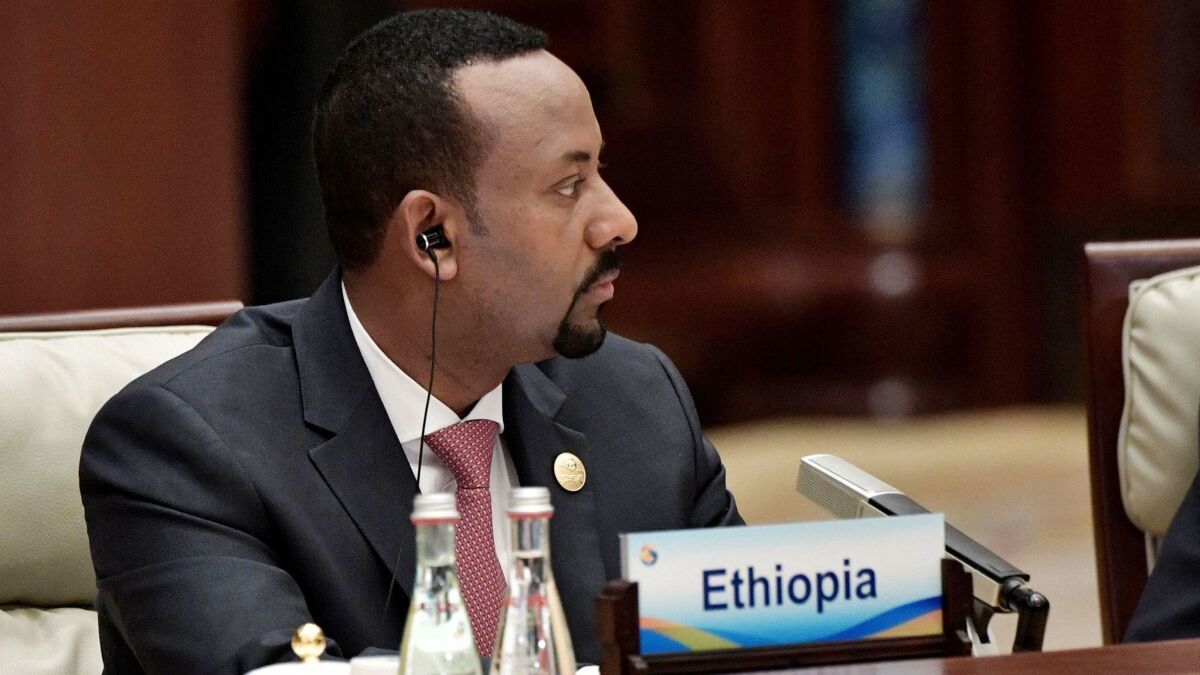 Elected prime minister in April 2018, Abiy won international praise for his sweeping political and economic reform in Africa's second-fastest growing economy. But the huge displacement during his tenure is the biggest black mark against the ambitious leader's first year in office.
"Officials and others [outside the Abiy administration] have been focused on the opportunity for democratic progress, and they have been reluctant to also recognize this serious humanitarian and security crisis," said William Davison, senior analyst at the International Crisis Group, a think tank.
Appointed by the ruling party to steady Ethiopia after two years of anti-government protests, Abiy has won over much of the country with promises to reform authoritarian politics. He has released jailed journalists and political prisoners, welcomed exiled dissidents back into the country, declared peace with longtime foe Eritrea and has been nominated for a Nobel Peace Prize.
But this freedom has had dangerous consequences. Ethiopia is a complicated multi-ethnic federation with more than 80 ethno-linguistic groups. In many parts of the country, the new political atmosphere has allowed long-running tensions between communities to erupt into conflict as hate speech has flourished.
More than 200,000 ethnic Oromos have been evicted from the western Benishangul-Gumuz region since September, while Benishangul authorities last month accused members of another ethnic group, the Amhara, of killing more than 200 people in a territorial dispute. Similar disputes have flared on Oromia's eastern border with Ethiopia's Somali region.
In southern Ethiopia, Guji and Gedeo groups have periodically clashed over access to productive farmland, but the recent conflict was marked by an unusual intensity.
In the villages around the town of Dilla, where Haptemu and his family are huddled, the government has begun putting displaced people on buses to return them to their homes, in what they said was an effort to regain the initiative.
Aadi Tigistu Boyalla, an official in charge of the response in the Gedeo zone, told the Financial Times that any security issues had been resolved and that the plan was for all the area's 446,420 displaced people to be returned by the end of the month.
However, humanitarian workers accuse the government of rushing the process by returning people against their will to areas where the underlying causes of the conflict have not been addressed. Some were being taken back to homes that had been burnt or occupied, said one aid worker who declined to be identified.
"You just don't wake up one day and return half a million people. You need to plan," the worker said. "Two years is a viable time frame, not two weeks."
The situation, long ignored, is now generating international attention.
"The government's actions are making an ongoing humanitarian crisis even worse," the Refugees International aid organization said last week.
"Pushing people to return to their home communities prematurely will only add to the ongoing suffering," senior advocate Mark Yarnell said.
The prime minister's office said all returns had been compliant with international best practices but warned that unnamed "hostile" actors had sought to disrupt the process. "There are elements exploiting victims of displacement and conflict for their own agenda," a spokesperson said.
One explanation is that political and community leaders from the Oromia region have seen the rise to the prime minister's office of Abiy — who is also from Oromia — as a chance to assert the rights of the region's people. Other officials say that the conflicts are an unavoidable consequence of Ethiopia's attempt to move from a de facto one-party state to a pluralist democracy.
The Ethiopians are building a massive dam, and Egypt is worried »
For almost 30 years, Ethiopia has been governed as a collection of ethnic regions dominated by a single group at the head of a highly centralized state. Abiy has promised to reform that system, but until his party agrees on how future power will be shared, violence could continue, experts said.
"There's a concern that the country is on a negative trajectory due to entrenched elite disagreement over what sort of federation Ethiopia should be and how to share power," said Davison of the International Crisis Group. "Unless there's some sort of agreement on a common vision for Ethiopia, there's a danger that the turmoil continues, and possibly gets much worse."
Wilson writes for the Financial Times.
---
Must-read stories from the L.A. Times
Get the day's top news with our Today's Headlines newsletter, sent every weekday morning.
You may occasionally receive promotional content from the Los Angeles Times.