French President Macron responds to protests by announcing wage hike and tax cuts as he denounces violence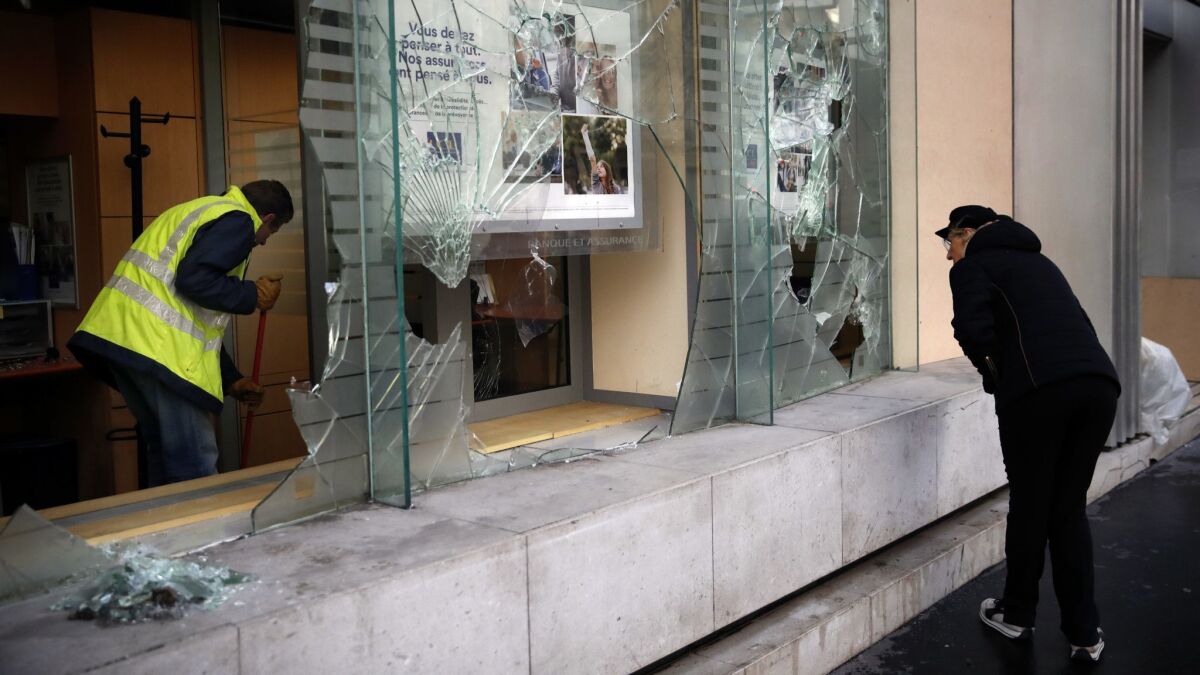 Reporting from Paris —
After weeks of civil unrest, all eyes were on French President Emmanuel Macron on Monday evening as he attempted to talk "yellow vest" protesters out of another wave of demonstrations that could wreak further havoc across the country.
In a televised address — his first public statement since protests against a tax hike and other matters erupted last month — Macron said he understood the anger displayed by many people, which he described as "in many ways legitimate." He pledged measures to relieve economic strain, describing the situation as an "economic and social state of emergency."
Macron, elected in May 2017 on a centrist program to kick-start France's economy, said his reforms had not helped many people quickly enough.
"I might have given the impression that I was not concerned, that it was not a priority," he said from Elysee Palace. "I may have hurt some of you with my words."
But he said a malaise that had been growing in France over several decades did not justify the violence of recent protests. Some demonstrators have set fires, thrown stones at officers, built barricades, torched cars and buildings, looted shops and sprayed graffiti on the Arc de Triomphe in Paris; police have used tear gas and water cannons on protesters and thousands have been arrested.
"No anger justifies attacking a police officer, a gendarme or damaging a shop or a public building," he said. "When violence is unleashed, freedom ceases."
Macron announced an increase in the minimum wage and other changes. He said tax increases on low pensions would be abandoned and called on employers to give staff tax-free end-of-year bonuses "if they are able."
Macron said the emergency measures he was announcing were to help those having difficulty making ends meet.
"We are at a historic moment in our country. With dialogue, respect, engagement, we will succeed. My only concern is you. My only combat is for you. Our only battle is for France," he said.
Macron's 13-minute prerecorded speech came 48 hours after a fourth Saturday of mayhem and destruction hit major cities, particularly the French capital. It was aimed at heading off calls by the gilets jaunes — yellow vests — for a fifth day of protests across the country. Some protesters have called for Macron to resign.
On Saturday, Paris tourist sites including the Eiffel Tower and Louvre were closed, as were popular department stores that should have been enjoying one of the busiest weekends of the year, for fear of vandals and looters.
France deployed 89,000 police and gendarmes across the country, including 8,000 in Paris, where riot police backed up with a dozen armored vehicles used tear gas and water cannons to push back protesters and sweep away burning barricades.
The widespread destruction of private and public property hurt France's economy, which had been showing signs of recovery, officials said.
On Monday, the Bank of France and the Finance Ministry downgraded forecasts for fourth-quarter growth from 0.4% to 0.2%, way off the 0.8% needed to meet the government's annual target of 1.7%.
Finance Minister Bruno Le Maire said the reality was that losses to businesses that saw the shops damaged, vandalized and looted on Saturday could not be recovered.
"It's also the reality for foreign investors who are watching us. I see the impact that this is having abroad and it's not good for the attractiveness of our country," he told RTL radio.
The gilets jaunes, whose name comes from the high-visibility vests French motorists carry, have come to symbolize years of simmering dissatisfaction with a succession of leaders.
Even a major U-turn by the French government that announced last week it was dropping an eco-tax hike that initially sparked the protests last month failed to calm the febrile atmosphere and was dismissed by some as too little, too late.
Some protesters have called for Macron to resign. New demands from the movement include higher minimum wages and pensions, better public services including hospitals and transport, lower taxes for workers and higher taxes for the wealthy and companies.
Negotiations have been hampered by the fact the movement has no official organization or representatives. Some of those who have appeared on television to speak for the movement have received death threats.
Macron's statement was not enough to stop the demonstrations, some protesters said.
Benjamin Cauchy said the president's statement was "more of a budgetary adjustment than a change of political course," the Associated Press reported. "That doesn't correspond to what the French want."
Willsher is a special correspondent.
Must-read stories from the L.A. Times
Get the day's top news with our Today's Headlines newsletter, sent every weekday morning.
You may occasionally receive promotional content from the Los Angeles Times.