G-7 nations call for diplomacy after rejecting new sanctions against Russia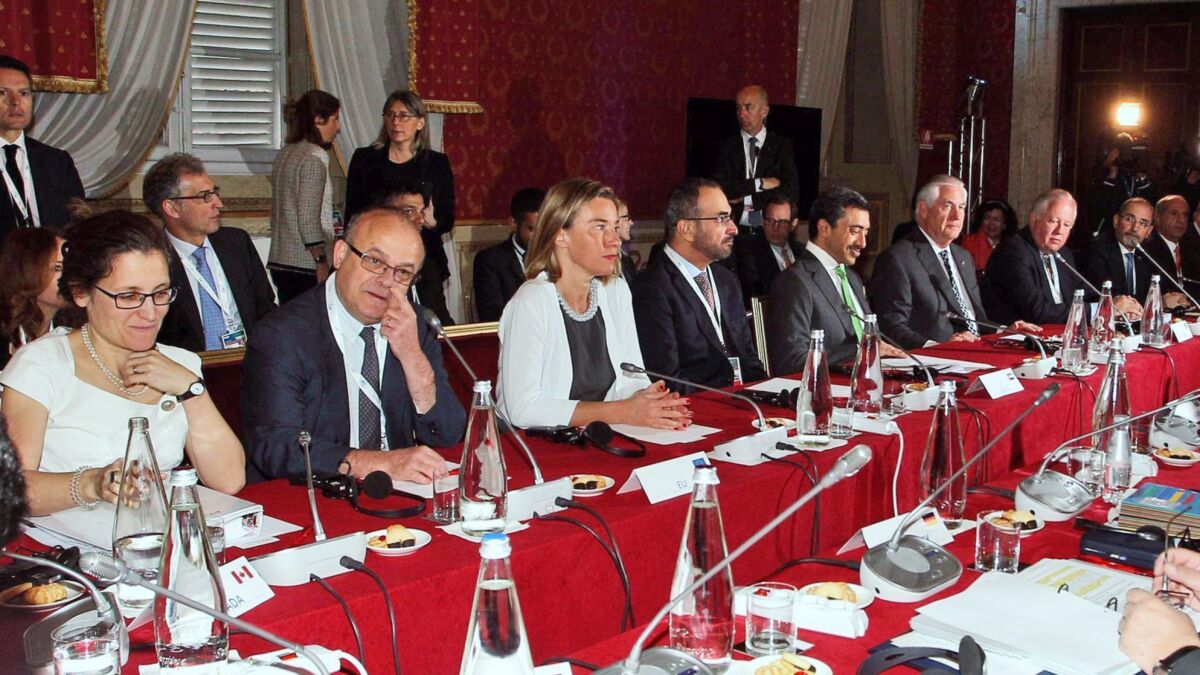 Reporting from London —
British efforts to get new sanctions imposed on Russia for its continued support of Syrian President Bashar Assad were rejected by foreign ministers from the Group of 7 industrialized nations Tuesday.
The announcement was a disappointment to British Foreign Secretary Boris Johnson, who had hoped that introducing tough measures against Vladimir Putin would encourage the Russian president to change his attitude toward his close ally, who Britain and the United States firmly believe ordered last week's deadly chemical attack on civilians.
Yet, at the conclusion of two days of talks in the Italian city of Lucca, foreign ministers from the U.S., Britain, France, Italy, Germany, Canada and Japan said they had failed to reach consensus on sanctions.
Instead, they opted for a more diplomatic approach of engaging in discussions with Russia in an effort to bring about lasting, political change in Syria.
"We must have dialogue with Russia," Italian Foreign Minister Angelino Alfano said. "We must not push Russia into a corner."
In their final communique, the Group of 7 — known as the G-7 — called for an investigation by the Organization for the Prohibition of Chemical Weapons into who was responsible for the attack on the rebel-held city of Khan Sheikhoun that killed dozens, including numerous children. They also urged Russia to change its attitude and "help resolve the conflict and restore a stable and unified Syria."
"We urge Russia to work to promote a real and genuine political process in Syria," the joint statement said. It was a tempered response compared with the hard-line rhetoric that Johnson had espoused the day before when he described Assad as "toxic" and said Putin was "toxifying the reputation of Russia by his continuing association with a government which has flagrantly poisoned its own people."
The G-7 has been forced to walk a difficult line in its relationship with Russia, which they need to help broker peace in Syria but disdain for its failure to condemn Assad.
"Not everyone may like it, but without Moscow and without Tehran there will be no solution for Syria," German Foreign Minister Sigmar Gabriel said.
Despite conflicting views on how to deal with the Russia question, the group did seem united on one thing Tuesday — that Assad's time in power is drawing to a close.
"It is clear to all of us that the reign of the Assad family is coming to an end," U.S. Secretary of State Rex Tillerson said before flying to Moscow to meet his Russian counterpart, Foreign Minister Sergei Lavrov.
Yet where the international community goes now in order to achieve its desired aims is murky.
Tillerson said Russia could choose to maintain its alliance with Syria, Iran and the Lebanese militant group Hezbollah, but argued that it would "not serve Russia's interests longer term."
Alternatively, he argued, Russia could actively engage in discussions about Syria's future, but it would likely also involve accepting Assad's demise.
"We want to relieve the suffering of the Syrian people," he said. "Russia can be a part of that future and play an important role."
Syria is entering into its seventh year of civil war, which has destabilized the entire Middle East region and forced millions to flee their homes.
The recent nerve gas attack, and the United States' retaliatory strike, has refocused global attention on Assad's brutal actions and re-energized efforts to find a way to end the conflict and bring about peace and political stability. On Tuesday, Turkey's health minister said tests confirmed sarin gas was used in the attack.
Trump's decision to fire off 59 cruise missiles at the Syrian base believed to have been used in the strike was a clear detour from Trump's campaign rhetoric, in which he spoke only of his desire to defeat Islamic State in the region not get involved in domestic politics and power struggles.
Defending the about-turn, the president said the move was in America's "vital national security and foreign policy interests" and that there has been broad international support for the action.
Russia has passionately condemned it.
On Tuesday, Putin said assertions that Assad harbors chemical weapons were reminiscent of unfounded claims that Iraq was stockpiling weapons of mass destruction in 2003.
Russia also appeared unfazed by talk of sanctions and unwilling to bow to any G-7 pressure to back away from its alliance with Assad.
Boyle is a special correspondent.
ALSO
Tillerson en route to Moscow with more blame on Russia for Syria attacks
Why Russia might be working with its Cold War enemy, the Taliban
Russia has been Assad's greatest ally — as it was to his father before him
---
UPDATES:
1:05 p.m.: This article has been updated throughout with Times reporting.
7:15 a.m.: This article was updated with Turkey's health minister reporting test results from last week's attack on Syria, and with comments from Russian President Vladimir Putin.
6 a.m.: This article was updated throughout with additional details and background.
This article was originally published at 5:05 a.m.
---
Must-read stories from the L.A. Times
Get the day's top news with our Today's Headlines newsletter, sent every weekday morning.
You may occasionally receive promotional content from the Los Angeles Times.