A Palestinian militant takes position during fighting with Israeli troops in the Zeitun neighborhood of Gaza City. At least 19 Palestinians and an Ecuadorean kibbutz volunteer were killed in the fighting, which occurred amid peace talks between Israel and Palestinian President Mahmoud Abbas.
(Mohammed Abed AFP/Getty Images)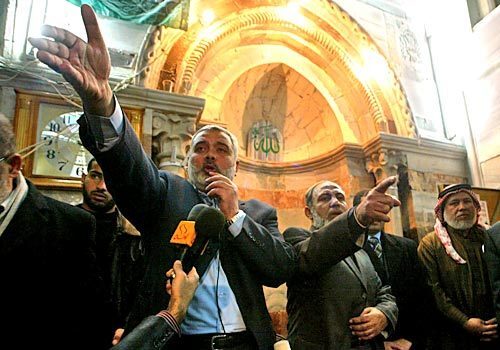 Ismail Haniyeh, left, Hamas' senior political leader, and hard-line Hamas leader Mahmoud Zahar, center, speak during a funeral for Palestinians killed in the Gaza fighting, including Zahar's son, Hussam Zahar, 24.
(Abid Katib / Getty Images)
A relative of one of 19 Palestinians killed in the fighting mourns at a funeral in Gaza City.
(Abid Katib / Getty Images)
Palestinians carry a wounded boy to a hospital in Gaza City. Among the 19 Palestinians who died in the fighting were three civilians; the rest were militants. Fifty-two people were reported wounded.
(Abid Katib / Getty Images)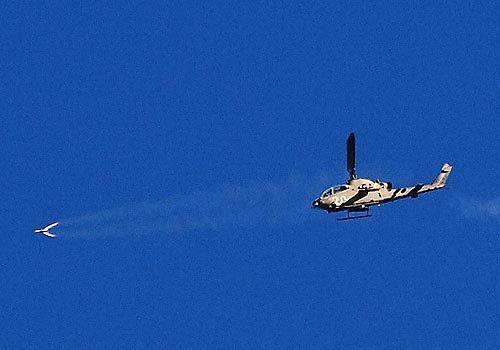 An Israeli attack helicopter fires a missile toward a target south of the Karni crossing between Israel and Gaza. The fighting, the bloodiest since Hamas seized Gaza last summer, began as what the military said was a routine operation aimed at militants who launch rockets at Israeli towns near Gaza almost daily.
(David Buimovitch AFP/Getty Images)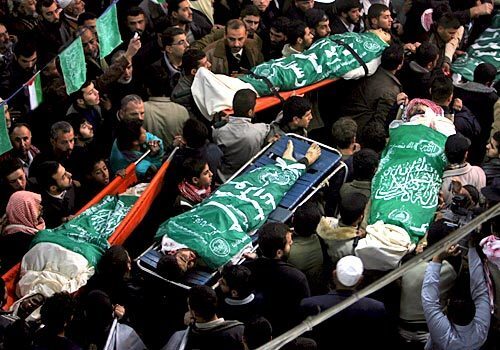 The bodies of Palestinians killed in the fighting are carried through a crowd. The bloodshed began before dawn when Israeli infantry, tanks and helicopters pushed into northern Gaza. Fourteen armed militants and three civilians were killed in the ensuing fighting. Two other Hamas men were killed in a later airstrike.
(Ali Ali / EPA)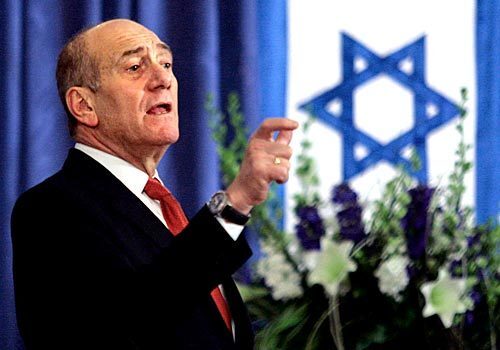 Israeli Prime Minister Ehud Olmert gestures as he speaks to Foreign Ministry workers in Jerusalem. His government is holding peace talks with Palestinian President Mahmoud Abbas, who took control of the West Bank after losing Gaza to Hamas. But Israeli forces continue to battle Gaza militants.
(Olivier Fitoussi AP/Pool)
Hamas political leader Khaled Mashaal, in an interview with the Associated Press in Damascus, condemned Israeli's attacks in Gaza as an "awful massacre" and a product of President Bush's visit to the Middle East.
(Bassem Tellawi / Associated Press)
Palestinian militants from Izzedine Qassam Brigades, the Hamas military wing, speak at a news conference in Gaza City. The Hamas government called a three-day mourning period and ordered flags on all government buildings to be lowered to half-staff.
(Adel Hana / Associated Press)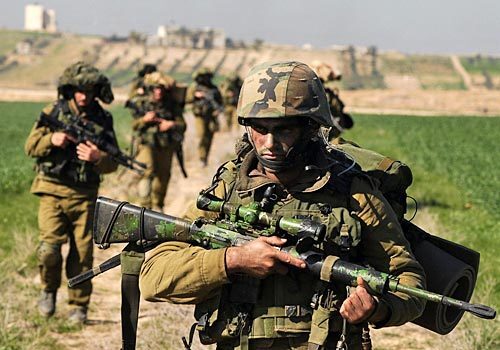 Israeli soldiers return to Israel after the military's ground and air operation in Gaza. The Israelis suffered no casualties.
(David Buimovitch AFP/Getty Images)
Palestinian medics and Hamas militants remove the body of a Hamas militant killed in the fighting in Gaza City.
(Noman Ishtawi / Associated Press)
Friends grieve over the slaying of Carlos Andres Chavez, 19, of Ecuador, by a Palestinian sniper as the volunteer worked in the fields of a kibbutz near the border. Chavez was shot in the back, the Associated Press reported. Hamas took responsibility for the killing.
(Jack Guez AFP/Getty Images)